Main Course Menu Plan: Week 12 
Spring I
Day 1:

Lightly Smoked Cod

Total time: 30 minutes
  This is a cross between smoker cooking and grilling, and it flavored the cod perfectly:  a light smoke and dill combination.  It needed nothing else.
 Ingredients:
1 - 2 filets of cod, or other thick, firm white fish, 12oz (360gr) total weight
2 tsp dill weed
1 tbs olive oil
1 tsp soy sauce
wood chips for smoking - apple is nice    See Barbecue Grills for more info
Weber-type kettle barbecue with charcoal  or Gas Grill
 Instructions:
Day 2:

Grilled Lamb Chops Dijon

Total time: 20 minutes
     Mustard, garlic and rosemary are the perfect flavors for lamb....
 Ingredients:
4 - 6 center-cut lamb chops - depending on size
1 tbs oil
1 tsp garlic powder
2 tsp fresh or dried rosemary
2 tbs Dijon mustard
 Instructions:
Mix oil, garlic powder, rosemary, mustard and brush on both sides of chops.  Set aside for 15 minutes. 
Cook on barbecue grill for 2 - 5 minutes per side depending on thickness and desired degree of doneness (I don't know if that is a word - but you get the idea).  We do ours on a hot grill 2 minutes per side for medium rare.  When you think they might be close take one off, cut into center and peak.  You can always put them back on to cook more - you cannot undo... 
When done to your liking remove from heat and serve. 

Or

you can sauté in non-stick skillet for about the same amount of time - or until done.
Day 3:

 Barbecued Chicken 

Total time: 60 minutes
  As it is assumed people want to do most things for themselves here, we have to buy the whole chicken and cut it up - otherwise we might not get the feet... Get a cut-up chicken or packages of your preferred pieces, freezing what you don't use for another day.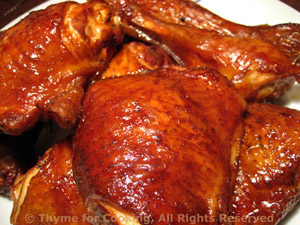 Ingredients:
 Instructions:
Wash chicken and pat dry with paper towels. 
Sprinkle with salt, pepper and paprika. 
Put on barbecue grill on indirect heat and close cover. 
Check periodically - if any pieces flare up just move around a bit.  An instant-read or remote read meat thermometer is a great help. 
After about 30 minutes start basting with barbecue sauce (if you do it earlier the sauce may burn).  I always put 2/3's of the sauce in a separate small bowl to be used for dipping at the table before mon mari starts the basting. 
Chicken will be done at 170F or when it is no longer pink and the juices run clear when pierced with a knife.  Try not to cook it too long or it will be dry - and remember that the breast will be done before the thigh.  It should take about 45 minutes over indirect heat but can be up to an hour, depending on heat. 
Remove and serve with sauce on the side. 
Oven method: Put chicken skin side down on baking sheet with sides or in 9X13 pan. 
Sprinkle with salt, pepper and paprika and put in a 400F (200C) oven. 
After 30 minutes turn chicken and baste with barbecue sauce. 
Continue to bake 15 minutes longer or until done, basting once more with barbecue sauce. 
Remove and serve with a bit of sauce on the side. 
Barbecue Sauce:
Mix all ingredients in small sauce pan and bring to a boil over medium heat stirring frequently.
Simmer 10 - 15 minutes, remove from heat and use when needed. 
Sauce will keep for a week in the refrigerator.
Day 4:

 Grilled Dijon Burgers with Onions

Total time: 25 minutes 
  Made with hot, spicy Dijon-style mustard and served with grilled sweet onions, these are not your normal burgers! Use more or less mustard if you like... you could even add a drop or 2 of Tabasco...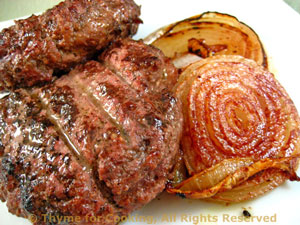 Ingredients:
12oz (360gr) ground beef (mince)
2 tbs dried breadcrumbs
1 1/2 tbs Dijon-style mustard
1 tbs red wine
1 tsp garlic powder
1 large red or sweet onion
Basting Sauce:
2 tbs olive oil
2 tbs Dijon mustard
2 tbs red wine
1 tbs Worcestershire Sauce
 Instructions:
Burgers:
Mix breadcrumbs, mustard, red wine and garlic powder. 
Add beef and mix thoroughly - hands work best. 
Shape into 3 or 4 patties. 
Oil hinged basket.  Place patties in basket and cook on barbecue grill over direct heat for 4 - 5 minutes per side, basting each side with sauce. 
Or sauté in nonstick skillet for same amount of time, basting. 
Onions:
Slice onion into 1/2" (1.25 cm) thick slices.
 Brush both sides of slices with basting sauce and put on a mesh grill pan (the idea is not to have the slices fall through the grate into the fire....)
Cook over direct heat 4 - 5 minutes per side, turning once or until they have a nice color and are crisp-tender.
Or sauté in nonstick skillet for same amount of time, basting. 
Basting Sauce:
Put olive oil, mustard, red wine and Worcestershire in a small bowl, stir well to combine.
Day 5:

 Grilled Chicken Aioli

Total time: 30 minutes
  The marinade is quite thick and adds lots of flavor to the chicken.  It also protects it from drying out on the grill. It makes a nice presentation to slice the breasts, thinly, at an angle to serve.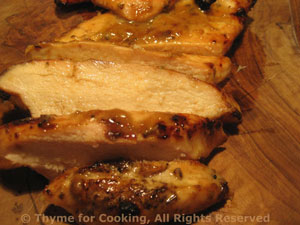 Ingredients:
2 chicken breasts, boneless, skinless
Marinade:
3 tbs soy sauce
3 tbs mayonnaise
3 tbs olive oil
1 tsp garlic powder - or 2 cloves minced
1 tsp dried oregano
 Instructions:
In small bowl whisk together the ingredients for the marinade - whisk well: it should emulsify (come together thickly).
Spoon over chicken breasts and let marinate for 10 - 15 minutes - or longer, up to 45 minutes. 
Remove from marinade and cook on barbecue grill for 8 - 12 minutes per side or until done (test - take a peak). 

OR

sauté in nonstick skillet for 8 - 10 minutes a side, until done. 
Serve, sliced or not.
Day 6:

 Caprese Pasta Salad with Salami

Total time: 25 minutes 
   Salami packs an enormous amount of taste into a very small package.  The Balsamic Vinaigrette enhances the sweetness of the salami and the mellowness of the mozzarella.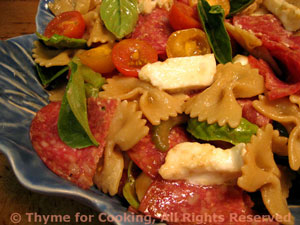 Ingredients:
4oz (120gr) salami
1 package (ball) mozzarella di Bufala (4oz, 120gr)
1/2 cup (3oz, 90) cup cherry or grape tomatoes
2 ribs celery
Fresh basil - about 1/2 cup of leaves
1 1/4 cups (4.1oz, 125gr) pasta, farfalle
1 tbs good olive oil
Balsamic Vinaigrette:
2 tsp Dijon mustard
1 tbs Balsamic vinegar
3 tbs salad olive oil
 Instructions:
Cook pasta according to package directions. 
Drain and toss with olive oil. 
Slice salami in quarters. 
Thinly slice celery. 
Cut tomatoes in half. 
Slice mozzarella, then cut into 1/2" (1.25cm) cubes. 
Tear large basil leaves, leave small ones whole. 
Make vinaigrette: 
Mix mustard and vinegar. 
Drizzle in olive oil, whisking constantly. 
Should be thick.
To assemble:
Add vinaigrette to pasta and toss to combine. 
Add tomatoes, celery, mozzarella, salami to pasta and toss lightly. 
Top with basil leaves and serve.