Main Course Menu Plan: Week 4 
Spring I
Day 1:

Pan-Seared Tuna Mustard Cream 

Total time: 15 minutes
     This is best with good sushi-grade (ahi) tuna that is quickly seared on both sides and cool or just barely warm in the center.  If you get regular tuna you will need to cook it until it is closer to medium. If you use hot mustard (like I do) this sauce will have a bit of a kick... You can, of course, use less...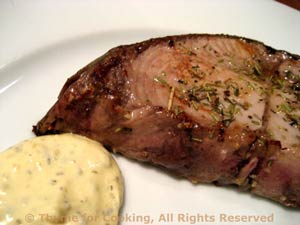 Ingredients:
2 tuna steaks, 12oz (360gr) total weight
2 cloves garlic
1 tbs olive oil
1 tbs lemon juice
sea salt for sprinkling (or other nice salt) optional
Mustard Cream:
1 tbs Dijon-style mustard
1/4 cup (2oz, 60gr) Greek yogurt
1 tbs salad olive oil
1/4 tsp garlic powder
1/2 tsp dried oregano
1/2 tsp dried tarragon
 Instructions
Peel garlic and cut in half. 
Heat oil and lemon in a large non-stick skillet over medium-high heat.
Add garlic and fry for 1 - 2 minutes.  Remove and discard.
Add tuna and sauté 3 - 5 minutes per side (depending on thickness - 3 minutes if 1 inch (2.5 cm), 5 minutes if 2 inch (5 cm)) for medium-rare, longer if you want them more done. 
Remove, sprinkle with sea salt and serve, Mustard Cream on the side.
Mustard Cream:
In a small bowl whisk together all ingredients except olive oil.
Drizzle in olive oil, whisking until combined and thick.
Day 2:

Sweet and Sour Pork    

Total time: 25 minutes
    This is not the kind made with canned pineapple, which I think is horrid, but an actual real Chinese recipe.  In the interest of health and simplicity I did not batter and deep-fry the pork first.  I used to. This way is just as good and I don't have to haul 3 cups of hot, smoking oil out to the back garden to toss.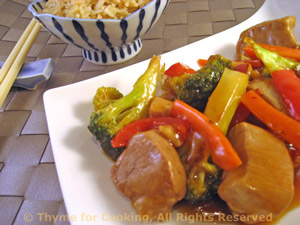 Ingredients:
The pork:
14oz (420gr) lean pork 

I used pork tenderloin

1 tbs oil
1 tbs soy sauce
2 tbs chicken stock
The sauce:
1 tbs oil
2 cloves garlic
2 tsp minced fresh ginger (2 - 3 thin slices, 1" (2.5cm) wide)
1/2 large red bell pepper
1 small head broccoli
1 medium carrot
1/2 cup (4oz. 120ml) chicken stock
2 tbs brown sugar
2 tbs white sugar
4 tbs red wine or sherry vinegar
1 tbs cornstarch (maizena, corn flour) dissolved in
2 tbs chicken stock
2 tsp soy sauce
 Instructions:
Cut the pork into 1" (2.5cm) cubes. 
Heat oil and soy sauce in nonstick skillet.  Add pork and stir-fry 5 minutes.
Add chicken stock, reduce heat to low, cover and simmer 10 minutes or until done.
Mince garlic.
Peel a small section of ginger,  cut into thin slices, then mince.
Slice pepper and carrot into matchsticks.  (see Techniques) 
Cut broccoli into small florets.
Dissolve cornstarch in chicken stock, soy sauce and set aside.
In large nonstick skillet heat remaining 1 tbs oil over medium-high heat. 
Add garlic, ginger and stir-fry 30 seconds. 
Add carrot, broccoli, pepper and stir-fry 2 - 3 minutes. 
Add stock, sugars, vinegar and soy sauce and bring to a boil, stirring until sugar is dissolved. 
Give cornstarch a stir to recombine and add to sauce, stirring until thickened.  
Remove pork from pan juices and add to sauce. 
Stir well, heat through and serve.
Sesame Brown Rice
Total time: 20 minutes    or whatever your package says  
    I use 'Uncle Ben's' which is all I can get and it is quick cooking.  It looks like brown Basmati and cooks in 15 minutes.
 Ingredients:
 Instructions:
Cook rice according to package instructions stirring in the sesame oil, soy sauce and seeds when rice is almost done.
Fluff and serve.
Note: You can toast regular sesame seeds in a small, dry, skillet over medium heat for 5 - 7 minutes, until light brown.
Day 3:

 Pasta with Ham and Asparagus

Total time: 25 minutes 
     Ham and asparagus are surely one of the food world's more perfect pairings.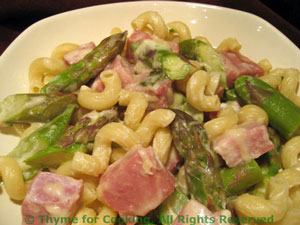 Ingredients:
 Instructions:
Cook pasta according to package directions.
Snap off asparagus ends.  Peel if using white.  Cut asparagus into 1 1/2" (4cm) lengths.
Bring a medium saucepan half full of water to a boil over medium high heat. 
Add asparagus and boil for 3 minutes (4 for white). 
Remove, drain, rinse thoroughly with cold water and drain again.
Cut ham into large, bite-size pieces.
Trim and thickly slice green garlic or onion; mince garlic if using.
Heat oil in a nonstick skillet over medium heat.  Add green garlic /onion and garlic, ham, asparagus and sauté until hot and lightly browned. 
Add chicken stock and heat through. 
Stir in yogurt.
When pasta is done drain and add to skillet; heat through. 
Sprinkle with cheese, stir to combine and melt cheese slightly and serve.
Day 4:

 Chicken Breasts Balsamic

Total time: 25 minutes
    The little bit of brown sugar tempers the vinegar nicely.  If you don't have Balsamic you can use sherry or red wine vinegar - but increase the sugar to 2 tsp.  I cut the chicken breasts in half for a nicer serving portion.
 Ingredients:
 Instructions:
Finely chop onion and mince garlic. 
Heat oil in medium nonstick skillet over medium-high heat. 
Add chicken breasts and brown on both sides, about 10 minutes. 
Add onion and garlic and sauté 5 minutes longer. 
Add stock, vinegar and sugar, cover, reduce heat and simmer 10 minutes. 
Thicken sauce with cornstarch mixture (you may not need all of it) and serve.
Day 5:

 Spaghetti with Ginger Meatballs

Total time: 35 minutes
    Fresh ginger and a bit of soy sauce add a subtle Asian flavor to these meatballs.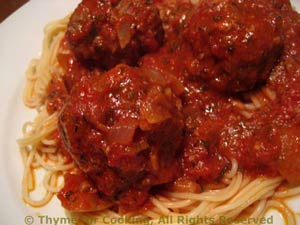 Ingredients:
10oz (300gr) ground beef
1 egg
1/4 cup crumbs
1 tbs Dijon-style mustard
1 tbs soy sauce
1 tbs Balsamic vinegar
1 tbs minced ginger, divided in half
2 cloves garlic, divided in half
1 onion, divided 1/4  /  3/4
1 tbs dried parsley, divided in half
1 tbs dried thyme, divided in half

4oz (120gr) spaghetti

 

(make a circle with thumb & index finger, about 1" (2.5 cm) - 1 1/4" (3cm) in diameter, you're own personal pasta measurer that you can never misplace!)

Sauce:
half of the ginger, garlic, herbs,  3/4 onion
1 tsp paprika
1 tsp olive oil
1 tsp sesame oil
1 tsp soy sauce
15oz (450gr) whole tomatoes
1 tbs tomato paste
1/2 red bell pepper
 Instructions:
Cook pasta according to package directions.
Mince garlic and ginger.
Roughly chop onion, then mince 1/4 of it.
Roughly chop pepper.
Roughly chop tomatoes, reserving all juices.
In a large bowl, lightly beat egg with a fork.
Add bread crumbs, mustard, vinegar, soy sauce, half of the ginger, garlic, herbs and the 1/4 minced onion. 
Mix well, add beef, mix well (use your hands). 
Form into meatballs, about 1.5" (5cm) in diameter. 
In large nonstick skillet heat oils over medium heat.
Add paprika and sauté briefly.
Add remaining onion, garlic, ginger and pepper.  Sauté until tender and onion is transparent, 5 - 6 minutes. 
Add tomatoes, sauce, tomato paste, soy sauce and remaining herbs. 
Heat to a simmer. 
Drop the meatballs in carefully, trying to keep them separate.  Cover and simmer until meatballs are done, about 15 minutes.  Stir once or twice. 
When pasta is done, drain and put into a large bowl. 
Pour meatballs and sauce over the top and serve.
Day 6:

 Cheesy Beef and Potato Pie

(Crustless)

Total time: 45 minutes
   Vegetables, meat and cheese, bound together with beaten eggs makes a simple but flavorful one-dish dinner.  It's like pie, but without the crust.  
 Ingredients:
 Instructions:
Roughly chop onion and pepper. 
Mince garlic. 
Cut potatoes in half the long way then slice thinly. 
Heat oil in a large nonstick skillet over medium heat. 
Add potatoes and toss to coat with oil.  Sauté potatoes for 5 minutes. 
Add the onions, peppers, garlic and continue to sauté until all vegetables are lightly browned, about 10 minutes longer. 
Add the beef stock, cover and cook for 5 minutes. 
Put vegetables in a baking dish, (9 inch, 23cm, square. 
Return pan to heat and add beef, paprika and oregano.  Brown beef, breaking it up as it cooks. 
When beef is done, spread it over potatoes. 
Sprinkle cheese evenly over beef. 
In a medium bowl whisk eggs and Worcestershire. 
Pour eggs evenly over the cheese. 
Bake at 400F (200C) until eggs are set, 15  - 18 minutes.  Serve.