Main Course Menu Plan: Week 2 
Spring I
Day 1:

Fillet of Sole España

Total time: 35 minutes
    Sole is often sautéed, but baking in a light sauce results in a moist, flaky fish that needs little attention.  This recipe is easy enough for the novice cook but impressive enough for a dinner party.  It can easily be doubled or tripled to serve more, just use larger or more baking dishes.
 Ingredients:
12oz (360gr) sole fillets  

substitute tilapia, catfish, walleye, or any white fish available in your area

3 tbs lemon juice
1/2 tsp paprika
1 shallot
3 cloves garlic
3 tbs olives, pimento stuffed, sliced
2 tbs black olives, either dry-cured Greek or Kalamata, sliced
1 tbs capers
2 tsp dried parsley
1 tsp dried marjoram
2 tbs white wine
2 tbs olive oil
 Instructions:
Rinse fillets and pat dry. 
Lay fillets out in a single layer in a baking dish.
Sprinkle with lemon juice, 1 tbs olive oil and paprika.
Bake at 350F (175C) for 12 - 18 minutes, depending on thickness of filets, or until fish flakes easily.
Mince garlic. 
Slice olives. 
Heat 1 tbs oil in medium nonstick skillet.  Add shallot and garlic and sauté until tender. 
Add olives, capers, herbs and wine.  Heat through and keep warm

To serve:

Remove fish carefully, spoon sauce over top and serve. 
Day 2:

Tagine of Lamb, Chickpeas and Potatoes

Total time: 1 hour 10 minutes
   Lamb with a Moroccan influence: a bit spicy, but not hot (my preference).  Add hot sauce or harissa if you like the heat. 
 Ingredients:
14oz (420gr) lamb, shoulder or leg
2 medium potatoes, (10oz, 300gr)
1 red onion
2 cloves garlic, minced
1 1/2 cups (15oz (450gr) chickpeas
1/3 cup green olives
1/2 tsp cumin
1/2 tsp paprika
1/4 tsp ginger
1/2 cup (4oz, 120ml) chicken stock
pinch of saffron threads, crushed

optional

2 tbs parsley
1 tbs olive oil
 Instructions:
Slice onion. 
Mince garlic.
Cut lamb into large pieces and trim excess fat.  
Heat oil in large skillet or tagine. 
Add lamb and brown well.  Remove to a plate. 
Add onion, garlic, cumin, paprika, ginger, and sauté until onion is tender and starting to brown. 
Return lamb to tagine, add stock, reduce heat and braise for 30 minutes. 
Cut potatoes into quarters. 
Add saffron to skillet and stir well. 
Tuck potatoes around lamb, cover and braise 20 minutes longer. 
Drain and rinse chickpeas. 
Cut olives in half. 
Add chickpeas, olives, parsley and braise 10 minutes longer. 
Uncover, admire for a few moments, inhale the aroma, spoon meat and vegetables onto a platter and serve.
Day 3:

 Corned Beef and Cabbage

Total time: 3 hours  for corned beef;    60 minutes for ham
      The traditional 'boiled dinner' for St. Patrick's day!  Corned Beef normally comes in packages of about 3 lbs, so be prepared for sandwiches (or guests).  There are enough vegetables to use in Corned Beef Hash for the leftovers....
 Ingredients:
1 corned beef, (usually around 3lbs) plus seasoning packet included (or not)
4 medium potatoes
4 small - medium leeks
6 medium carrots
4 ribs celery
1 small head cabbage
3 bay leaves

Horseradish Sauce:

1 tbs prepared horseradish
1 tbs Dijon-style mustard
2 tbs mayonnaise
 Instructions:
Put corned beef in a large Dutch oven or pot and add enough water to just cover. 
Add bay leaves and seasoning packet.  Cook according to package directions, usually about 2 - 3 hours for a 3lb brisket, until fork tender.  (Directions should be on the package)
When brisket is done, or close to done:
Clean and cut carrots in thirds the long way, then in half.  Add to pot, tucking around brisket. 
Cut root and tops off of leeks, leaving 4 - 5 inches (12cm).  Remove outer layer and any more damaged layers.  Add to pot, tucking around brisket
Cut celery into sticks, add to pot, tucking around brisket.
Bring pot back to a boil. Then cut potatoes into quarters and add to pot, tucking around brisket.
Remove outer leaves from cabbage.  Cut a large slice off of one side, next to the core.  Cut another partial slice (at right angles to first cut) Cut each slice in half and lay on top of the rest of the ingredients in the pot.  (Wrap and refrigerate the rest) 
Cover and let cook for another 30 - 40 minutes, until the cabbage is fork tender. 
Remove everything with a slotted spoon. 
Slice the brisket and serve with Horseradish Sauce on the side.   (The stock can be saved to use in place of chicken stock)
Serve half of the vegetables and refrigerate the rest for Hash or another use.

Horseradish Sauce

:
Mix well and serve.  
Note: If using ham 1 tsp mustard seeds, 1 tsp peppercorns, and 1 tsp dried thyme to water.  
Day 4:

 Corned Beef or Ham Hash with Poached Eggs  

Total time: 30 minutes  
    A classic, and so easy to do with leftovers from a Boiled Dinner.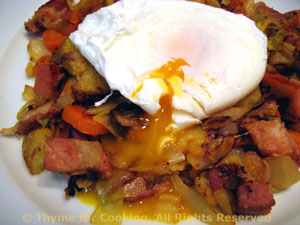 Ingredients:
 Instructions:
Day 5:

 Pork Chops with Yogurt Mustard Pan Sauce  

Total time: 30 minutes 
      The chops are quickly browned then braised for 20 minutes to get fork-tender.  They're finished with an easy, yogurt and mustard pan sauce.
 Ingredients:
2 - 4 pork chops, 12oz (360gr) total weight for boneless
1/2 cup (4oz, 120ml) beef broth
1 tbs Dijon-style mustard
1/4 tsp cumin
1/4 cup Greek yogurt
2 tsp olive oil
 Instructions:
Heat oil in large nonstick skillet.
Add chops and brown on both sides, about 10 minutes total.
Add the beef broth, mustard, cumin and stir well to combine.
Cover, reduce heat to low and simmer for 20 minutes, turning chops once.
Remove chops, Stir yogurt into pan juices, spoon onto chops and serve.
Day 6:

 Chicken Breasts with Sherried Mushrooms

Total time: 30 minutes
    Mushrooms soak up the flavors they're cooked with, and when simmered with a bit of sherry, they turn simple chicken breasts into an elegant, gourmet dish suitable for guests... or just a delicious mid-week treat.  For a dinner party I would use the cream... Midweek I use the milk or stock - which is what's on the List.  
 Ingredients: 
2 chicken breasts, boneless, skinless
4oz (120gr) mushrooms
1/4 cup (2oz, 60ml) sherry
3/8 cup (3oz, 90ml) milk
1/2 cup (2oz, 60gr) shredded cheese,  Gruyère
1 tbs olive oil
1 tbs white Balsamic vinegar or white wine tarragon
 Instructions:
Clean and thickly slice mushrooms.
Heat oil in medium nonstick skillet.
Add chicken breasts and brown on both sides, about 10 minutes total.
Remove and keep warm.
Add mushrooms and vinegar to pan and sauté 5 minutes.
Add sherry to mushrooms and scrape up any browned bits.
Return chicken to pan, turn heat to low and simmer 5 - 10 minutes, until chicken is cooked through.
Sprinkle chicken breasts with cheese and cover briefly, just until cheese melts.
Remove chicken and cover with the pan lid to keep warm.
Increase the heat to medium high and add the milk to the pan.
Boil rapidly, stirring, for about 3 minutes, until sauce has reduced and thickened.
Spoon mushroom sauce over the chicken and serve.