Main Course Menu Plan: Week 5 
Summer I
Day 1:

Grilled Trout with Lemon Thyme and Lemon

Total time: 25 minutes  
    If you have a basket for the fish it will hold them together nicely.  If not, tie them with kitchen string.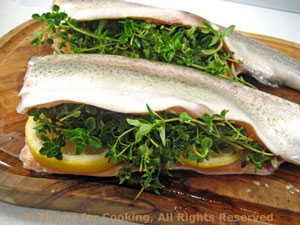 Ingredients:
 Instructions:
Slice lemon. 
Put lemon slices and thyme inside the fish - as much as you can stuff in. 
Either put fish in grill basket or tie securely and use a grill mat.
Cook on barbecue grill over medium heat about 7 minutes per side or until done, turning once.  Can also be baked or cooked under the broiler. Times will vary according to the size and thickness of the fish.  When done the flesh should be opaque. 
Note: I skinned each fish and took out the back bone, lemons and thyme before serving but it also makes a nice presentation served whole.
Day 2:

Brined and Grilled Cornish Hens (Poussin, little chickens)

Total time: 60 minutes  plus 10 earlier
  The poussin that we get are very young chickens and weigh about 18oz (550gr) each.  They are perfect individual servings (with maybe a snack leftover).  If you get larger birds one may be enough; you could cut it in half before cooking, if you like.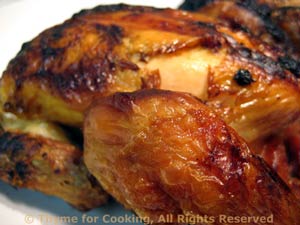 Ingredients:
2 Cornish game hens or poussin (little chickens), depending on size.
Brine:
3 cups very cold water
1 cup ice cubes app.
1/4 cup rock, sea or kosher salt
1/4 cup sugar
1/4 cup white wine tarragon vinegar
2 bay (laurel) leaves
2 cloves garlic
1 tbs juniper berries

optional

Basting sauce:
2 tbs olive oil
1 tbs lemon juice
 Instructions:
Earlier in the day:
At least 2 hours and up to 7 hours before cooking, mix water, salt, sugar and vinegar in a deep bowl.  Stir until sugar and salt are dissolved. 
Peel garlic and smash with the flat of the knife. 
Add garlic, bay leaves and juniper berries (if using). 
Add ice and hens, making certain that the hens are covered as best you can.   The tend to float..... 
Cover and refrigerate, turning occasionally, until ready to cook. 
Dinner: 
Remove chicken and allow to air dry for 15 minutes (or up to 30). 
Mix olive oil and lemon juice. 
Cook hens on barbecue grill over indirect heat (either charcoal or gas), covered, for 45 - 60 minutes, depending on size, or until done. 
Start basting after about 15 minutes and baste 2 or 3 times. Poultry is done at 160 F (70C) on your meat thermometer and/or the juices run clear when pierced with knife. 
The legs will also wiggle freely and the hens will be a lovely golden brown. 

Or

they can be baked in a shallow roasting pan in a 400F oven for 45 - 60 minutes, until done.  If baking, start basting immediately.
Day 3:

 Barbecued Pork Loin

Total time: 60 minutes
     The Grill Expert came up with the idea of having a very thin basting sauce to keep the pork moist... It worked. The pork is enough for 2 meals.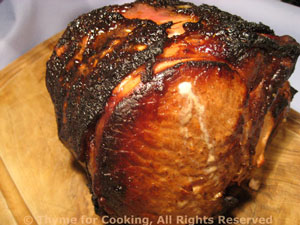 Ingredients:
1 boneless pork loin roast, 32oz (960gr)
2 tsp chili powder
1 tsp garlic powder
Basting Sauce:
3/4 cup coffee
2 tbs soy sauce
2 tbs red wine vinegar
Barbecue Sauce:
1/2 cup ketchup
2 tbs balsamic vinegar
2 tbs molasses
2 tbs soy sauce
3 tbs oil
2 tsp Dijon-Style mustard
1 tsp garlic powder
1 tsp dried oregano
 Instructions:
Mix chili powder and garlic. 
Rub onto pork loin. 
Cook pork loin on barbecue grill, over indirect heat with the cover closed.  Pork is done when it reaches an internal temperature of 145F (62C)  Use an instant read or a remote meat thermometer for best results. If you don't have either, take the roast off and slice into it after 40 - 50 minutes (depending on weight and shape) to test.  It should be almost cooked through with a bit of pale pink in the center.
Mix coffee, soy sauce and red wine vinegar. 
Spoon sauce over pork every 8 - 10 minutes starting immediately.  
In a small bowl whisk together all ingredients for

Barbecue Sauce

. 
Baste pork with 3 tbs barbecue sauce after 40 minutes. Serve the rest on the side.
When pork is done, remove, cover with foil and let rest for 5 minutes. 
Slice and serve, barbecue sauce on the side. 
Could also be roasted in a 400F (200C) oven for about the same amount of time.
Day 4:

 Sweet and Sour Chicken Salad 

Total time: 25 minutes
    You can use bottled Sweet and Sour Sauce or my recipe - which makes just the right amount.  I usually use mushrooms raw in salads, but sometimes, as here, they are sautéed to absorb and blend the flavors.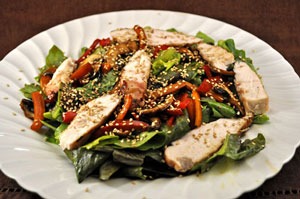 Ingredients:
2 chicken breasts, boneless, skinless
1 small red pepper
4oz (120gr) mushrooms
1 tbs fresh snipped chives   

substitute 1 tsp dried

1 tbs toasted sesame seeds
3 tbs Teriyaki sauce
2 tsp walnut or sesame oil
1/4 cup sweet and sour sauce
Lettuce, enough for 2 main course salads
Sweet and Sour Sauce: 
1 tbs sugar
1 tbs cider vinegar
2 tbs soy sauce
1 tsp cornstarch (maizena)
Vinaigrette:
1/4 cup sweet and sour sauce

1/2 tsp dry mustard

1/2 tsp garlic powder
1 tbs cider vinegar
3 tbs salad olive oil
 Instructions:
Pour 2 tbs Teriyaki sauce over chicken and allow to marinated a few minutes.
Clean and thickly slice mushrooms. 
Clean and slice pepper into strips
In nonstick skillet heat oil and 1 tbs Teriyaki sauce. 
When hot add mushrooms, pepper and sauté briefly, about 4 minutes.  Remove and set aside.
Cook chicken on barbecue grill over direct heat for 8 - 10 minutes per side.  When done remove and slice.  

Or: 

cut into strips before marinating, toss with Teriyaki sauce and stir-fry in nonstick skillet in 1 tbs oil for 4 - 5 minutes.
Sweet and Sour Sauce:
In a small saucepan, heat sugar, vinegar, soy sauce and cornstarch to boiling, stirring with a whisk. 
Cook until thick and clear, about 1 minute.  Allow to cool  
Vinaigrette:
Put all ingredients in a small bowl and whisk well to combine.
To finish:
Snip chives. 
Prepare lettuce and put into a large salad bowl along with chives. 
Toss with about half of the vinaigrette - it's quite thick so it takes a bit of tossing to distribute it well - be careful not to use too much to start. 
When it is to your liking, add mushrooms, peppers and toss gently.  Arrange chicken on top.  Drizzle with a bit of vinaigrette, sprinkle with sesame seeds, and serve with remaining vinaigrette on the side. 
Note: Toast sesame seeds in a dry, nonstick skillet, over medium-high heat, 3 - 6 minutes. Start flipping them or shaking the skillet after 1 - 2 minutes and remove as soon as light brown.
Day 5:

 Inside-Out Burgers

Total time: 20 minutes
    The cheese and tomato are on the inside.  The cheese melts (barely) but the tomato stays firm.  Serve with or without buns.
 Ingredients:
12oz (360gr) ground beef (mince)
1 medium - large tomato
4 slices fresh mozzarella, or other soft cheese
4 large or 8 smaller basil leaves
 Instructions:
Cut 4 slices of tomato. 
Divide meat into 8 portions. 
Shape 4 thin patties about the size of the tomato slices.
 Place 1 tomato slice, 1 slice of mozzarella and 1 or 2 basil leaves on each patty. 
Shape 4 more thin patties and place on top. 
Oil hinged basket.  Place patties in basket and secure. 
Cook on barbecue grill over direct heat for 3 - 4 minutes per side. 
Day 6:

 Grilled Chicken Breasts with Mustard Sauce 

Total time: 35 minutes
   Grilled chicken breasts finished with a warm mustard sauce; a little bit of heat for summer cooking.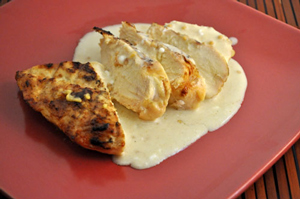 Ingredients:
 Instructions:
Combine stock, sherry in a small saucepan and bring to a boil over medium-high heat. 
Continue to boil until reduced to about 1/3 cup. 
Whisk in mustards, reduce heat and simmer 2 minutes. 
Remove from heat and allow to cool slightly. 
Stir in Greek yogurt.  
Mix 1 tbs Dijon mustard with 1 tbs olive oil and spread on chicken breasts. 
Cook on barbecue grill for 10 - 15 minutes or until done.  Remove from heat, slice and serve with sauce. 

Or

can be baked for 20 - 25 minutes 400F or sauté  for 15 - 20 minutes  - in all cases until done.