Main Course Menu Plan: Week 5 
Winter I
Day 1:

Balsamic Glazed Baked Salmon

Total time: 25 minutes 
     The honey-vinegar makes a lovely glaze with a hint of hot from the mustard.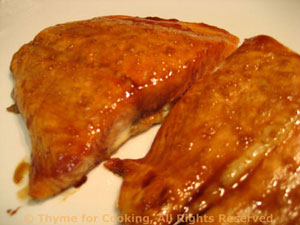 Ingredients:
2 salmon fillet or steaks, 6oz each (180gr each)
2 tbs Balsamic vinegar
2 tbs honey
1/4 tsp dry mustard
1/2 tbs olive oil
 Instructions:
In a small sauce pan heat the vinegar, honey, mustard and oil, whisking to combine.  When combined remove from heat and set aside. 
Put the salmon, skin side down, on a baking sheet. 
Brush with the honey/vinegar. 
Bake in 400F (200C) oven for 15 - 17 minutes, depending on thickness, basting with the honey/vinegar twice more.  Salmon will be done when it flakes easily, slightly pink in the center is fine.  Baste a final time and serve.
Day 2:

Coq au Vin

Total time: 1 hour 30 minutes plus marinating
     Chicken in red wine.  Traditionally this would use a rooster (rather than a hen) and cook for several hours (as the coq would tend to be a tough old bird - but full of flavor).  Without the skin the flavors get deeper into the meat and we eliminate a lot of the fat. Use a full-bodied Burgundy or Cote de Rhone (or equivalent) for this.  Not expensive, but drinkable. Do not use 'cooking wine'.  The secret to this dish is the cocoa - it gives an amazing richness and depth of flavor.
 Ingredients:
4 chicken thighs, boneless, skinless
2 chicken breasts, boneless, skinless

OR

 

1 whole chicken, cut up

1 onion
1 carrot
3 cloves garlic, peeled
1 bouquet garni - or 1 bay leaf, 1/2 tsp rosemary, 1/2 tsp thyme, 1/2 tsp parsley
1 bottle (.75L) red wine
1 tbs olive oil
3 slices bacon, 100gr, 3.5oz
4oz mushrooms, 125gr, 4oz

6 - 8 shallots 

(the recipe calls for pearl onions but I normally have to buy a huge bag to get the few I want, so I often use shallots..   Plus I like the taste better)

1 chicken stock cube or 1 tsp granular or paste chicken base, optional
pinch of nutmeg

1 tbs pure cocoa 

 

not a 'hot chocolate' mix

2 tbs cornstarch (corn flour, maizena) dissolved in 3 tbs water (you may not use it all)
 Instructions:
To marinate:

 

Roughly chop the onion and carrot. 

Smash the garlic lightly. 
Put the chicken, onion, carrot, garlic and bouquet garni in a deep bowl. 
Pour the wine over and refrigerate at least 4 hours or overnight. 

To cook the chicken:

 

Remove chicken from marinade and drain well (over marinade). 

Reserve marinade. 
Heat oil in heavy, deep pot over medium-high heat.  Brown chicken on all sides, a few pieces at time, about 10 minutes. 
Return all chicken to pan and pour over reserved marinade and vegetables. 
Add nutmeg and chicken base (if using). 
Cover, bring to a simmer, reduce heat and simmer for an hour.

To cook the vegetables:

 

Clean mushrooms and shallots, leaving shallots and small mushrooms whole; slice large mushrooms in half. 

In nonstick skillet sauté bacon until crisp. 
Remove and crumble (don't eat!) 
Add shallots to pan with 2 tbs water, cover and cook for 10 minutes. 
Uncover and cook off liquid. 
Add mushrooms to skillet and sauté over medium heat until both are nicely browned on all sides about 15 minutes. 
When done, cover until time to add to chicken.

To finish:

 

Remove chicken from pan and cover to keep warm. 

Strain sauce, discarding solids. 
Return sauce to pan removing 1/2 cup.  Bring sauce to a boil over medium heat. 
Put cocoa into a small bowl.  Slowly whisk in 1/2 cup reserved sauce. 
Slowly whisk cocoa mixture into simmering sauce.  Continue whisking until it returns to a boil.  Reduce heat to a simmer and allow to reduce slightly, about 5 minutes. 
Dissolve cornstarch in water.   Use to thicken sauce to desired consistency if needed. (The cocoa will thicken it slightly.)  I used about half - the sauce is supposed to be a bit thick but not gluey. 
Return chicken to pan along with mushrooms, shallots and bacon.  Allow to heat through over low heat, 10 - 15 minutes. 
Arrange chicken, mushrooms and shallots on a small platter.  Spoon some sauce over and serve the rest on the side.
Day 3:

 Split Pea Soup

Total time: 1 hour 30 minutes 
   Traditionally made with a ham bone or ham hock, I made this with a slab of local, dry-cured ham.  Regular baked ham would work as well.  This will make 4 servings.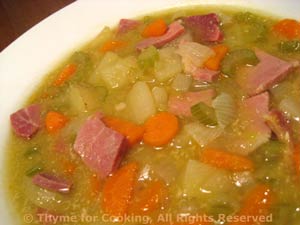 Ingredients:
1 1/4 cup (8oz, 240gr) split peas
6 cups water

2 thick slices Prosciutto, (6ozm 180gr total weight)

(for most intense flavor) 

or a meaty ham bone 

1 large onion
3 medium carrots
2 medium potatoes
3 ribs celery
 Instructions:
If using a ham bone, put in water with split peas.  If using Prosciutto or other ham, cut into bite-size chunks before adding. 
Bring ham, peas and water to a boil, cover and simmer for 45 minutes

After 45 minutes:

Roughly chop onion and add to pot.
Peel carrots.  Slice by cutting in half the long way (in 2 or mores sections) then into half circles. Add to pot. 
Peel and slice potatoes to a similar size; add to pot. 
Slice celery, cutting the wide end in half lengthwise and add to pot. 
Cover and simmer until all vegetables are done, 30 - 45 minutes longer. 
Remove ham bone, if using, and cut ham.  Add ham back to soup.
Day 4:

 Coq au Vin Pasta

Total time: 25 minutes 
     This is an easy use of leftovers: just cut, combine and heat!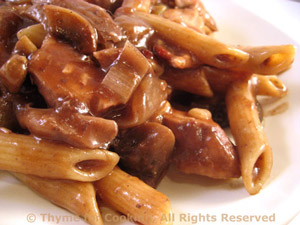 Ingredients:
 Instructions:
Cook pasta according to package directions,  Drain.
Slice shallots.
Heat oil in nonstick skillet.  Add shallots and sauté until tender, about 10 minutes.
Cut the leftover coq au vin into small, bite-size pieces and add to skillet.
Add 1 1/2 cups of sauce to skillet and heat through.
When pasta is done, drain and toss with chicken and sauce. Add more sauce if needed and heat through.  Serve.
Note:  if you don't have enough sauce add a bit of chicken stock and 1 - 2 tbs tomato paste to skillet.
Day 5:

 Beef Patties with Caramelized Onions

Total time: 35 minutes 
    We use 10oz and make 2 nice burgers.  If you want more meat just increase everything else (not the caramelized onions) proportionately.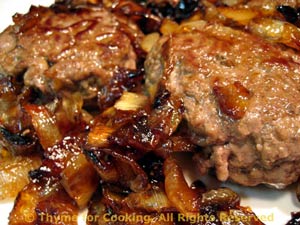 Ingredients:
10oz (300gr) ground beef
2 tbs bread crumbs
1 tbs Dijon-style mustard
1 tbs red wine   (or beef stock or ketchup
1/2 tsp garlic powder
1 tsp thyme
2 medium onions
2 tbs butter
1 tbs brown sugar
2 tsp Dijon-style mustard
 Instructions:
Mix bread crumbs, mustard, red wine, garlic powder and thyme. 
Add beef and mix thoroughly - hands are best.  Shape into 2 or 3 patties. 
Cut onions in half then into 1/4 inch (.65cm) think slices.  
Heat butter in large nonstick skillet over medium heat.  Add onions, cover and cook for 5 minutes. 
Uncover  onions and sauté until browned, stirring frequently, another 15 minutes. 
Add patties (moving onions out of the way but leave in pan) and sauté 5 - 7 minutes per side. 
Remove burgers and keep warm. 
Add sugar and mustard to onions and stir until well blended and sugar is melted. 
Spoon over burgers and serve.
Day 6:

 Pork Chops with Mushroom Pan Sauce

Total time: 35 minutes
     Braised pork chops, with a simple pan sauce of mushrooms, onions and chili powder.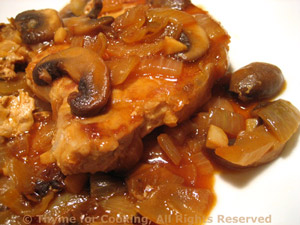 Ingredients:
2 - 4 pork chops, depending on size, 12oz (360gr) total weight
4oz (120gr) mushrooms
1 small red onion
1 tbs olive oil
1 tsp chili powder
1 tbs Balsamic vinegar
1/2 cup (4oz, 120ml) beef stock
1 tbs tomato paste
 Instructions:
Clean mushrooms, slice thickly.
Roughly chop onion.
Heat oil in large nonstick skillet over medium high heat.  Add pork chops and brown, about 5 minutes per side.  Remove. 
Reduce heat to medium.  Add chili powder and sauté briefly, about 30 seconds.
Add onions and sauté 3 minutes.
Add mushrooms and sauté 5 minutes longer.
Add stock and deglaze pan, stirring up any browned bits.
Add vinegar, tomato paste and stir well.
Return chops to pan, cover, reduce heat and simmer until chops are cooked through and tender, about 15 minutes longer.
Uncover and simmer until sauce is slightly thickened.  Serve.