Main Course Menu Plan: Week 7 
Winter I
Day 1:

Shrimp Creole over Brown Rice

Total time: 35 minutes    longer if you have to clean shrimp 
     Chock full of vegetables and shrimp, you can make this as hot as you like. Mon mari likes lots of red Tabasco on his; I prefer the milder green. Serve over Brown Rice for a heart-healthy dinner.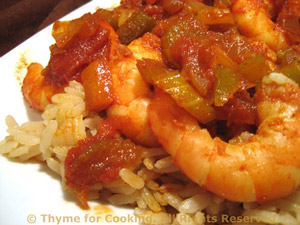 Ingredients:
 Instructions:
Clean shrimp if necessary.
Roughly chop celery, pepper; chop onion and finely chop garlic.
Roughly chop tomatoes, reserving all liquid.
Heat oil in medium nonstick skillet over medium heat.  Add chili powder, paprika and sauté for 15 - 20 seconds.
Add celery, onion, pepper and sauté for 5 minutes, until starting to become tender.
Add garlic and sauté for 1 minute more.
Add tomatoes, their juices, paste, herbs and sauces.  Bring to a boil, stirring well.
Reduce heat to low and simmer uncovered for 10 minutes until vegetables are done and sauce starts to thicken.  Taste and adjust sauce - adding Tabasco if desired.
Turn heat to medium and add shrimp.  Cook shrimp, stirring, until they start to curl and turn opaque, about 5 minutes.
Remove from heat and spoon over brown rice.
Brown Rice
Cook rice according to package instructions adding the herbs with the stock or water.
Fluff and serve.
Day 2:

Blanquette de Veau 

Veal in White Wine Sauce

Total time: 2 hours  
   Braised veal and vegetables, finished with a white wine sauce is a classic French dish, easy to make, delicious, and impressive to serve.  It can easily be expanded for a dinner party.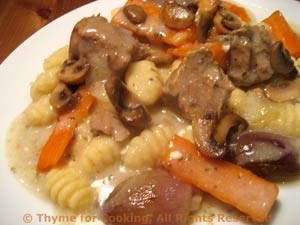 Ingredients:
14oz (420gr) veal, suitable for braising
1 onion
2 whole cloves
1 bouquet garni
2 carrots
4 shallots
4oz (120gr) mushrooms
1 cup (8oz, 240ml) dry white wine
1 1/4 cups (10oz, 300ml) chicken stock (divided) plus water enough to cover meat in pan
2 tbs butter
1 tsp lemon juice
1 tbs cornstarch dissolved in 2 tbs water
pinch of nutmeg
1/2 cup (4oz, 125gr) Greek yogurt, sour cream or crème fraiche

Gnocchi, 7oz (210gr)
 Instructions:
The Veal: 

Cut meat into large chunks, 1 1/2" (3.75 cm).
Cut the onion in half and stud with cloves.
Peel the carrots and cut in half the short way, then in half the long way.
Place meat, onion, carrots and bouquet garni in a heavy saucepan or casserole.
Pour the white wine over and 1 cup of the chicken stock to cover, adding water if needed.
Bring to a boil over medium heat, cover, reduce heat and simmer, very gently, for 90 minutes.

The Veg:

30 - 45 minutes before veal is done start the vegetables:  Peel the shallots. 
Brush the mushrooms, remove stems.  Thickly slice if large, leave small mushrooms whole.
Heat 1 tbs of the butter and the lemon juice in a medium nonstick skillet.
Add mushrooms and sauté until golden.  Remove and set aside.
Add remaining 1 tbs butter and whole shallots.  Sauté until shallots start to brown.
Add 1/4 cup chicken stock, reduce heat and cover.  Simmer for 20 minutes or until tender.
Remove cover and cook off most of the liquid.
Add mushrooms to pan, cover and turn off heat.

The Gnocchi:

Cook according to package directions.

To Finish: 

Remove veal and carrots from pot, cover and keep warm.
Strain cooking liquid, put it back into the pan and bring to a boil over medium-high heat.
Reduce to 1 cup (or so)
Turn heat under sauce to medium-low.  Dissolve cornstarch in water and thicken sauce.
Remove from heat, add yogurt and nutmeg, stirring well. 
Put the gnocchi onto a platter.  Arrange veal, carrots, shallots and mushroom on top.
Spoon some sauce over meat, vegetables and pass the rest.
Day 3:

 Meat Loaf Florentine 

Total time: 80 minutes
     While this meat loaf is chock-a-block with vegetables it still retains the 'proper' meat loaf taste and texture.  We'll eat it for 2 meals - and there may be enough for a couple of great sandwiches as well. I actually used about 19oz (540gr) in this because I had some bits in the freezer to use up.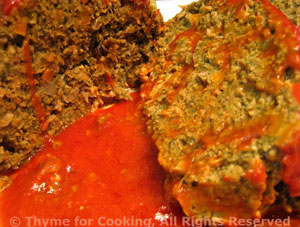 Ingredients:
16oz (480gr) ground beef (mince)

or beef and sausage mixed or turkey

1 medium onion, 

about 1/2 cup finely chopped

2oz (60gr) mushrooms 

about 3/4 cup finely chopped

1 carrot, 

about 1/3 cup finely chopped

1 - 2 ribs celery, 

about 1/3 cup finely chopped

2 cloves garlic
8oz (240gr) frozen spinach
1 tbs olive oil
2 eggs
1/2 cup bread crumbs
1/2 cup (4oz, 120ml) red wine or beef stock
1/4 cup (2oz, 60ml) ketchup
1 tsp dried thyme
1 tsp dried basil
2 tsp parsley
1 cup (8oz, 240ml) tomato sauce
 Instructions:
Day 4:

 Stir-Fried Chicken and Broccoli with Barley  

Total time: 25 minutes 
    I use quick-cooking barley... Yes, I know, not as healthy as the slow variety, but still good! Toast the sesame seeds first if they are not already toasted.  Add crushed red pepper flakes if you like some heat, and/or use a hotter mustard.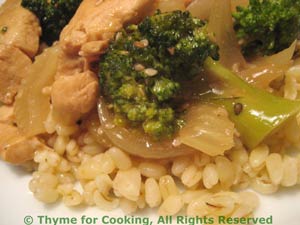 Ingredients:    
2 chicken breasts, boneless, skinless
1 onion
2 cloves garlic
2 ribs celery
1 small head of broccoli
3 slices ginger, peeled
1/3 cup (3oz, 90ml) sherry
2 tbs soy sauce
2 tbs red wine vinegar
1 tbs Dijon-style mustard
2 tsp brown sugar
2 tsp sesame seed oil
2 tsp olive oil
1/2 cup (4oz, 120ml) chicken stock
1 tbs cornstarch (maizena, corn flour)
1 tbs sesame seeds, toasted
Barley
2/3 cup (3.3oz, 95gr) barley, quick-cooking
1 1/3 cup (11oz, 330ml) chicken stock
 Instructions:
The prep: 

In a small bowl mix the sherry, soy sauce, vinegar, mustard and sugar.
Cut chicken into bite size pieces.  Add to the bowl with the sauce, stir to coat.
Cut the broccoli into small florets with a bit of stem.
Vertically slice the onion.
Cut celery into 1/4 inch slices.
Mince the garlic and the ginger.
Dissolve the cornstarch in the chicken stock and set aside.

To cook: 

In a large skillet or wok heat half of both oils over medium-high heat.
Add celery, onion, and stir fry 3 minutes.
Add garlic, ginger, broccoli and stir-fry 2 minutes more.
Transfer vegetables to a plate.
Add the rest of the oils to the skillet.
Remove chicken from sauce, reserving sauce, and stir fry 3 minutes.
Return the vegetables to the pan and add the reserved sauce.
Bring to a boil.  Reduce heat, cover and simmer for 3 - 5 minutes longer, until the broccoli is just tender, but not over done.
Give the cornstarch/stock a stir to recombine and add it to the pan, stirring constantly until thickened.
Stir in sesame seeds.
Serve over barley.
Barley 
Cook barley in chicken stock, covered, over medium-low heat until done.
To toast sesame seeds:  Put them into a dry, nonstick skillet over medium heat.  Toss or stir them about in the pan until lightly golden, about 5 minutes.
Day 5:

 Lemon and Soy Glazed Turkey Cutlets

Total time: 20 minutes 
    Turkey cutlets, are thin slices of turkey breast meat.  They cook quickly and are particularly well suited to savory marinades and sauces.  If you can't find them, substitute thinly sliced turkey tenderloin or chicken breasts. This is an intensely flavored, savory dish.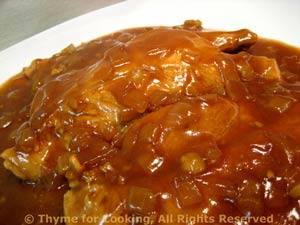 Ingredients:
 Instructions:
Combine soy sauce, lemon juice, brown sugar and stock in a dish.
Add turkey cutlets, turning to coat and allow to marinate for a bit.
Thinly slice onion.
Mince garlic.
Mince ginger if using fresh.
Sauté onion, garlic and ginger in oil in large nonstick skillet over medium heat for 5 minutes.
Add turkey (reserving marinade) and sauté until golden, turning once - pushing onion mixture to sides of pan to prevent burning.
Add reserved marinade, reduce heat and cook, covered 4 - 6 minutes longer or until done.
Remove turkey from pan.
Thicken pan juices by adding cornstarch mixture and stirring well.
Spoon over turkey and serve.
Day 6:

 Pasta with Pork, Peas and Peppers

Total time: 25 minutes
    Pork tenderloin can be cooked quickly while remaining tender. With frozen peas, this dish goes together quickly.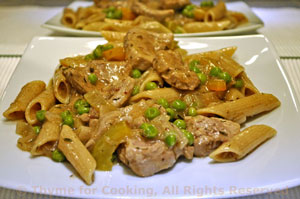 Ingredients:
1 pork tenderloin, 12oz (360gr)
1/2 green pepper
3 shallots
1 cup (6oz, 180gr) peas, frozen, no sauce
1 tsp dried thyme
1/2 tsp cumin
1/2 tsp paprika
1 tbs Dijon-style mustard
3/4 cup (6oz, 180gr) beef stock
2 tsp olive oil
2 tsp cornstarch dissolved in 1 tbs water
1 1/4 cup (4.1oz, 120gr) pasta, bite-size, penne, fusilli
 Instructions:
Cook pasta according to package directions.  Drain.
Slice pork into rounds about 1/2" (1cm) thick. 
Roughly chop shallots and pepper.
Heat oil in large nonstick skillet.  Add cumin, paprika, shallots, pepper, and sauté until tender, about 5 minutes.
Move vegetables to the side, add pork slices and sauté 3 - 4 minutes per side.
Add peas (no need to thaw first) thyme, mustard, beef stock, cover, reduce heat to low and simmer 10 minutes.
Dissolve cornstarch in water, add to skillet and stir until thickened.
Add pasta to skillet, stir well to combine and serve.