Main Course Menu Plan: Week 6 
Winter I
Day 1:

Crusted Sole

Total time: 15 minutes
     Sole is a delicate, flavorful fish.  Here it has a light coating of crumbs.... Not so much as to overwhelm it.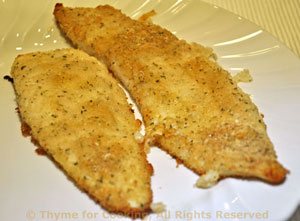 Ingredients:
2 - 4 sole filets about 12oz (360gr) total weight
1/3 cup bread crumbs
1/2 tsp Herbes de Provence
olive oil
 Instructions:
Lightly oil a baking sheet large enough to hold he fish in a single layer.
Put the crumbs and Herbes on a plate and combine well.
Dip both sides of fish in the crumbs and lay on the baking sheet.
Drizzle with a bit more oil.
Bake, 375F (190C) for 10 - 12 minutes, until fish are golden.
Remove and serve.
Day 2:

Braised Pork with Leeks

Total time: 1 hour 30 minutes 
       Braising does wonderful things to a pork roast: keeping it moist and making it very tender.   This is served with a White Wine and Leek Sauce. 
 Ingredients:
small pork loin roast
2 medium leeks
1 tbs oil
3/4 cup (6oz, 180ml) white wine
1/2 cup (4oz, 120ml) chicken stock
1 1/2 tsp dried thyme
1 tbs cornstarch (corn flour, maizena) dissolved in 2 tbs water
 Instructions:
Clean and trim leeks, discarding the dark green tops, using the light green.
Cut in half the long way and thinly slice.  Rinse well if sandy.
Heat oil in heavy pot or Dutch oven.  Add leeks and sauté until tender, about 10 minutes.
Remove to a plate and set aside.  Add pork and brown on all sides.
Add 1/4 cup of white wine and stir up all the browned bits from the bottom of the pan.
Return leeks to pot and add remaining wine, stock and thyme.
Bring to a boil, cover, reduce heat to a slow simmer and braise for at least 70 minutes, or up to 3 hours

To finish: 

Remove pork and let rest.
Increase heat under leeks.
Dissolve cornstarch in water and stir into leeks until thickened and clear.
Slice some of the pork and arrange on a small platter.
Spoon some Leek Sauce over and serve, remaining Leek Sauce on the side.
Day 3:

 Turkey with Horseradish Sauce  

Total time: 30 minutes
      You can use turkey tenderloin - sliced horizontally to make cutlets, or kept whole and simmered another 10 minutes, then sliced before serving.  The combination of mustard and horseradish gives this dish an interesting 'warmth', but not heat like pepper sauce would.
 Ingredients:
12oz (360gr) turkey cutlets
1/2 onion
2 cloves garlic
1 rib celery
2 cups (15oz, 450gr) whole tomatoes
2 - 3 tbs prepared horseradish
2 tsp Dijon-style mustard
1/3 cup (3oz, 90gr) yogurt
1 tsp dried basil
1 tbs olive oil
2 tsp cornstarch (maizena, corn flour) dissolved in 1 tbs water
 Instructions:
Chop onion and celery.
Mince garlic.
Drain tomatoes, reserving juices.  Roughly chop tomatoes.
Heat oil in medium nonstick skillet.  Add onion, celery, garlic and sauté about 5 minutes.
Move vegetables to the side and add turkey cutlets.  Lightly brown on each side, about 5 minutes.
Remove turkey.  Add tomatoes, reserved juices, mustard, horseradish and basil.
Stir well.  Bring to a boil.
Return turkey to pan, reduce heat and simmer, uncovered, 5 - 10 minutes, depending on thickness of turkey.  Stir occasionally.  (If using a whole, uncut tenderloin, cover and simmer 10 - 15 minutes.)
Dissolve cornstarch in water.
Remove turkey to small platter.
Increase heat under sauce.  Add cornstarch and stir until thickened and clear.
Add yogurt and stir.
Spoon some sauce over turkey and serve, remaining sauce on the side.
Day 4:

 Tuna and White Bean Enchiladas

Total time: 35 minutes
     A different twist on the traditional enchilada, this has a white sauce, white beans and white cheese... Enchilada Blanca....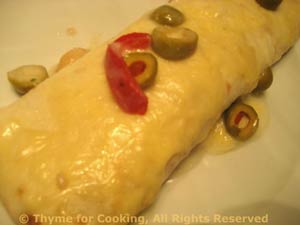 Ingredients:
1 onion
1/2 green bell pepper
4oz (120gr) pimiento or roasted red peppers
4oz (120gr) green chilies
1 rib celery
3 cloves garlic
1 tbs olive oil
9oz (270gr) tuna
1 3/4 cups (15oz, 450gr) white beans (cannellini)
1 cup (4oz, 120gr) shredded Gruyère cheese - divided
1/2 cup green olives - pimento stuffed
2 cups (16oz, 480ml) chicken stock
3 tbs cornstarch (maizena) dissolved in 3 tbs chicken stock
1/2 cup (4oz, 120ml) Greek or plain yogurt or sour cream
4 corn or wheat tortillas
 Instructions:
Chop onion, green pepper and celery. 
Finely chop garlic.
Drain chilies, pimiento, and tuna.
Chop chilies if whole.
Slice pimiento.  Slice olives.
Drain and rinse beans.
Heat oil in medium nonstick skillet.  Add onion, pepper, celery and garlic.   Sauté until vegetables are tender, 5 - 7 minutes.
Remove from heat. Add green chilies, tuna and white beans.
Heat chicken stock to boiling.
Dissolve cornstarch in chicken stock.
Stir cornstarch into simmering broth to thicken.
Remove from heat and stir in yogurt.
Put 1/2 cup of the sauce into a baking dish large enough to hold 4 enchiladas.
Add 1/2 cup of the sauce and 1/2 cup of the cheese to the tuna mixture.
Divide the tuna mixture into fourths.
Lay 1/4 of the pimiento slices on each tortilla.
Spoon 1/4 of the tuna/bean mixture on top and roll up. Place seam side down on the sauce in the baking dish.
Pour the rest of the sauce over the finished enchiladas, sprinkle with the remaining 1/2 cup cheese and the olives.
Bake at 375F (190C) for  20 minutes, until heated through and cheese is bubbly.
Day 5:

 Chicken with Whole Grain Mustard Sauce

Total time: 25 minutes
  Whole grain mustard and white wine, slightly reduced, make a lovely, light sauce for the chicken, bursting with flavor but low in calories.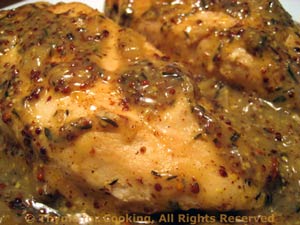 Ingredients:
2 chicken breasts, boneless, skinless
1/2 medium onion
2 tsp olive oil
1 tsp thyme
1/2 (4oz, 120ml) white wine
2 tbs whole grain mustard
 Instructions:
Roughly chop the onion.
Sauté onion in oil in nonstick skillet over medium-high heat. 
When onion starts to brown, move it to the sides of the pan and sauté chicken breasts until lightly browned.
Add thyme, mustard and wine.  Stir to combine.
Cover, reduce heat and simmer until chicken is done, about 15 minutes.
Remove chicken to a small platter, cover to keep warm.
Increase heat under skillet and reduce sauce slightly.
Pour sauce over chicken and serve.
Day 6:

 Ground Beef and Savoy Cabbage Lo Mein

Total time: 25 minutes  
   Stir-fries cook quickly and are very flexible when it comes to ingredients.  I always try for a mix of colors, textures and flavors... Savoy cabbage works in place of the more traditional bok choy.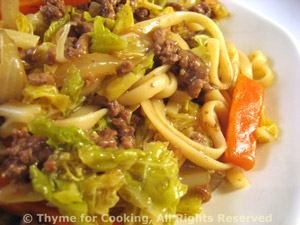 Ingredients:
12oz (360gr) ground beef (mince)
1 onion
2 cloves garlic
2 tsp fresh ginger, minced   substitute 1/4 tsp ground ginger
2 cups shredded savoy cabbage
1 medium carrot
4oz (120gr) spaghetti
2 tsp olive oil
1 cup (8oz, 240ml) beef stock
1 tbs soy sauce
2 tbs sherry
1 tbs cornstarch (Maizena)
 Instructions:
Cook pasta according to package instructions.
While pasta cooks:
Thinly slice onion.
Mince garlic.
Mince ginger (peel first).
Cut carrot into matchsticks.
Remove dark green outer leaves from cabbage. Cut off a thick slice, avoiding the core. Lay flat, cut into 3 or 4 wedges, then thinly slice the wedges.
Heat olive oil in large nonstick skillet over medium-high heat. Add onion and carrot to skillet; stir-fry for 2 minutes.
Add garlic, ginger, cabbage and stir-fry another 3 minutes.
Remove vegetables from skillet and set aside.  Add beef, and fry, breaking it up as it browns.
Return vegetables to pan.
Add beef stock and bring to a boil.
Cover, reduce heat and simmer for 5 minutes.
In a small bowl, whisk together sherry, soy sauce and cornstarch.
Uncover skillet and stir in cornstarch mixture until thickened.
When pasta is done, drain and add to skillet. Toss to combine, tongs work best, or two forks.   Serve. 
Note:  To measure pasta. 4oz  (120gr) is about 1 1/4" (3cm) diameter bunch (make a circle with thumb and index finger - you want it a little bigger than an American quarter, about the size of a 2 euro coin)