Main Course Menu Plan: Week 13 
Winter I
Day 1:

Shrimp with Capers, Lemon, and Feta on Orzo

Total time: 25 minutes 
  Shrimp with a Mediterranean flavor: capers, lemon, feta, black olives, served on a bed of herbed orzo.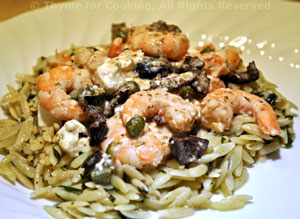 Ingredients:
12oz (360gr) shrimp
1 lemon, 3 - 4 tbs juice
2 tbs capers
15 Greek dry-cured olives
3oz (90gr) feta cheese
2 tbs Greek or plain yogurt
3 tbs good olive oil, divided
1/2 cup (4.5oz, 130gr) orzo
1/2 tsp dried basil
1/2 tsp dried oregano
 Instructions:
Cook orzo in rapidly boiling water according to package directions.  Drain.
Toss orzo with herbs and 1 tbs olive oil.
Clean shrimp if needed.
Juice lemon.
Pit and roughly chop olives.
Cut feta into small cubes.
Heat 2 tbs oil in a large skillet.
Add shrimp, cook until they curl and turn opaque.
Add lemon juice, capers, olives and stir to combine.
Remove from heat and stir in feta. yogurt 

To finish: 

Divide orzo onto two plates. 
Top with shrimp and juices
Day 2:

Braised Veal with Garlic  

Total time: 60 minutes 
     Mediterranean cuisine uses a lot of garlic.  The Spanish like it raw, rubbed on bread.  The French like it whole, cooked to a beautiful, smooth creamy purée, which is what we are doing here.  I peeled the garlic cloves... but it's really not necessary.  Just pinch the cooked garlic out of the skin to eat.. As is so often the case, this will be enough for 4 persons or 2 meals.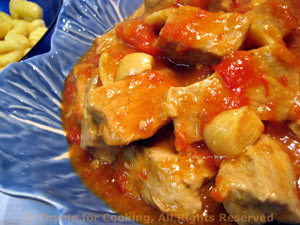 Ingredients:
16oz (480gr) veal, suitable for braising - stew meat, shoulder
2 tbs olive oil
2 tbs dried bread crumbs
1 cup (8oz, 240ml) dry white wine
1 head of garlic, 12 - 16 cloves
3 bay leaves
15oz (450gr) whole tomatoes
1 1/2 tbs cornstarch (maizena) dissolved in 2 tbs water
8oz (240gr) fresh gnocchi
 Instructions:
Cut veal into 1 1/2 inch (3.75cm) cubes. 
Separate garlic head, peeling cloves if you like. 
In a deep, heavy pan heat the oil over medium-high heat.   Add half of the veal and brown on all sides. 
Remove and brown the other half.  Remove. 
Add the bread crumbs, wine and stir well, scraping up the browned bits.
Chop tomatoes, reserving all juices. 
Return veal to pan, add garlic cloves, tomatoes with juices and bay leaves.  Bring to a boil.  
Cover and reduce heat to low.  Simmer for 45 minutes. 
Cook gnocchi according to package directions.  Drain.
Turn the heat up under veal and uncover.  Give the cornstarch mixture a stir and add to the pan a little at a time until thickened to your liking. 
Spoon meat, garlic and sauce into a bowl and serve with gnocchi.
Day 3:

 Sausage and Spinach Lasagne

Total time: 50 minutes
    This is a hearty lasagne, a bit more familiar, but with a few flavor twists: fresh spinach, sausage and a bit of green pepper.  Using no-cook noodles makes it all easy.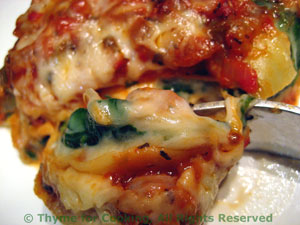 Ingredients:
12 - 16 sheets 'no-cook' lasagna noodles
10oz (300gr) sausages, any flavor 
1 tbs olive oil
1 onion
1 small green bell pepper
2 cloves garlic
15oz (450gr) whole tomatoes
1 cup tomato sauce, 8oz (240ml)
1 tsp dried oregano
1 tsp dried basil
7oz (210gr) fresh spinach
2 tbs butter
2 tbs flour
1 1/2 cups milk, 12oz, (360ml)
1 cup (4oz, 120gr) shredded Gruyere cheese
 Instructions:
Meat Sauce:

Finely chop onion, pepper and garlic.
Heat the oil in a large skillet over medium heat. Add onion, pepper, garlic and sauté for 10 minutes or until tender.
Slice sausages as thinly as possible (less than 1/2", 1cm) and add to skillet.  Sauté until cooked through. 
Drain whole tomatoes, reserving sauce, and roughly chop. 
Add to skillet along with tomato sauce, reserved sauce and herbs.
Cover, reduce heat and let simmer until needed.

Béchamel sauce:

In a medium saucepan heat the butter over low heat.
Add flour and stir with a whisk for 1 minute.
Add a little (1/4 cup) of the milk and whisk to combine.
Turn heat up to medium-high and keep adding milk, a little at a time and whisking. You should have added all of the milk in a minute or 2.
When all of the milk is in bring to a boil (should almost be there), whisking. Then remove from heat.

Spinach

:
Remove any tough stems from the spinach and wash.  Drain well. 
Cut any huge leaves. 

To assemble:

in an square, 10 X 10 (25 X 25cm) or oblong baking dish, 8 X 10, (20 X 25cm) or so... make the following layers:
1/2 béchamel sauce
3 - 4 lasagne noodles, I have to break one up to get good coverage
1/3 meat sauce
3 - 4 lasagne noodles
1/2 béchamel sauce
1/2 of the cheese
3 - 4 lasagne noodles
all of the spinach
1/3 meat sauce
3 - 4 lasagne noodles
1/3 meat sauce
1/2 cup shredded cheese
Cover and bake 400F (200C) for 20 - 25 minutes, or until noodles are tender. Test in center with a sharp knife.
Uncover and bake 5 minutes longer to brown cheese.
Remove and let rest for 5 minutes. Cut into squares (or oblongs) and serve.
Day 4:

 Turkey Cutlets with Sherry and Almonds

Total time: 15 minutes
     Much more economical than the traditional veal cutlets, breaded turkey with a light sherry and almond sauce is an impressive, but simple dish.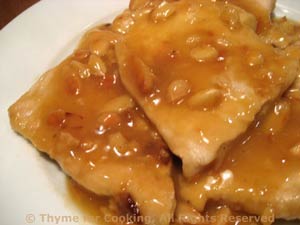 Ingredients:
2 - 4 turkey cutlets, depending on size, 12oz total (360gr)
2 tbs flour
1/4 cup (1oz, 30gr) slivered or roughly chopped almonds
1/4 cup (2oz, 60ml) chicken stock
1/4 cup (2oz, 60ml) sherry
1 tbs olive oil
1 tbs butter
2 tsp cornstarch dissolved in 1 tbs chicken stock
 Instructions:
Day 5:

 Braised Savory Pork Chops

Total time: 30 minutes
     There are a lot of intense flavors in the sauce for these chops; best served with simple side dishes.  The sauce is reduced at the end, to thicken slightly.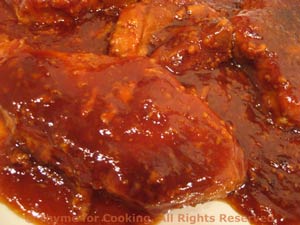 Ingredients:
2 - 4 pork chops, depending on size,  12oz (360gr) if boneless
2 tsp olive oil
2 cloves garlic
1/4 cup (2oz, 60ml) sherry
3 tbs soy sauce
3 tbs ketchup
3 tbs orange marmalade
1/2 tsp dry mustard
 Instructions:
Day 6:

 Egg Fu Yung

(Chinese Pancakes with Cabbage & Brown Rice)

Total time: 35 minutes 
    If you cook the rice with water or vegetable stock, you have a lovely vegetarian main course.  The rice adds 'substance' to the egg although you really can't tell that it's there.  The cabbage retains just enough crunch.  They go together quickly if the rice is cooked in advance.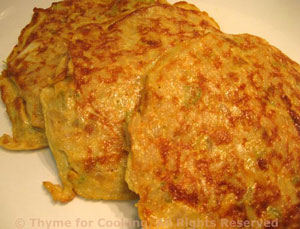 Ingredients:
1/2 cup (3.3oz, 95gr) quick-cooking brown rice   

cooked, yielding 1 1/2 cups cooked rice

1 cup (8oz, 240ml) chicken stock
2 cups finely shredded cabbage
1 medium onion
1 rib celery  

optional

1 small can water chestnuts 5oz  

optional

2 tbs soy sauce
6 eggs
2 tbs olive oil

Sauce:

1 1/2 cup (12oz, 360ml) chicken broth
1 1/2 tbs soy sauce
1 tbs molasses

(brown sugar could be substituted ...not as good, but...)

2 tbs cornstarch (maizena) dissolved in 2 tbs water
 Instructions:
Cook brown rice in stock or water according to package instructions.
Shred cabbage by cutting slice off of head, lay the slice cut side down and cut into 4ths, then, cutting across, slice1/8 inch thick.  Do not use the core of the cabbage - you'll recognize it when you see it. 
Finely chop onion, celery if using and water chestnuts, if using. 
In large nonstick skillet heat 2 tsp olive oil and sauté cabbage, onion, celery and water chestnuts until cabbage is wilted and onions tender, 7 - 10 minutes. 
Put vegetables in a large bowl. 
Add rice to vegetables along with soy sauce and mix well. 
If rice was just cooked, let it cool a few minutes while you make the sauce - see below. 
In another bowl whisk 6 eggs. 
Add the eggs to the vegetable/rice mixture and stir well. 
In same skillet heat remaining 2 tsp olive oil over medium-high heat. 
When pan is hot drop egg mixture by 1/3 cupfuls into pan to form patties. 
Fry until nicely browned, 5 – 7 minutes. 
Gently turn and brown the other side.   When done, remove to a platter and keep warm in 200F (110C) oven while you make the rest. 
Serve with the sauce on the side.
Sauce:
Heat chicken broth, soy sauce and molasses in small pan over medium-high heat, stirring well to mix in molasses.
When hot, stir in cornstarch to thicken. 
Keep warm while making pancakes.