Main Course Menu Plan: Week 11 
Summer I
Day 1:

Grilled Tuna with Pesto

Total time: 25 minutes
    A simple dollop of pesto sauce is a great accompaniment to grilled fish.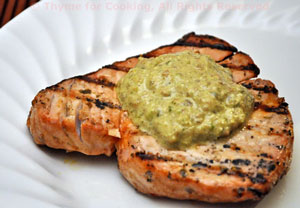 Ingredients:
 Instructions:
Mix oregano, oil, vinegar and ketchup. 
Brush onto tuna and let marinate for 10 - 25 minutes. 
When ready grill over direct heat using grill basket, mat or directly on the grill, brushing with oil first.  Grill for 2 - 4 minutes per side for medium rare.  If not sushi-grade, cook until medium - medium well, still pink in the middle, 6 - 7 minutes per side, all times depending on thickness of tuna and personal taste. 
Can also be cooked under broiler or sautéed in nonstick pan for roughly the same amount of time. 
Pesto Sauce: 
Mix pesto, olive oil and vinegar.
To finish:
Serve with 1 1/2 tbs Pesto Sauce on top of each steak.
Day 2:

Grilled Cornish Hens (Poussin) with Spicy Rub

Total time: 60 minutes 
    Cooked over indirect heat with a spicy rub gives these hens a crisp, flavorful skin.  Both the dry mustard and pepper add a bit of heat.
 Ingredients:
2 Cornish game hens or poussin (little chickens)
1 tbs olive oil
1 tsp chili powder
1 tsp paprika
1 tsp cumin
1/2 tsp garlic powder
1/2 tsp dry mustard
1/4 tsp salt
1/4 tsp finely ground black pepper
 Instructions:
Tie legs together with kitchen string and fold wing tips under back (at first joint) - keeps them from flapping. 

Rub birds with olive oil. 
Mix all remaining ingredients together and sprinkle over birds. 
Pat into place with the back of a spoon or a spatula.

(Using your hands would remove too much of the rub.)

Cook hens on barbecue grill over indirect heat, covered, for 45 - 60 minutes or until done.  Chicken is done at 160 F (70C) on your meat thermometer and/or the juices run clear when pierced with knife. 

Or

they can be baked in a shallow roasting pan in a 400F oven for the same amount of time - until done.
When done, remove from heat, cut string and serve - don't forget finger bowls (it's messy) and bone bowls (to keep your plates tidy). 
Serve whole or cut each bird in half.
Day 3:

 Tomato and Chevre Tart 

Total time: 60 minutes, 45 if rice cooked earlier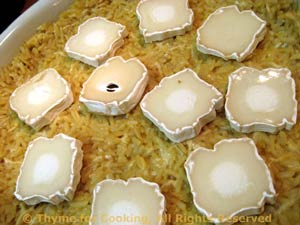 I use a brown rice crust for this; it's healthier.  But you could certainly use a proper pastry or pie crust if you prefer.  Instead of Prosciutto you could substitute a bit of regular, baked ham or smoked turkey.  And any cheese would work, just don't use too much.... Use the aged goat cheese that comes with a thin edible rind.
 Ingredients:
 Instructions:
The crust:
Cook rice in stock according to package instructions.
When done, spread out on a plate for 5 minutes to allow to cool a bit.
Lightly oil a 10" (25 cm) pie or quiche plate. 
Lightly whisk 1 egg.
Add 1/4 cup shredded cheese and the cooked rice.  Mix well. 
Pat into the quiche plate or pie pan, working it up the sides as best you can. 
Bake in 400F (200C) oven for 5 minutes. 
Remove.

The filling:

Slice goat cheese into 1/4" (.6cm) rounds.
Slice tomatoes about 3/8 " thick, (.3cm).
Tear or cut Prosciutto into large pieces.
 Leave basil leaves whole.
Whisk eggs and yogurt together.
To assemble:
Arrange sliced goat cheese on crust.
Top with Prosciutto and basil leaves.
Pour egg mixture over as evenly as you can.
Top with tomatoes; do not overlap.
Bake for 30 minutes, until center has set. 
Remove and let rest 5 minutes.
  Slice and serve.
Note:  When baking quiches or tarts, I put the dish on a sturdy baking tray, before pouring in the egg mixture, for easier handling.
Day 4:

 Chicken Caesar Pasta Salad

Total time: 30 minutes
    I know the classic Caesar Salad is made with Romaine lettuce, and dressed with a raw egg, olive oil and lots of garlic.  This dressing lightens it, makes it a bit healthier, but still keeps the flavor of the original Caesar.  Plus, it makes a great main course for summer!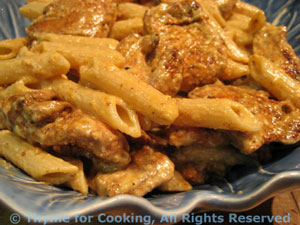 Ingredients:
2 chicken breasts, boneless, skinless
1 tbs chili powder
2 tbs Worcestershire sauce
1 1/4 cups (4.2oz, 125gr) pasta - fusilli, shells, penne
1 tbs good olive oil
Caesar dressing:
2 cloves garlic
1 tbs Dijon-style mustard
1 tbs lemon juice
1 tbs tarragon white wine vinegar
2 tsp Worcestershire Sauce
2 anchovy filets, mashed or 1 tsp anchovy paste (optional)
1/2 cup (4oz, 120gr) Greek or plain yogurt
2 tbs good olive oil
1 tbs snipped fresh chives
3 tbs Parmesan
 Instructions:
Cook pasta according to package instructions. 
When done, drain, put into a large serving bowl and toss with 1 tbs olive oil.
Mix chili powder, Worcestershire and garlic. 
Slice chicken breasts into bite size pieces or strips and toss with chili powder mixture. 
Cook on barbecue grill in a pan or sauté in nonstick skillet on stove.  Either way cooking time is 5 - 7 minutes over medium-high heat.
Caesar Dressing:
Mince garlic and put in small bowl. 
Add mustard, lemon, Worcestershire, vinegar and yogurt (and anchovies, if using) and mix well with wire whisk. 
Slowly drizzle in olive oil whisking constantly. 
Whisk in Parmesan and chives. 
To finish:
Add cooked chicken and 2/3 dressing to pasta and toss to mix.  (A tongs works great for this!)
After mixing taste and add rest of dressing if you like.  Serve.
Day 5:

 Grilled Chicken Breasts with Honey Mustard Glaze

Total time: 30 minutes
    The chicken breasts are first marinated in lemon, oil and garlic, then grilled and basted with a lemon, honey and mustard mix.  Since we are using the reserved marinade as a basis for the basting sauce resist the temptation to taste it.  And stop basting a few minutes before the chicken is done, to finish cooking the sauce.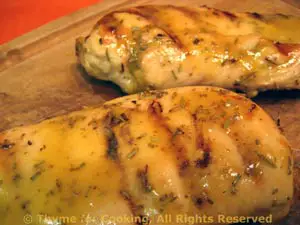 Ingredients:
2 chicken breasts, boneless, skinless
1/4 cup (2oz, 60ml) lemon juice  

preferably fresh

1/4 cup (2oz, 60ml) olive oil
1 tsp dried rosemary
1 tsp dried thyme
1 tsp garlic powder
2 tbs honey
2 tbs Dijon-style mustard
 Instructions:
In small bowl mix lemon juice, oil, herbs and garlic powder. 
Place chicken breasts in a dish with sides and pour marinade over.  Let marinate 10 - 15 minutes or up to 4 hours in the refrigerator. 
Remove from marinade, reserving marinade.
Pour reserved marinade into a small bowl.  Add honey, mustard and whisk to combine.
Cook chicken on barbecue grill for 7 - 10 minutes per side, or until done, basting with marinade sauce. 
Could also be sautéed in a nonstick skillet for same amount of time. 
Discard any leftover sauce.  Serve.
Day 6:

 Grilled Pork Tenderloin with Mustard Seeds

Total time: 35 minutes
   This is fun to cook on the barbecue grill: all the mustard seeds pop as they get hot.  The rub makes the tenderloin rather black, but not too spicy.  The sauce helps keep it moist.  Remember, slightly pink is perfect!
 Ingredients:
14oz 420gr) pork tenderloin
1 tbs paprika
1 tbs mustard seed
1 tbs garlic powder
1 tbs olive oil
Basting Sauce:
3 tbs Dijon mustard
2 tbs red wine vinegar
1 tbs olive oil
 Instructions: