Potato and Zucchini (Courgette) Cake
Total time: 25 minutes
This was based on a Potato Leek Cake that I make during the winter. I updated it for summer by adding red pepper and zucchini. It was a bit heavy to 'flip' so you can either turn it, whole, using 2 plates or just turn it in large sections with a big spatula. Either way, let it get nice and crispy first!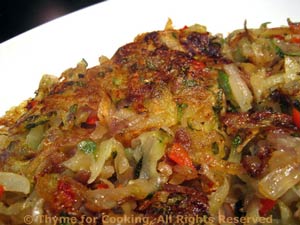 Ingredients:
2 medium potatoes, (10oz, 300gr total)
1 small - medium zucchini (8oz, 240gr)
1 onion (5oz, 150gr)
1/2 red pepper
1 tbs olive oil
salt and pepper to taste
Instructions: