Chicken Noodle Soup
Total time: 120 minutes
      If you can get cheap chicken wings, add them to the stock for more flavor.  Use traditional egg noodles, spaetzle or any type of small pasta. This will make enough for 4 generous servings.  If you want more soup, use a stewing  hen, or add another breast and thigh and increase the vegetables.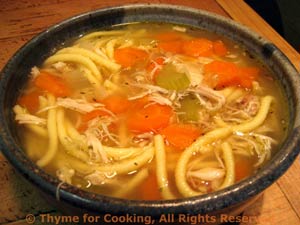 Ingredients:
The stock:
2 chicken breasts
2 chicken thighs
the tops from a bunch of celery or 2 ribs celery
1 carrot
1 onion
bouquet garni
8 cups water
salt or chicken base/stock cubes, or use some chicken stock instead of water
The soup:
6 carrots
4 ribs celery
1 onion
1 tsp dried thyme
1 tsp dried basil
1/2 tsp dried tarragon
6oz (180gr) egg noodles, spaetzle, or other small pasta
the chicken used to make the stock
6 - 8 cups of the chicken stock
 Instructions:
The stock:
Cut the vegetables into large chunks.  If you are using celery tops, use them all, including the leaves. 
Put chicken, vegetables, herbs and water in soup pot or Dutch oven. 
Cover, bring to a boil, reduce heat and simmer for an hour if using breasts, 2 or 3 hours if using a whole chicken.
When done, strain stock, discarding vegetables and reserving chicken. 
If time allows, chill stock and remove fat.
Refrigerate chicken if not making soup immediately.
The soup:
Bring stock to a boil over medium heat. 
Cut carrots in half, the long way then thinly slice. 1/8" (3 cm).  Add to stock. 
Thinly slice celery, add to stock. 
Chop onion, add to stock. 
Add herbs, cover, reduce heat and simmer.
Cut the chicken into small pieces and add to soup.
The soup and vegetables should simmer for 30 minutes.  Add the noodles towards the end of the cooking time and simmer until done. 
Taste and adjust, adding water, stock, salt or chicken base/stock cubes as needed.  Serve.