Recipe in:
Barbecue
(Chicken and Other Poultry)
Grilled Chicken Breasts with Lemon and Honey
American Potato Salad
Grilled Peppers and Onions
Tomato Garlic Salad
Chicken Breast with Lemon and Honey
Total time: 30 minutes
Chicken breasts are a favorite on the grill but be careful not to overcook or they tend to dry out. We prefer to slice them thinly, at an angle, to serve, rather than leaving the breast whole, but that, of course is optional!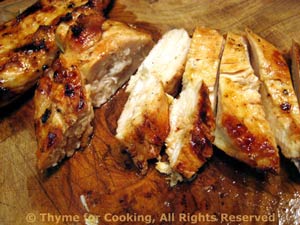 Ingredients:
2 chicken breasts, boneless, skinless
4 tbs lemon juice
2 tbs honey
2 tbs olive oil
1 tbs soy sauce
1/2 tsp garlic powder
Instructions:
In small bowl mix lemon juice, oil, honey, soy sauce and garlic powder.
Place chicken breasts in a dish with sides and pour marinade over. Let marinate 15 minutes or up to 4 hours in the refrigerator.
Remove from marinade and cook on barbecue grill for 7 - 10 minutes per side, or until done, basting with marinade until 5 minutes before removing (to make sure marinade is cooked).
Could also be sautéed in a nonstick skillet for same amount of time. Serve.