Shrimp with Capers, Lemon, and Feta on Orzo
Green Beans with Parmesan
Cooking time: 30 minutes for menu           Cooking schedule: see below for instructions
      Shrimp with lemon and capers is a simple dish with lots of flavor. You could substitute any firm fish. More feta will be used during the week.
Shrimp with Capers, Lemon, and Feta on Orzo
Total time: 25 minutes
  Shrimp with a Mediterranean flavor: capers, lemon, feta, black olives, served on a bed of herbed orzo.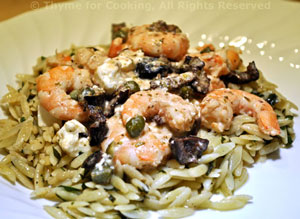 Ingredients:
12oz (360gr) shrimp
1 lemon, 3 - 4 tbs juice
2 tbs capers
15 Greek dry-cured olives
3oz (90gr) feta cheese
3 tbs good olive oil, divided
1/2 cup (4.5oz, 130gr) orzo
1/2 tsp dried basil
1/2 tsp dried oregano
 Instructions:
Cook orzo in rapidly boiling water according to package directions.  Drain.
Toss orzo with herbs and 1 tbs olive oil.
Clean shrimp if needed.
Juice lemon.
Pit and roughly chop olives.
Cut feta into small cubes.
Heat 2 tbs oil in a large skillet.
Add shrimp, cook until they curl and turn opaque.
Add lemon juice, capers, olives and stir to combine.
Remove from heat and stir in feta.  

To finish: 

Divide orzo onto two plates. 
Top with shrimp and juices
Green Beans with Parmesan 
Total time: 25 minutes
   A simple treatment letting the full flavor of the green beans shine through.  Use either regular green beans or the flat Italian Romano beans.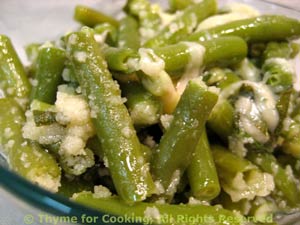 Ingredients:
6oz (180gr) green beans
1/4 cup (2oz, 60ml) chicken stock
1 tbs butter
2 tbs Parmesan
 Instructions:
Top and tail beans.  Cut into 1 1/2" (4cm) lengths or leave long if small - nicer presentation. 
Put in small skillet with stock, put on medium heat and bring to a boil. 
Turn heat to low, cover and simmer until done - about 10 minutes. 
Drain beans and put into a serving bowl. 
Melt butter in the same pan. 
Return beans to pan and toss to coat with butter. 
Put back into serving bowl, sprinkle with Parmesan, stir gently and serve.
Cooking schedule: 30 minutes
Assemble all food, utensils and serving dishes
Utensils: measuring cups, spoons, knives,
medium skillet, medium saucepan and colander
for orzo, small skillet
Put water on high heat for orzo
Prepare shrimp
Juice lemon
Top and tail beans, cut
Chop olives
Cube / crumble feta
Cook orzo

Cook beans
    Pause for a few minutes while stuff cooks
Heat oil for shrimp
Sauté shrimp
Remove beans
Melt butter for beans, add beans, stir and heat
Add lemon, capers, olives herbs to shrimp, heat
Drain orzo, add oil, arrange on platter
Remove shrimp from heat, add feta stir
Spoon shrimp on orzo
Remove beans, add Parmesan, stir
Serve all