Sautéed Chicken Breasts Balsamic
O'Brian Potatoes
Snow peas with shallots
Cooking time:  30 minutes for menu          Cooking schedule: see below for instructions
    I love cooking with both red and white Balsamic vinegars.  I often have 2 on hand: a very nice one for salads and a less expensive one for hot dishes.  They add a tangy flavor without being overpowering...  Cutting it with a bit of sugar is purely optional.   
Chicken Breasts Balsamic
Total time: 25 minutes
    The little bit of brown sugar tempers the vinegar nicely.  If you don't have Balsamic you can use sherry or red wine vinegar - but increase the sugar to 2 tsp.  I cut the chicken breasts in half for a nicer serving portion.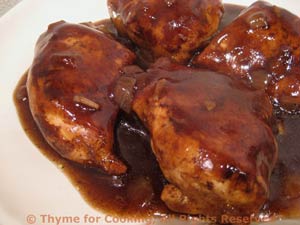 Ingredients:
 Instructions:
Finely chop onion and mince garlic. 
Heat oil in medium nonstick skillet over medium-high heat. 
Add chicken breasts and brown on both sides, about 10 minutes. 
Add onion and garlic and sauté 5 minutes longer. 
Add stock, vinegar and sugar, cover, reduce heat and simmer 10 minutes. 
Thicken sauce with cornstarch mixture (you may not need all of it) and serve.
O'Brian Potatoes
Total time: 30 minutes
    Fried potatoes take on a new interest with the addition of chopped onion and bell pepper.  A simple dish to accompany flavorful meat or fish. Use any color or combination of peppers you have on hand.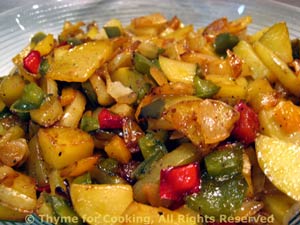 Ingredients:
2 medium potatoes, 10oz (300gr)
1/2 green or red pepper

or a bit of both

1 medium onion
3 tsp olive oil
 Instructions:
Peel and chop onion. 
Sauté in 2 tsp oil in nonstick skillet over medium heat until just transparent. 
Chop pepper, add to onion and continue to sauté until just starting to brown.
Cut potatoes into bite-size pieces (see slicing for a salad in techniques).
Remove onions & peppers from pan, add potatoes and remaining 1 tsp oil. 
Sauté potatoes until light brown and cooked through (taste one), about 15 minutes. 
Return onions and peppers to pan and continue to sauté another 5 minutes.
Salt & pepper if desired, and serve.
Sautéed Snow Peas
(mangetout, pea pods)

 with Browned Shallots

Total time: 25 minutes
     Another of those fleeting spring vegetables.  They cook quickly and are more versatile than 'just for stir-fries'.  If they are small, leave them whole.  If they are large (2", 5cm) cut in half of thirds, at an angle.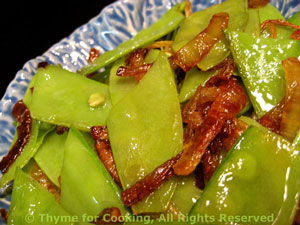 Ingredients:
4oz (120gr) snow peas
2 shallots
2 tsp olive oil
salt and pepper
 Instructions:
Peel and slice shallots.
Clean pea pods - snip off the stem end.  Cut large pods into pieces, at an angle, if desired. 
Heat oil in nonstick skillet over medium heat. Add shallots and sauté until browned, reducing heat after 10 minutes, about 20 minutes total time. 
Add pea pods and sauté 5 minutes, depending on size, stirring frequently. 
Remove, add salt and pepper if using and serve
Cooking schedule: 30 minutes
Assemble all food, utensils and serving dishes
Utensils: measuring cups, spoons, knives,
2 medium skillets, large skillet with lid
Peel all onions, shallots, garlic
Chop onion for potatoes, sauté
Chop pepper, add to onion
Brown chicken breasts
Slice shallots, sauté
Cut potatoes
Turn chicken breasts
Remove onion, pepper
Sauté potatoes

Chop 1/2 onion, add to chicken
Mince garlic, add to chicken
Mind the shallots
Add vinegar, stock, sugar to chicken, simmer
Mind the potatoes
Trim snow peas, cut if needed
Dissolve cornstarch in stock, set aside
Return onion, pepper to potatoes
Add snow peas to shallots
Pause while everything cooks
Thicken sauce for chicken
Finish potatoes, mangetout
Serve