Baked Lamb Chops with Persillade
Potato Crisps
Chickpea Purée
Cooking time: 50 easy minutes for menu          Cooking schedule: see below for instructions
        The chickpeas call for Truffle Oil, and if you happen to have some, it's wonderful!  But, it's just meant as a garnish so a good olive oil or walnut oil will work as well. Both Lamb and Potatoes are baked making this an easy dinner. You could substitute pork chops for the lamb, but will need to double the baking time (and then make a slit to check if done).
Baked Lamb Chops with Persillade
Total time: 20 minutes
     Persillade is what goes into Escargot Bourguignon to make it so delicious.  It goes into a lot of other dishes in France as well. Baking lets the persillade stay on the chops rather than in the pan.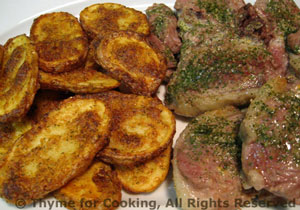 Ingredients:
 Instructions:
Finely mince garlic and parsley together. 
Place a shallow rack on top of a baking sheet. 
Brush both sides of the chops with oil. 
Sprinkle with, and press in, the persillade on both sides of the chops. 
Place the chops on the rack and bake, 450F (225C) oven for 7 - 15 minutes, depending on thickness.  Mine were 3/4" thick (2cm) and I baked them for 7 minutes for medium rare.  If yours are 1" thick (2.5cm) I would suggest 8 - 9 minutes.  If they are 2" thick (5cm) I would suggest 15 minutes.  They will not 'brown' but do stay incredibly moist and succulent. 
Remove from oven and serve.
Baked Potato Chips
Total time: 50 minutes
   Just a light coating of olive oil keeps these potatoes on the healthy side.  They are a lovely golden brown and crunchy.  Sprinkle with a bit of sea salt for the perfect finish.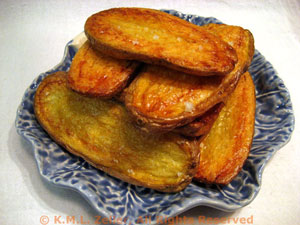 Ingredients:
2 large potatoes (not huge)
2 tbs olive oil
salt - sea salt is good
 Instructions:
Chickpea Purée with Truffle Oil
Total time: 35 minutes
   A simple, savory dish; this also makes enough for 4.  I chop the other 'half' of the tomatoes and stir them into the leftover chickpeas when I reheat.  You could also use the leftovers as a dip for tortilla chips.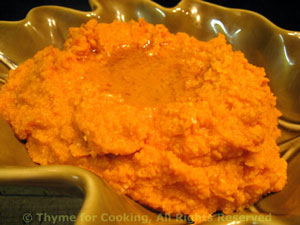 Ingredients:
15oz (450gr) chickpeas (garbanzo beans)
1 cup (8oz, 240gr) whole tomatoes with juice 
1 tsp paprika
2 tbs olive oil
1 tbs truffle oil or good olive oil
 Instructions:
Open, drain and rinse chick peas.  
Open tomatoes and remove half of them. 
Place chick peas and tomatoes in a blender with 1 tbs olive oil, and 2 tbs of the juice from the tomatoes. 
Purée until well chopped.  Add 1 more tbs tomato juice if needed to get purée - but try not to.  It should be stiff. 
Heat 1 tbs olive oil in nonstick skillet. 
Add puréed chick peas, spread out and cook, over low heat, stirring occasionally, for 20 minutes.  We're just drying them out a bit. 
Just before serving, increase heat to medium and cook, stirring, for 3 - 4 minutes. 
Remove and place in serving bowl. 
Make a well in the center and pour in oil.  Serve.
Cooking Schedule: 50 minutes
Assemble all food, utensils and serving dishes
Utensils: measuring cups, spoons, knives,
wide bowl, medium nonstick skillet, blender,
2 baking sheets, 1 rack
Turn oven on 400F (200C), arrange 2 shelves
Put oil on plate
Slice potatoes, dip in oil, lay on baking sheet, bake
Make persillade
Press Persillade into chops, put on rack, set aside
Open drain, rinse chickpeas
Open, divide tomatoes

Put chickpeas, tomatoes, oil in blender, purée
Heat oil in skillet, spread chickpeas, cook
     Pause while stuff cooks
Stir chickpeas
Remove potatoes, turn oven to 450F (225)
Bake chops
Turn potatoes, return to oven
Stir chickpeas
    Pause again
Remove chops when done
Remove potatoes
Finish chickpeas and serve