Baked or Grilled Snapper with Lemon Sauce
Pimiento Barley
Carrots with Butter and Chives
Cooking time: 35 minutes for menu      Cooking schedule: see below for instructions
      We'll be using more pimiento or roasted red pepper on Saturday.
Baked Snapper with Lemon-Mustard Sauce 
Total time: 15 minutes
    Walleye would be my first choice but that isn't available here.  Any nice filet will work, small cod, tilapia, catfish...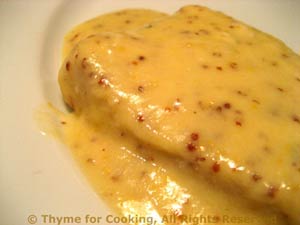 Ingredients:
2 nice fish fillets, snapper, walleye, 12oz (360gr) total weight 
1 tbs butter
2 tbs lemon juice
1/2 tsp tarragon
1/2 tsp thyme
2 tbs chicken stock
1 tbs whole grain mustard
1/3 cup (3oz, 90ml) Greek yogurt, crème fraiche or sour cream
 Instructions:
Rinse fish, pat dry. 
Melt butter. 
Add 1 tbs lemon juice, tarragon and thyme to butter. 
Brush on fish fillets.  Bake, 400F (200C), for 15 - 20 minutes, until fish is done.  It should be opaque and flake easily with a fork. 

Or

grill the fish in a grill basket, over indirect heat on the barbecue grill for about the same amount of time.
Spoon Lemon-Mustard Sauce on top and serve.
Lemon-Mustard Sauce:
Combine remaining 1 tbs lemon juice, stock, mustard and yogurt.  Mix well.
Barley with Red Pepper
Total time: 20 minutes
   A bit of red pepper adds not only some bright color but some bright flavor to almost any food.   I use quick-cooking barley, which takes about 15 minutes.  Cook in chicken stock for added flavor.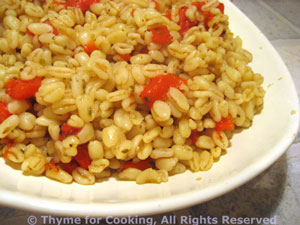 Ingredients:
2/3 cup (3.3oz, 95gr) quick-cooking barley
1 1/3 cups (11oz, 330ml) chicken stock (or more, depending on type of barley)
1/3 cup chopped pimento or roasted red pepper
1 tsp white Balsamic vinegar
2 tsp olive oil
 Instructions:
Cook barley in stock, oregano, covered
Simmer until done, stirring occasionally. If all stock is not absorbed, drain. 
Stir in pepper, vinegar and serve.
Carrots with Butter and Chives
Total time: 25 minutes
These are delicious in the spring when the chives start coming up - as well as the rest of the summer.  If you don't have access to fresh chives, substitute dried.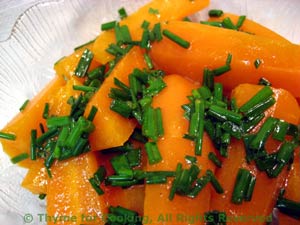 Ingredients:
 Instructions:
Peel carrots, cut into sticks.
Put carrots into a small saucepan or skillet.  Add stock, cover and bring to a simmer over medium heat. 
Reduce heat and let simmer until done, 10 - 15 minutes. 
Drain any remaining liquid from pan. 
Add chives and butter, stir well to coat and heat through. 
Remove from heat, add pepper if you like and serve.
Cooking Schedule: 35 minutes
Assemble all food, utensils and serving dishes
Utensils: measuring cups, spoons, knives,
2 small saucepans / lids, baking sheet or barbecue
grill / basket, small bowl, whisk
Turn oven on 400F (200C) if using
Turn on / light barbecue grill if using
Cook barley if slow cooking type
Peel, cut carrots
Cut pimiento
Snip chives

Prepare fish
Mix lemon, herbs, brush on fish
Make lemon mustard sauce for fish
Cook barley if quick cooking
Cook carrots
Cook fish - oven or barbecue
   Pause while it all cooks
Mind the fish if on barbecue
Finish barley
Finish carrots
Remove fish, finish and serve