Pork Tenderloin with Lemon and Capers
Barley
Glazed Tarragon Carrots
Cooking time:  35 minutes for menu      Cooking schedule: see below for instructions
      With the Lemon Caper Pork and Glazed Tarragon Carrots I thought a simple, unadorned grain, Barley, would go best.  This is an elegant dinner that goes together quickly.
Pork Tenderloin with Lemon and Capers
Total time: 35 minutes
    Pork tenderloin lends itself to a variety of treatments; it's lean, cooks fast and stays moist and tender.  I can get them under a lb which is perfect for us.  You could substitute boneless pork chops if you like.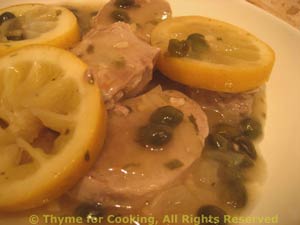 Ingredients:
12oz (360gr) pork tenderloin
1 lemon
1 shallot
1 clove garlic
2 tbs capers
2 tsp olive oil
1 tsp dried tarragon
1/2 cup (4oz, 120ml) chicken broth
1/2 cup (4oz, 120ml) white wine
1 tbs cornstarch (maizena) dissolved in 2 tbs chicken stock
 Instructions:
Slice the lemon, remove pips. 
Thinly slice the shallot and finely chop the garlic. 
Slice the tenderloin into 1 inch (2.5 cm) thick slices.
Sauté shallot and garlic in oil in nonstick skillet over medium-high heat.
When shallot starts to brown, move it to the sides of the pan and sauté pork medallions for 5 minutes per side.
Add tarragon, stock, white wine and capers to pan.  
Lay lemon slices on top of pork medallions.  Cover, reduce heat to low and simmer 15 minutes.
Dissolve cornstarch in chicken stock. 
Uncover skillet, and remove pork medallions, with lemon slices, to a small platter.
Increase heat, add cornstarch and stir until sauce is thickened. 
Spoon some caper sauce around the pork and serve, remaining sauce on the side.
Barley
Total time: 20 minutes
   Simple, plain, barley.  Sometimes, we just want plain....  Barley is a hearty, nutritious grain; easy to cook and flavorful.  Mine is quick-cooking barley, which takes about 15 minutes.  Cook in chicken stock for added flavor.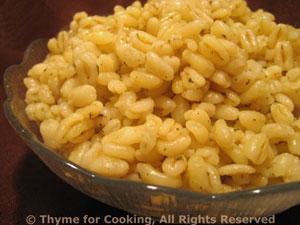 Ingredients:
1/2 cup (2.8oz, 80gr) quick-cooking barley
1 cup (8oz, 240ml) chicken stock (or more, depending on type of barley)
 Instructions:
Cook barley in stock until done, stirring occasionally.
If all stock is not absorbed, drain. 
Serve.
Glazed Tarragon Carrots
Total time: 25 minutes
    Roll-cutting gives interesting looking pieces with lots of surface to be coated with this lovely sweet-sour, tarragon glaze.  I came up with this recipe in the spring with my fresh tarragon, but it's just as good now, with the dried.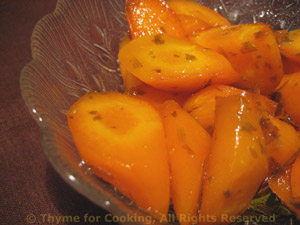 Ingredients:
2 - 3 carrots
1 tbs fresh snipped tarragon   

substitute 1 tsp dried

1 tbs butter
1 tbs honey
1 tbs white wine tarragon vinegar
2 tbs water
 Instructions:
Peel carrots and roll cut - that is cut the end off of the carrot at an angle, roll carrot 1/4 turn and cut next piece about 3/4 inch away at an angle, roll 1/4 and cut next piece, etc.

Put carrots in small sauté pan, add remaining ingredients, cover and simmer 15 - 20 minutes, until done.  Stir occasionally.
If they dry out add a bit more water.  If they don't, uncover and cook off pan juices to finish.  They should be just nicely glazed.  Not tricky - just pay a bit of attention.
Cooking Schedule: 35 minutes
Assemble all ingredients and utensils
Utensils: measuring cups, spoons, knives,
small skillet with lid, large skillet with lid, small
saucepan with lid
Slice lemon, remove pips
Slice onion, mince garlic
Sauté onion, garlic
Slice pork, sauté
Roll-cut carrots
Put carrots, et all in saucepan, cover, simmer
Turn pork

Add capers, stock, wine, tarragon to pork
Add lemon slices, cover, simmer
Start to cook barley
          Pause while stuff cooks
Dissolve cornstarch in stock
Uncover carrots, cook off pan juices
Check barley, remove, fluff when done
Remove pork, lemon to platter
Increase heat, add cornstarch, thicken
Spoon caper sauce around pork
Remove carrots, barley
Serve