Asparagus, Avocado and Cherry Tomato Salad
Grilled Cornish Hens with Lemon Honey Glaze
Skillet Roasted New Potatoes
Green Beans with Butter and Herbs
Cooking time:  60 minutes for menu      Cooking schedule: see below for instructions
        We grilled two hens and had almost half left of each.  Save the rest for the salad on Monday.  The skillet roasted new potatoes happened because of a broken oven... Very easy, very tasty. This will be the last of the new potatoes for the season.
Asparagus, Avocado and Cherry Tomato Salad
Total time: 15 minutes
     This is a wonderfully, flavorful, simple salad.  Allow the asparagus to marinate in the vinaigrette for 10 - 20 minutes before adding the rest of the ingredients and serving.
 Ingredients:
1 avocado
3oz (90gr) cherry tomatoes
6oz (180gr) asparagus
2 tbs fresh, snipped chives
1 tbs soy sauce
1 tbs Balsamic vinegar
2 tbs good olive oil
 Instructions:
The vinaigrette: 
In a bowl, large enough to hold all of the ingredients, mix soy sauce, vinegar and oil.
The asparagus: 
Snap off ends of asparagus.  Roll cut asparagus in 1.5 inch (4 cm) lengths. 
Fill a large saucepan half full of water and bring to a boil over high heat. 
When boiling, drop in asparagus and parboil for 2 minutes. 
Drain and immediately rinse with cold water. 
Spread them on paper towels and pat dry. 
Add to vinaigrette.
To finish:
Cut avocado into cubes; add to asparagus. 
Slice cherry tomatoes in half; add to asparagus. 
Snip chives and add. 
Stir well to combine and serve.
Grilled Cornish Hens with Lemon, Honey, Rosemary Glaze
Total time: 60 minutes
   If you can get them weighing 16oz they are perfect individual servings (with maybe a snack leftover).  If you get larger birds one may be enough.   When done, they should have a lovely, dark gold glaze.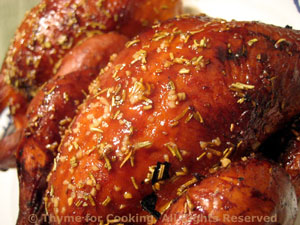 Ingredients
 Instructions:
Rub birds with 1 tsp of the oil. 
Cook on barbecue grill over indirect heat (either charcoal or gas), covered, for 45 - 60 minutes, depending on size or until done, basting half-way through.  Poultry is done at 160 F (70C) on your meat thermometer and/or the juices run clear when pierced with knife. 
Basting Sauce:
Chop rosemary. 
In a small bowl mix remaining oil, lemon, mustard, honey, rosemary and garlic. 
During last 30 minutes of cooking baste with sauce 2 or 3 times. 
When done, remove and serve - don't forget finger bowls (it's messy) and bone bowls (to keep your plates tidy). 
Or they can be baked in a shallow roasting pan in a 400F oven for 45 - 60 minutes, until done.  If baking, start basting immediately. 
Skillet Roasted New Potatoes
Total time: 30 minutes
      New potatoes are very thin-skinned, immature potatoes.  They have a short shelf life, usually only a few days before they start turning green and need to be added to the compost pile.  You probably can only get them at the farmer's markets - but try, if you can.  They're worth it.  If not, substitute the small 'creamer' potatoes.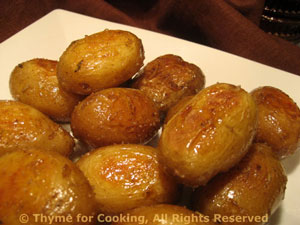 Ingredients:
10 - 16 small new potatoes
1 tbs olive oil
1 tbs butter
1/4 tsp sea salt
 Instructions:
Scrub the new potatoes but leave whole. 
Heat oil in a medium, nonstick skillet over medium high heat. 
Add new potatoes and sauté 5 minutes, shaking and rolling them about. 
Reduce heat to low, cover partially and cook for 25 minutes, or until very tender. 
When ready to serve, add butter, roll them around to coat, sprinkle with salt and serve.
Green Beans with Butter and Herbs
Total time: 20 minutes
   A simple summer dish!  Use any fresh herbs you have, but basil, summer savory and chives are especially good with beans.  Use one or any combination.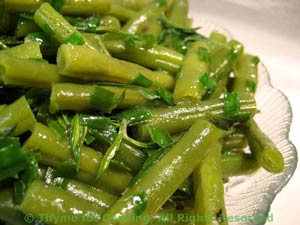 Ingredients:
8oz (240gr) green beans
1/4 cup chicken stock
1 tbs butter
2 tbs fresh herbs
 Instructions:
Top and tail beans...  cut off the ends. 
Cut into 1 1/2 inch lengths (4cm). 
Put beans into small skillet, add stock, cover and simmer over medium heat until done, 7 - 10 minutes.  If beans dry out add a little water. 
When done drain and transfer to a serving bowl. 
Melt butter in the same skillet over low heat. 
Snip herbs using scissors and add to melted butter and sauté briefly. 
Add beans and toss/stir to coat.  Serve.
Note:  If you prefer your beans to be more on the crisp side:  Bring a medium saucepan half full of water to a boil over medium-high heat.  Add beans and blanch for 4 minutes.  Remove, drain and immediately plunge into cold water until cool.  Drain.  When adding to butter and herbs, stir-fry for 1 minute to warm.
Cooking Schedule: 60 minutes
Assemble all food, utensils and serving dishes
Utensils: measuring cups, spoons, knives,
scissors, medium bowl, whisk, small bowl,
medium skillet with lid, medium saucepan, small
skillet with lid, barbecue grill
Light/turn on barbecue grill
Prepare hens, rub with oil
Start to cook hens
Heat water for asparagus
Trim, cut asparagus
Make vinaigrette for asparagus
Blanch asparagus
Refresh asparagus in cold water
Drain asparagus, pat dry, add to vinaigrette
Wash new potatoes
Top, tail beans, cut
Snip all herbs
Make basting sauce for hens

Baste hens
Sauté new potatoes in oil, medium high heat
Reduce heat under potatoes, cover, cook
Cook beans
Cut avocado, add to asparagus
Cut cherry tomatoes, add to asparagus
Add chives to asparagus
Baste hens
Roll/shake potatoes to turn
Drain beans, put into serving bowl, set aside
Serve Asparagus Salad
Done?
Baste hens
Heat butter, herbs for beans
Add beans, heat through
Add butter, salt to potatoes
Remove hens
Serve
Don't forget finger bowls...