Tortilla de Pimiento
Pork Loin Braised with Sage and Olives
Potato and Garlic Gratin
Fried Carrots
Cooking time:  100 minutes for menu       Cooking schedule: see below for instructions
   This is the last braise of the season.  We'll finish the tortilla on Sunday, while the lasagne bakes, and finish the pork on Monday.
Tortilla de Pimiento (Omelet with Red Peppers)
Total time: 30 minutes
     If there are leftovers, it's excellent the next day, cold.  In Spain it would be eaten in a sandwich.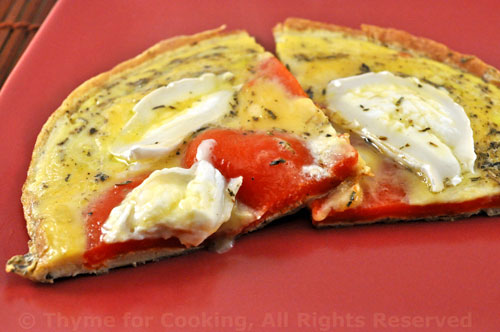 Ingredients:
1 onion
2 tsp olive oil
4oz (120gr) pimientos, pimentos, roasted red peppers
3 eggs
1 tsp oregano
2oz (60gr) goat cheese, or other cheese
 Instructions:
Slice onions. 
Heat oil in small, 7 - 8" nonstick skillet or omelet pan (20cm) over medium heat.  Add onions and sauté briefly, stirring. 
Reduce heat to medium low, cover and let cook for 10 minutes. 
Uncover, increase heat to medium-high and sauté until nicely browned, stirring frequently.
Whisk eggs and oregano. 
Open and drain pimientos.  If they are whole cut in half or quarters, depending on size. - just so they are easier to lay out.  
When onions are browned pour in half of the eggs.
Lay the pimientos on top of the eggs in one layer, cutting to fit as needed. 
Thinly slice or crumble cheese and arrange on pimientos.
Pour the rest of the eggs over the top. 
Reduce heat to medium, cover and cook.
When top is set, remove to a plate
Cut into quarters and serve.
Braised Pork with White Wine, Olives and Sage
Total time: 1 hour 45 minutes
     Braised pork with the flavors of the Mediterranean.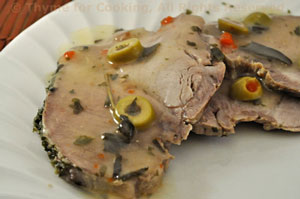 Ingredients:
1 pork loin roast, 24oz  (720gr)

2 tbs persillade 

which is

     1 tbs parsley

     2 cloves garlic - chopped very finely, together

10 - 12 sage leaves 

substitute 2 tbs dried

10 - 12 olives, black or green, pitted or not
1 cup (8oz, 240ml) of white wine
1 tbs olive oil
1 tbs cornstarch (maizena, corn flour) dissolved in 2 tbs chicken stock
 Instructions:
In heavy pot or oven with tight-fitting lid, brown pork in olive oil. 
Mince garlic and parsley.
After turning pork, spread persillade over the top of the pork.  
Add the sage leaves, olives and white wine, turn heat to low, cover and braise for 1 1/2 hours. 
Remove pork and keep warm.  Either use a meat thermometer or slice into the middle to make certain it's done.  Slightly pink is okay.  (If it's not done, cut into thick slices and put back into the pan for 5 minutes.)
Dissolve cornstarch in chicken stock. 
Stir cornstarch into pan juices to thicken.  
Cut pork into thick slices, spoon some of the thickened sauce over the top and serve, remaining sauce on the side. 
Potato and Garlic Gratin
Total time: 70 minutes
   Simple ingredients but complex tastes.  Yes, there is a lot of garlic, but it bakes with the potatoes, turning soft and sweet and giving a wonderful flavor to the dish.  Discard the bay leaves.... This is based on a recipe from Provence the Beautiful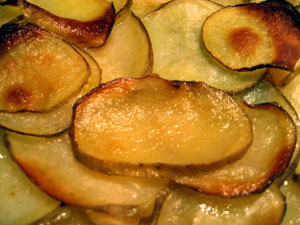 Ingredients:
2 medium potatoes, about 12oz (360gr) total
2 tbs olive oil
10 cloves of garlic
3 bay (laurel) leaves
boiling water as needed
sea salt
 Instructions:
Boil 1 - 2 cups water. 
Peel the garlic and cut cloves in half.
Slice potatoes as thinly as possible with a sharp knife. 
Put the potatoes into a large bowl.
Add olive oil and mix well.  Use your hands, separating the slices to get each one coated.
Spread half of the sliced potatoes in the bottom of small baking dish - just big enough to hold everything.
Sprinkle with the garlic and add the bay leaves.
Spread the remaining potatoes slices on top.
Pour enough boiling water over to almost, but not quit cover.
Sprinkle with sea salt.
Bake, 400F (200C) uncovered, until potatoes are tender, about 60 minutes. 
If the top starts to get too brown cover with foil to finish.
Remove and serve. 
Fried Carrots 
Total time: 20 minutes
   The first time I made Beef Provencal the recipe instructed to fry the carrots before adding to the stew.  They were so good, I started frying them just a bit longer and eating them on their own.  It caramelizes the sugars and turns them golden and sweet.
 Ingredients:
2 - 3 large carrots
1/2 tbs olive oil
1/2 tbs butter
salt and pepper
 Instructions:
Peel and slice carrots into 1/4 inch thick (.65 cm) rounds. 
Heat butter and oil in a large nonstick skillet over medium heat. 
Add carrot slices in one layer. 
Let fry undisturbed for 8 - 10 minutes.  Check one after 7 minutes to make certain they're not getting too brown. 
Turn them over and fry the other side.  They should be getting a few light brown spots on them where the sugar (from the carrots) is caramelizing.  Fry another 7 minutes then check again.  The second side will brown faster than the first. 
When they are done to your liking, remove to a paper towel to absorb the excess oil, sprinkle with salt and pepper and serve.
Cooking Schedule: 1 hour 45 minutes
Assemble all food, utensils and serving dishes
Utensils: measuring cups, spoons, knives,
deep pot or Dutch oven, baking dish, large skillet,
small skillet or omelet pan, foil
Brown pork
Peel all garlic
Mince 2 garlic and parsley
Turn pork
Spread persillade over pork
Add sage, olives, wine, reduce heat, simmer
Peel, cut carrots, set aside
Slice onions for tortilla, set aside
Turn oven on, 400F (200C)
Boil water
Cut garlic for potatoes
Slice potatoes
Mix potatoes with oil, spread half in baking dish
Add garlic, bay leaves, rest of potatoes
Pour enough boiling water over to almost cover
Bake potatoes
      30 minute break

Sauté onions, cover, cook
Open, drain pimientos, cut if needed
Sauté carrots
Whisk eggs
Uncover onions, increase  heat, brown
Dissolve cornstarch in chicken stock
Pour half the eggs over onion
Lay pimiento on eggs, sprinkle with chives
Pour rest of eggs over, cook
Turn carrots
Check potatoes, cover with foil if needed
Turn tortilla
Turn carrots to low
Remove tortilla, cut and serve
Relax, enjoy
Done?
Remove pork and let rest
Increase heat under sauce
Remove potatoes
Check carrots
Thicken sauce
Slice pork; Serve all