Pesto Shrimp and Pasta
Roasted Butternut Squash
Cooking time:  35 minutes for menu          Cooking schedule: see below for instructions
       We may be well into fall but I thought one more taste of summer would be nice.  If you still have lots of basil you can make the pesto; if not, just get a small jar or container. 
Shrimp (Prawns) with Pesto Pasta
Total time: 25 minutes
   Served warm to bring out the flavors, the pesto works amazingly well with the shrimp, and the, more traditional, pasta.  If you have to clean the shrimp add 10 - 15 minutes.  You can use raw or cooked shrimp for this as the flavor is in the sauce rather than a marinade.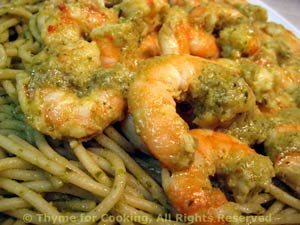 Ingredients:
 Instructions:
Cook pasta according to package directions.  When done, drain. 
Clean shrimp if needed, if not just rinse and let drain. 
Mix 2 tbs pesto, lemon and oil.  Add shrimp and toss to coat. 
Heat a nonstick skillet over medium-high heat.  Add shrimp and sauté for 3-5 minutes, until raw shrimp curl and turn opaque or cooked shrimp are heated through. 
To finish: 
Mix  1/3 cup pesto and oil.
Add to pasta and toss well to coat. 
Arrange nicely on a platter or large plate. 
Lay the shrimp on top of the pasta and spoon any remaining sauce from the pan over the top. 
Serve.
Roasted Butternut Squash Slices with Rosemary
Total time: 35 minutes
     Simple perfection.  Slices of butternut squash, dipped in olive oil, sprinkled with rosemary and a bit of salt and roasted until they start to get crispy and caramelized.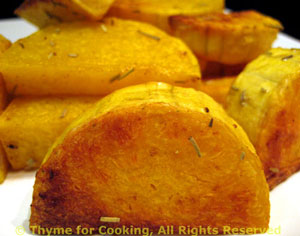 Ingredients:
 Instructions:
Cut squash into slices about 1/2" (1.25cm) thick.
Mix oil, salt and rosemary in a bowl.
Add squash and toss well to coat.
Spread squash on baking sheet and bake for 15 minutes, 400F (200C). 
Turn once, bake for 10 minutes longer.
Note:  To clean butternut squash first peel it, using a potato/vegetable peeler.  If it's large (typically) cut it in half between the 'neck' and 'bowl' ends.  Then cut those in half the 'long' way.  Scoop the seeds out of the round end and discard.  I use the neck end for uniform pieces and the bowl end for soups and smaller pieces.
Cooking Schedule: 35 minutes
Assemble all food, utensils and serving dishes
Utensils: measuring cups, spoons, knives,
baking sheet, large nonstick skillet, pot for pasta,
colander, 2 medium bowls
Turn on oven, 400F (200C)
Clean shrimp if needed
Put water on high heat for pasta
Peel, clean squash, cut what's needed, wrap rest
Mix oil, salt, rosemary
Add squash, stir to coat

Lay squash out on baking sheet, bake
    10 minute break while squash cooks, water heats
Mix pesto sauce for shrimp, add shrimp, set aside
Cook pasta
Turn squash
Heat skillet for shrimp
Cook shrimp
Drain pasta
Remove squash
Toss pasta with pesto, arrange on platter
Finish the shrimp, arrange on pasta, serve