Smoked Salmon Pasta
Cauliflower Dijon
Cooking time:  30 minutes for menu          Cooking schedule: see below for instructions
        We don't often use Crème Fraiche - a wee extravagance to go with the Smoked Salmon.  Use yogurt if you prefer, or sour cream.  
Pasta with Smoked Salmon
Total time: 30 minutes
    I use crème fraiche for this.  You can substitute sour cream if you like - it will be a bit more tart; or heavy cream  - it will be a bit higher in calories, or Greek yogurt.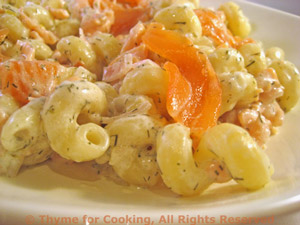 Ingredients:
 Instructions:
Cook pasta according to package directions. Drain.
Thinly slice shallots and sauté in oil until tender. 
Add wine and simmer until reduced by half. 
Stir in crème fraiche and heat through, do not boil. 
Slice salmon into strips. 
Add 3/4 of the salmon, dill and lemon juice to the crème fraiche.
Heat through but do not let boil. 
Add pasta and toss well to combine.
Put it into a serving bowl, garnish with reserved salmon and serve.
Cauliflower Dijon
Total time: 30 minutes
    A light coating of bread crumbs, herbs and mustard flavors this cauliflower.  For a sharper flavor use hot mustard.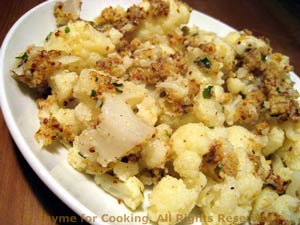 Ingredients:
1/3 head cauliflower- enough for 2 persons
1 tbs olive oil
1 clove garlic
1 tsp dried basil
1 tbs whole grain mustard or Dijon-style mustard
1 tbs bread crumbs
 Instructions:
Cut cauliflower into pieces, put into a steamer and steam over water for 15 - 20 minutes until fork-tender. 
Remove and drain water from pan. 
In same pan heat oil. 
Mince garlic. 
Add garlic and basil, sauté lightly. 
Add mustard and heat through. 
Add breadcrumbs and stir well. 
Add cauliflower and stir well to distribute crumb mixture.  Serve.
Cooking Schedule: 30 minutes
Assemble all food, utensils and serving dishes
Utensils: measuring cups, spoons, knives,
large pot and colander for pasta, medium nonstick
skillet, medium saucepan , steamer basket, lid
Put water on high heat for pasta
Mince garlic
Slice shallots, sauté
Cut salmon
Clean cauliflower, steam
Add wine to shallots, reduce
Cook pasta

Squeeze lemon
Remove cauliflower
Add crème fraiche to wine, heat
    Pause while pasta cooks
Sauté garlic, basil
Add mustard, crumbs, cauliflower, stir to coat, heat
Drain pasta
Add salmon, lemon to skillet, heat
Combine pasta, salmon sauce
Top pasta with remaining salmon
Finish cauliflower
Serve