Swiss-Style Pork Chops
Buttered Potatoes
Broccoli, Hungarian Style
Cooking time:   45 minutes for menu           Cooking schedule: see below for instructions
   My mother made Swiss Steak when I was a child, and it was one of my favorites.  Mon mari is not willing for me to bury steak in this type of sauce but pork chops are an excellent substitute.  I don't have a crock pot (slow cooker) but I think this would be a good fit. Cook them for 20 minutes or longer, as you like.
Swiss-Style Pork Chops 
Total time: 45 minutes
    Pork chops, smothered in tomatoes, peppers and onions, in the style of old-fashioned Swiss Steak, are fork tender and chock-a-block with flavor.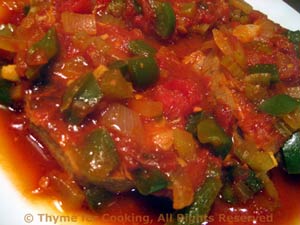 Ingredients:
2 - 3 boneless pork chops, (12oz, 360gr total weight)
2 tsp olive oil
1/2 green bell pepper
1 onion
1 rib celery
2 cloves garlic
1 3/4 cups (15oz, 450gr) tomatoes with juice
1 tbs Worcestershire sauce  
 Instructions:
Heat oil in a heavy skillet with a tight-fitting lid.  Add chops and brown on both sides, about 6 minutes total.
Roughly chop pepper, celery and onion. 
Mince garlic. 
Move chops to one side (stack them up) and add vegetables to pan.  Sauté, stirring, for 1 - 2 minutes, just to soften slightly. 
Arrange chops on vegetables. 
Open tomatoes and drain juice onto chops.  Roughly chop tomatoes and add to pan along with Worcestershire sauce.
Bring to a boil, cover, reduce heat and simmer 35 minutes.  
Uncover, cook down a bit if you like, and serve. 
Note:  For really tender chops, braise for another 30 minutes or cook in a crock pot.
Buttered Potatoes
Total time: 25 minutes
    Sometime the simple things are best ....butter is optional!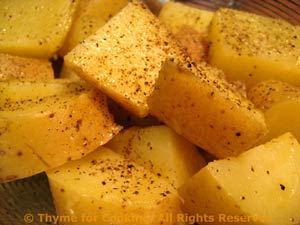 Ingredients:
2 medium potatoes, 12oz total (350gr)
1 tbs butter
salt & pepper
 Instructions:
Scrub potatoes and cut into quarters. 
Put into a sauce pan and cover with water to which you add 1/4 tsp salt. 
Cover and bring to a boil.  When boiling move cover so it is ajar else the potatoes will boil over.  They will, I promise.  
Remove from heat when done (stick a knife in and test - should go in easily). 
Drain, add butter, salt & pepper if using, and serve.
Hungarian Style Broccoli
Total time: 25 minutes
    I don't remember where I found this or why it's considered Hungarian... I've been making it forever; it's simple and delicious.
 Ingredients:
1/2 head broccoli 
1/4 cup dry bread crumbs
2 tbs butter
1/8 tsp salt
 Instructions:
Cut broccoli into bite size florets and stems. 
Put in a steamer basket in a saucepan with an inch of water in the bottom.  Put on medium heat and steam for 10 - 15 minutes or until done. 
Remove broccoli and cover with the pan lid to keep warm. 
In same pan melt the butter. 
Add breadcrumbs, salt and sauté, stirring, until crumbs are golden, 2 - 3 minutes. 
Sprinkle over broccoli and serve.
Cooking schedule: 45 minutes
Assemble all food, utensils and serving dishes
Utensils: measuring cups, spoons, knives, heavy pot or skillet with lid, small saucepan with lid, medium saucepan with steamer basket and lid
Heat oil in heavy skillet
Add pork chops, brown
Chop onion, pepper
Turn chops
Chop celery
Put chops to side, add onion, pepper, celery
Open tomatoes
Arrange chops
Drain tomatoes onto chops

Roughly chop tomatoes, add
Add Worcestershire sauce
Bring to a boil, cover, reduce heat, braise
Cut potatoes, cook
Cut broccoli, steam
      Take a 10 minute break
Remove broccoli, cover to keep warm
Uncover pork, turn heat up to cook down
Check potatoes, if done turn off
Melt butter for broccoli
Drain potatoes, butter if desired
Add crumbs to butter for broccoli, sauté
Sprinkle crumbs over broccoli
Remove chops to platter, spoon sauce over, serve