Braised Pork with Leeks
Braised Potatoes and Carrots
Cooking time: 90 minutes for menu          Cooking schedule: see below for instructions
        Braising is somewhat of a discretionary endeavor: allow it to fit your schedule.  The pork is delicious after an hour but will be even more tender after 2 or 3.  With a tight-fitting lid it can be left unattended with no worries. The rest of the dinner takes 35 minutes. The leftover pork will be used in the risotto Sunday.
Braised Pork with Leeks
Total time: 1 hour 30 minutes
       Braising does wonderful things to a pork roast: keeping it moist and making it very tender.   This is served with a White Wine and Leek Sauce.  There will be enough pork left for another meal...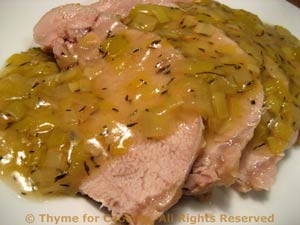 Ingredients:
24oz (720gr) pork loin roast
3 medium leeks
1 tbs oil
3/4 cup (6oz, 180ml) white wine
1/2 cup (4oz, 120ml) chicken stock
2 tsp dried thyme
1 tbs cornstarch (corn flour, maizena) dissolved in 2 tbs water
 Instructions:
Clean and trim leeks, discarding the dark green tops, using the light green.
Cut in half the long way and thinly slice.  Rinse well if sandy.
Heat oil in heavy pot or Dutch oven.  Add leeks and sauté until tender, about 10 minutes.
Remove to a plate and set aside.  Add pork and brown on all sides.
Add 1/4 cup of white wine and stir up all the browned bits from the bottom of the pan.
Return leeks to pot and add remaining wine, stock and thyme.
Bring to a boil, cover, reduce heat to a slow simmer and braise for at least 70 minutes, or up to 3 hours

To finish: 

Remove pork and let rest.
Increase heat under leeks.
Dissolve cornstarch in water and stir into leeks until thickened and clear.
Slice some of the pork and arrange on a small platter.
Spoon some Leek Sauce over and serve, remaining Leek Sauce on the side.
Potatoes and Carrots with Bay Leaves
Total time: 35 minutes
   The potatoes and carrots are cooked together in stock with bay leaves.  They will absorb most of the stock, giving them a deep flavor and light glaze.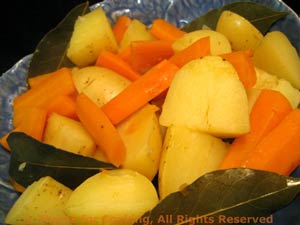 Ingredients: 
2 carrots, cut into large sticks
2 potatoes, cut into large chunks
2 bay (laurel) leaves
enough chicken stock to just cover vegetables
 Instructions:
Put everything into a saucepan and bring to a boil. 
Cook, uncovered, until vegetables are done and chicken stock has been absorbed.  If there is any stock left, pour it off or use it in elsewhere. 
Remove bay leaves and serve.
Cooking Schedule: 90 minutes
Assemble all food, utensils and serving dishes
Utensils: measuring cups, spoons, knives,
heavy pot or Dutch oven, medium saucepan
Clean, trim, slice leeks
Sauté leeks
Wait for leeks
Remove leeks
Brown pork
Add wine to pot, deglaze
Return leeks to pot, add wine, stock, thyme
Bring to a boil, cover, reduce heat, braise
      Take a break for as long as you like

35 minutes before serving
Peel, cut carrots
Wash, cut potatoes
Put carrots, potatoes, stock, bay in pan, cook
    Pause while stuff cooks
Dissolve cornstarch in water
Remove pork
Increase heat under leeks
Drain potatoes/carrots if needed
Stir cornstarch
Stir cornstarch into leek sauce until thick and clear
Slice pork, arrange on platter
Serve