Sesame-Crusted Salmon
Oriental Orzo
Stir-Fried Broccoli
Cooking time:  35 minutes for menu          Cooking schedule: see below for instructions
        The salmon, orzo and broccoli are all quick and easy, fitting end to a busy (or not) day.
Sesame-Crusted Salmon
Total time: 20 minutes
 The sesame crust adds just the right amount of crunch to these flavorful salmon filets; roasting keeps the crust nicely in place.
 Ingredients:
2 salmon fillets or steaks, 12oz total weight (360gr total)
2 tbs sesame seeds
2 tsp soy sauce
2 tsp sesame or walnut oil
1 tsp brown sugar
1/4 tsp ground ginger
 Instructions:
Mix soy sauce, sesame oil, ginger and brown sugar in a small bowl, whisking until sugar and ginger are dissolved.  
Put salmon on a baking sheet with a lip.  Divide soy mixture and spoon over salmon, coating evenly. 
Sprinkle sesame seeds on top of each filet, pressing them in lightly. 
Bake in 400F (200C) oven for 15 - 17 minutes, depending on thickness.  Salmon will be done when it flakes easily, slightly pink in the center is fine.  The sesame coated top should be a golden brown when done.  Remove and serve.
Note:  For easy clean up cover pan with foil first.  This is especially nice if you are using fillets with the skin on.  You can carefully lift the salmon off the skin to serve, leaving the skin on the foil.  Then wrap the whole mess up and toss.
Oriental Orzo
Total time: 25 minutes
   This is so easy to make, put everything in the pan and cook, yet the flavors are complex and pair well with roasted salmon or chicken with an Asian flavor.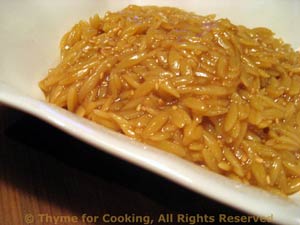 Ingredients:
1/2 cup (4.5oz, 130gr) orzo
1 1/4 cups (10oz, 300ml) chicken stock
4 tsp soy sauce
1 tsp brown sugar
2 tsp sesame oil - or walnut oil
2 tsp sesame seeds
 Instructions:
Put orzo, brown sugar, soy sauce and stock in a small pan and bring to a simmer on medium heat. 
Turn heat to low and simmer until done, stirring occasionally, 15 - 20 minutes.  All stock will be absorbed. 
Stir in sesame oil and seeds and serve.
Stir-Fried Broccoli
Total time: 15 minutes
     Broccoli is often included in with beef or chicken in stir-fries, but it's excellent stir-fried on it's own as a side dish, as well.  Plus it's bright green color looks lovely on the plate.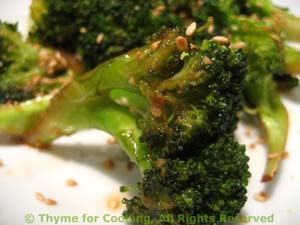 Ingredients:
1/2 head of broccoli
1 clove garlic
1 tbs olive oil
1 tsp sesame oil or walnut oil
2 tbs chicken stock
2 tsp soy sauce
1/4 tsp ground ginger
1 tsp sesame seeds
 Instructions:
Cut broccoli into bite size florets and stems.
Mince garlic.
Heat oils in a nonstick skillet over medium-high heat.  Add broccoli and garlic and stir-fry about 5 minutes.
Add soy sauce, chicken stock and ginger, reduce heat to low, cover and simmer 5 minutes.
Uncover and cook off any liquid.  Broccoli should be crisp-tender.
Sprinkle with sesame seeds and serve.
Cooking Schedule: 35 minutes
Assemble all food, utensils and serving dishes
Utensils: measuring cups, spoons, knives,
whisk, small bowl, baking sheet, small saucepan,
medium skillet with lid
Turn oven on, 400F (200C)
Mix soy, oil, ginger, sugar for salmon
Put salmon on baking sheet - lined with foil
Spoon glaze on salmon
Add sesame seeds to salmon, press lightly, bake

Put orzo, sugar, soy, stock in pan, boil, reduce heat
Trim, cut broccoli
Mince garlic
Stir-fry broccoli, garlic
Add soy, ginger, stock, broccoli, cover, simmer
    Pause while stuff cooks
Finish broccoli
Remove salmon, put on platter or plates
Finish orzo
Serve