Beef Patties with Caramelized Onions
Fried Potatoes
Braised Cauliflower with Bacon
Cooking time:  35 minutes for menu           Cooking schedule: see below for instructions
     Burgers and Fries..... So to speak....
Beef Patties with Caramelized Onions
Total time: 35 minutes 
    We use 10oz and make 2 nice burgers.  If you want more meat just increase everything else (not the caramelized onions) proportionately. 
  Ingredients:
10oz (300gr) ground beef
2 tbs bread crumbs
1 tbs Dijon-style mustard
1 tbs red wine   (or beef stock or ketchup
1/2 tsp garlic powder
1 tsp thyme
1 1/2 medium onions
2 tbs butter
1 tbs brown sugar
2 tsp Dijon-style mustard
 Instructions:
Mix bread crumbs, mustard, red wine, garlic powder and thyme. 
Add beef and mix thoroughly - hands are best.  Shape into 2 or 3 patties. 
Cut onions in half then into 1/4 inch (.65cm) think slices.  
Heat butter in large nonstick skillet over medium heat.  Add onions, cover and cook for 5 minutes. 
Uncover  onions and sauté until browned, stirring frequently, another 15 minutes. 
Add patties (moving onions out of the way but leave in pan) and sauté 5 - 7 minutes per side. 
Remove burgers and keep warm. 
Add sugar and mustard to onions and stir until well blended and sugar is melted. 
Spoon over burgers and serve.
Fried Potatoes 
Total time: 30 minutes 
    Another simple dish that is often overlooked.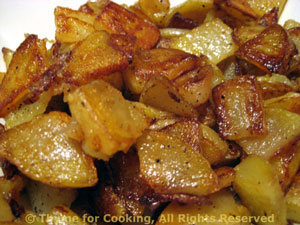 Ingredients:
2 medium potatoes
1 tsp butter
2 tsp olive oil
 Instructions:
Cut the potatoes: slice the long way, first in half, then in half again.  Now slice (the short way) about 1/4 inch thick.
Heat oil and butter in large nonstick skillet.  Add potatoes and sauté until browned, tender and a little crispy, stirring and flipping as needed. 
Salt & pepper if desired, and serve.
Braised Cauliflower with Bacon    
Total time: 25 minutes 
    For years I only steamed cauliflower. I'm discovering other methods work equally well, with delicious results.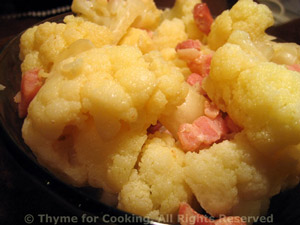 Ingredients:
2 slices bacon, 1oz (30gr)
1/3 medium head cauliflower
1/4 cup water
 Instructions:
Cut bacon into matchsticks.
In a small skillet or medium saucepan, sauté bacon until crisp.
Cut cauliflower into bite size florets and stems.
When bacon is cooked, add cauliflower, water and stir to combine.
Cover and simmer on medium-low heat for 10 - 12 minutes or just until done, being careful not to overcook.
Uncover pan, increase heat to cook down any remaining water and serve.
Cooking schedule: 30 minutes
Assemble all food, utensils and serving dishes
Utensils: measuring cups, spoons, knives,
medium bowl, large skillet, medium skillet, small
skillet with lid
Thickly slice onion for burgers
Heat butter in large skillet
Add onions, sauté
Cut potatoes
Fry potatoes, medium skillet
Mix all ingredients for burgers except beef
Add beef, mix well, form into patties

Sauté bacon, small skillet
Cut cauliflower
Mind the potatoes, onions
Remove bacon, add cauliflower, water, cover, simmer
Onions brown? move to the side and add patties
   Pause while it all cooks
Turn beef patties
Mind the potatoes
    Pause while it all cooks
Remove patties, finish onions
Uncover cauliflower, finish
Give potatoes a final flip and Serve all