Braised Chicken with Rice and Carrots
Cooking time:  2 1/2 hours (90 minute break) for menu       Cooking schedule: see below for instructions
     The Chicken with Rice is a simple, classic French housewife's dish.  Everything but the rice goes in the pot and then it's left alone for 2 hours. Leftover chicken makes great sandwiches - or double the rice and carrots for another meal.
Braised Chicken with Rice 
Total time: 2 hours 30 minutes 
     This is a classic in farm houses through out France!  Find an older, stewing hen, if you can.  They have more flavor and the long cooking time will make them tender.  Not a roasting hen, they're too big to fit into most pots. A broiler/fryer will work as well. This will be enough for 2 meals.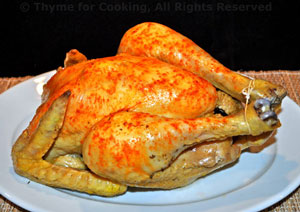 Ingredients:
1 whole chicken
1 onion
3 medium carrots
2 cups (16oz, 480ml) white wine
1 cup (8oz, 240ml) chicken stock
2 bay leaves
1 bouquet garni
1/2 tsp paprika
1 tbs olive oil
2 tbs cornstarch dissolved in 2 tbs water
Rice
1/2 cup (3.3oz, 95gr) Basmati rice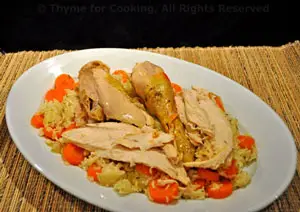 Instructions:
The Chicken

Chop onion.
Peel and cut carrots in half the long way (I cut them the in half the short way first - it makes it easier).  Then slice the carrots into 1/4" (.6cm) half circles (the short way).
Heat oil in a pot or Dutch oven large enough to hold the chicken.
Add the chicken and brown lightly on all sides.  Remove. 
Add onion and carrots and sauté 5 minutes, just until the onion starts to get tender. 
Place the chicken on top of the onion and carrots.
Add the wine, stock and herbs. 
Sprinkle chicken with paprika.
Cover and simmer over low heat (you want small bubble breaking the surface) for 2 1/4 hours.
20 minutes before chicken is done start the rice.
The rice
Using a small ladle remove 1 cup of liquid from the chicken.
Put it into a saucepan along with the rice. Don't worry if you get a bit of onion with the stock.
Cover and cook over low heat until rice is done.
To finish
Remove the chicken.
With a slotted spoon remove all of the carrots to a large bowl. 
Dissolve cornstarch in water. 
Turn heat up under the stock remaining in pot.  Add cornstarch and thicken.
Add the rice to the carrots and combine.
Spoon the rice and carrots onto a platter.
Slice the chicken and arrange on the rice. 
Serve, gravy on the side.
Cooking Schedule: 2 1/2 hours (1 3/4 hour break) for menu
Assemble all food, utensils and serving dishes
Utensils: measuring cups, spoons, knives,
small saucepan with lid, Dutch oven with lid
Wash chicken
Heat oil in large pot, add chicken, brown
Trim, chop onion
Turn chicken
Peel, slice carrots
Remove chicken, add onion, carrot, sauté 5 min.
Return chicken to pot, sprinkle paprika

Add wine, stock, herbs, cover, simmer
      Go do something for 1 3/4 hours
Remove 1 cup liquid from chicken
Add to rice, cover, cook
     15 minute break
Remove the chicken
Remove the carrots
Dissolve cornstarch in water
Thicken gravy
Combine carrots, rice
Carve chicken
Serve all and enjoy!