Seared Scallops on Tomato Tarragon Pasta
Green Beans with Caramelized Shallots
Cooking time:  30 minutes for menu          Cooking schedule: see below for instructions
       Seared scallops nestled on a bed of tomato and tarragon flavored pasta.... a melding of summer and fall flavors. Use the rest of the tomato sauce in the barbecue sauce tomorrow.
Grilled Scallops on Tomato Tarragon Pasta
Total time: 30 minutes
     The scallops can be cooked on the grill or quickly pan-fried in a hot skillet. They release a lot of liquid when cooked, so be careful not to crowd. The paprika adds both flavor and color. Use a grill pan or basket for easy handling and be careful not to overcook.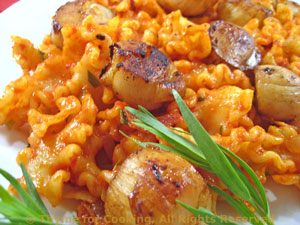 Ingredients:
 Instructions:
Rinse scallops and pat dry. 
Mix oil and paprika.  Add scallops and stir to coat.
Grill over direct heat 3 - 5 minutes per side, just until they are opaque.

Note: 

Could also be quickly sautéed in a nonstick skillet over medium high heat for about the same amount of time.

Pasta:

Cook pasta according to package directions. Drain.
Chop onion and Prosciutto. 
Heat 2 tsp oil in a small saucepan over medium heat. Add onion and sauté until tender. 
Add Prosciutto and sauté until crisp. 
Add tomato sauce, vinegar, tarragon and heat through.  Keep warm until needed.

To Finish:

 Combine drained pasta with tomato sauce. 
Divide pasta onto two plates.  Top with seared scallops and serve.
Green Beans with Caramelized Shallots
Total time: 25 minutes
    Crispy, fried shallots top these green beans, slightly reminiscent of a retro American Green Bean Casserole, but much healthier.  I let them caramelize naturally, no added sugars to help.  Simple summer flavors.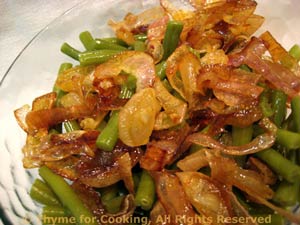 Ingredients:
5oz (150gr) green beans

1/3 (3oz, 50ml) cup chicken stock
2 - 3 shallots
2 tsp olive oil
 Instructions:
Slice shallots. 
Heat oil in medium nonstick skillet over medium-high heat.  Add shallots and sauté until tender, about 5 minutes. 
Turn heat down to medium and continue cooking until nicely brown and starting to caramelize, about 15 minutes longer.
Top and tail beans (cut off the ends...).  Cut beans into 1 1/2" (3.75cm) lengths. 
Put beans and stock in a small skillet or saucepan  Cover and cook over medium heat just until beans are done, 10 - 15 minutes. 
Drain, top with shallots and serve.
Cooking Schedule: 30 minutes
Assemble all food, utensils and serving dishes
Utensils: measuring cups, spoons, knives,
scissors, medium nonstick skillet, 2 small saucepans
with lids, medium bowl, barbecue grill with pan or
skewers or skillet
Put water on high heat for pasta
Light/turn on barbecue grill if using
Slice shallots, sauté
Chop onion, sauté
Snip herbs
Top and tail beans, cut
Mix oil, paprika, vinegar for scallops, add scallops
Mind the shallots, turn heat down

Chop Prosciutto
Add Prosciutto to onions, sauté
Cook pasta
Add tomato sauce, vinegar, tarragon to onion, cook
Remove sauce from heat, keep warm
Cook beans
Cook scallops
Drain pasta
Turn scallops
Mind the beans, drain when done
Combine pasta, sauce, plate
Finish beans
Remove scallops, arrange on pasta
Serve