Meat Loaf Parmesan
Quinoa
Roasted Acorn Squash Slices
Cooking time: 40 minutes for menu      Cooking schedule: see below for instructions
     The first of our winter squashes, it cooks much faster sliced into wedges than simply cut in half.
Meat Loaf Parmesan   
Total time: 25 minutes
    Leftovers are wonderful, particularly when you can serve them in a totally different way.  The chunky tomato sauce and freshly grated Parmesan take the humble meat loaf to a new gastronomic level. Be a bit careful serving so the slices stay together.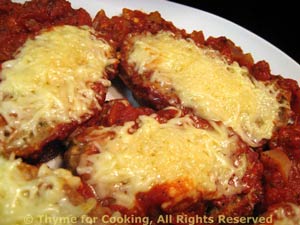 Ingredients:
leftover meat loaf
15oz (450gr) whole tomatoes
1 onion
2 cloves garlic
1 tbs olive oil
1 tsp chili powder
1 tsp oregano
1 tsp basil
1 tbs Balsamic vinegar
1 tbs tomato paste
1/4 cup (1oz, 30gr) shredded cheese
1/4 cup (1oz, 30gr) grated Parmesan
 Instructions:
Chop onion and mince garlic.  
Heat oil in medium nonstick skillet.  Add chili powder and sauté 1 minute. 
Add onions and garlic and sauté 5 minutes. 
Drain tomatoes, reserving juices. 
Roughly chop tomatoes.  Add tomatoes, their reserved juices, herbs, vinegar and tomato paste to pan. 
Stir well, reduce heat, cover and simmer. 
Cut meat loaf into thick slices. 
After sauce has simmered for 10 minutes lay slices of meat loaf in the sauce. 
Cover and simmer another 10 minutes, until meat has heated through. 
Sprinkle cheeses on each slice and cover until cheese has melted.  Serve, sauce on the side.
Quinoa
Total time: 20 minutes
    Quinoa is very high in protein and "contains a balanced set of essential amino acids for humans, making it an unusually complete food" according to Wikipedia.  It's also easy to cook and tasty - what more could we want? You can substitute Basmati or Jasmine rice.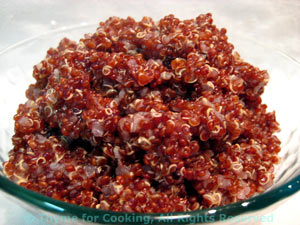 Ingredients:
1/2 cup (3.5oz, 100gr) quinoa
1 cup (8oz, 240ml) chicken stock
 Instructions:
Rinse quinoa if needed (most comes washed). 
Combine quinoa and stock in small saucepan.  Cover and bring to a boil. 
Reduce heat and simmer until done, about 15 minutes  (or whatever your package says).   Serve.
Note: Quinoa comes in black, red and tan.....  At least that's all I've found to date...
Roasted Acorn Squash Slices
Total time: 45 minutes
     Roasting winter squashes concentrates their natural sweetness and all you need to finish is a bit of salt and pepper.... or you can smear on butter.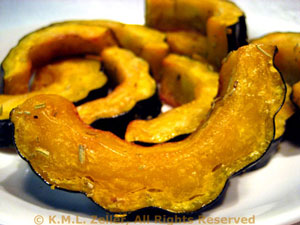 Ingredients:
1 acorn squash
1 tsp dried rosemary
1 tbs olive oil
salt and pepper to finish
 Instructions:
Cut squash in half, through stem and blossom ends, and scoop out seeds. 
Then cut in 1" (2.5cm) slices the short way. 
Mix rosemary and olive oil.  Toss squash slices in oil. 
Lay squash on a baking sheet and bake at 400F (200C) for 25 minutes. Turn slices and bake another 8 - 10 minutes, until fork tender. 
Sprinkle with salt and pepper and serve. 
Cooking schedule: 40 minutes
Assemble all food, utensils and serving dishes
Utensils: measuring cups, spoons, knives,
large skillet, small saucepan, lid, baking sheet, foil
Turn oven on, 400F (200C)
Cut squash in half, clean out seeds
Cut squash into slices
Mix rosemary, oil, add squash, toss to coat
Lay squash on baking sheet, cover with foil, bake
Chop onion
Mince garlic
Sauté chili powder

Add onion, garlic, sauté
Drain, chop tomatoes
Add tomatoes, etc, to skillet, cover, simmer
Start to cook quinoa
Slice meat loaf
     Pause while stuff cooks
Add meat loaf to skillet
Uncover squash, turn, bake
      Another pause
Sprinkle meat loaf with cheeses, cover until melted
Remove squash, fluff quinoa
Serve