Chickpea Salad with Parmesan Crisps
Grilled Lamb Chops with Rosemary Butter
Grilled Potato and Onion Salad
Cooking time:  35 minutes for menu          Cooking schedule: see below for instructions
       One last salad for summer; one last meal from the barbecue grill (although we will use it for grilling meat 2 more times).  The Chickpea salad is substantial, and a good serving of vegetables, so, as long as there are onions with the potatoes we won't do another vegetable.  Our Final Salute to Summer!
Chickpea, Egg and Herb Salad with Parmesan Crisps
Total time: 20 minutes
    A simple salad, but full of flavor from the herbs and tapenade.  The Parmesan Crisps, made from puff pastry with a bit of oil and Parmesan, are so delicious no one will believe they're so simple to make.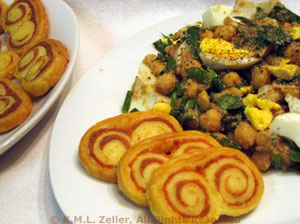 Ingredients:
2 eggs, hard boiled
15oz (450gr) chickpeas, garbanzo beans
2 tbs freshly snipped parsley
2 tbs freshly snipped chives
4 tsp green or black olive tapenade or finely chopped olives
2 tbs good olive oil
 Instructions:
Boil eggs. 
Drain and rinse chick peas. 
Snip the herbs. 
Put chickpeas and herbs in a small bowl.  Add tapenade, olive oil and mix well. 
When eggs are done, rinse with cold water, peel and chop.  Add to bowl and mix lightly. 
Divide between 2 small plates, garnish with Parmesan Crisps and serve, remaining Crisps on a plate for further munching.  
Parmesan Crisps
Time:  15 minutes plus 5 earlier  
   Easy to make and a great way to use up the leftover bits of puff pastry.  I ignored the fact that my pastry was actually a semi-circle and sliced the crisps from the 'straight' edge.  I was able to use almost all of it....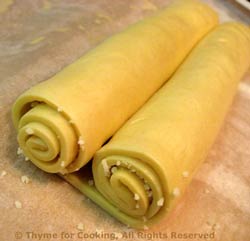 Ingredients:
puff pastry sheet, roughly 10 X 6 (25 X 15cm)
1 - 2 tsp olive oil
2 tbs grated Parmesan cheese
 Instructions:
Cut a rectangle of puff pastry.
Lightly drizzle 1 - 2 tsp olive oil over the pastry. 
Sprinkle 2 tbs of Parmesan evenly over the top. 
Make a mental note (or mark it) of where the middle of the pastry is.  Starting at the short ends, roll the puff pastry to the middle until the two rolls meet. 
Wrap in cling film and refrigerate until used.  It should be chilled at least an hour and can be made 2 days ahead.

To Bake:

Remove from fridge and slice 1/4" thick (.6cm). 
Lay on a baking sheet and bake, 400F (200C) for 8 - 12 minutes, until pastry is golden and cheese is a bit darker. 
Remove and serve immediately or allow to cool and store in airtight container.
Lamb Chops with Rosemary Butter
Total time: 20 minutes
    Lamb chops with Rosemary.... Is there a more perfect combination?  Use the light marinade before grilling, then finish with a dollop of rosemary mustard butter to melt onto the hot chops.  You can substitute Pork Chops if you prefer.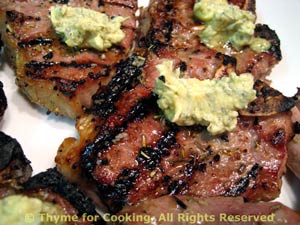 Ingredients:
4 - 6 center-cut lamb chops,  depending on size
1 tbs oil
2 tsp Worcestershire sauce
1 tsp garlic powder
1 tsp dried rosemary
Rosemary Mustard Butter:
1 tbs chopped fresh rosemary   

substitute 2 tsp dried

1 tsp Dijon-style mustard
4 tsp soft butter
 Instructions:
Grilled Potato and Onion Salad
Total time: 35 minutes
   If you can get large, sweet onions, like Vidalia, they would be great here.  I used 2 red onions, also good! We used the same basket that we use for hamburgers.  If you don't have a basket, use a mat or grill pan. They get very light and very crisp!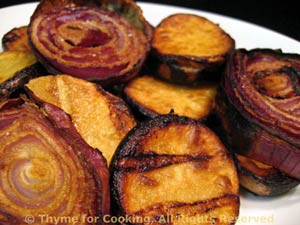 Ingredients:
2 medium potatoes
1 large sweet onion or 2 smaller red onions 
1 tbs Dijon-style mustard
1 tbs red wine vinegar
1 tbs olive oil
1 tsp sugar
 Instructions:
Slice potatoes and onions thickly, 1/3" (1cm). 
Put the sugar, vinegar, mustard and oil into a bowl and mix well. 
Brush or spoon mixture onto both sides of the potatoes and onions. 
Lay them flat in a hinged grill basket or into the trusty pan you use to grill vegetables.  
If using a basket grill 10 - 15 minutes per side, or until done, part of the time over direct heat. 
If using a grill pan start over direct heat for about 10 minutes, turning after 5. 
Then move to indirect heat for 10 - 15 minutes, or until vegetables are tender and nicely browned. 
Remove and serve.

Note: 

Could be roasted in 425F (210C) oven for 30 minutes, turning once.
Cooking Schedule: 35 minutes
Assemble all food, utensils and serving dishes
Utensils: measuring cups, spoons, knives,
scissors, small saucepan with lid, 2 medium bowls,
small bowl (used 3X), barbecue grill and basket or
grill pan or large skillet and baking sheet
Turn on/light barbecue grill and oven (400F, 200C)
Cook eggs
Mix marinade, spoon over chops
Slice potatoes, onions
Mix sugar, mustard, vinegar, oil
Brush on potatoes, onions
Lightly oil basket or pan
Put potatoes, onions in basket or pan, cook
Make rosemary butter
Slice Parmesan crisps and bake

Mind the eggs
Chop olives if used instead of tapenade
Drain, rinse chickpeas
Snip herbs
Mix chickpeas, herbs, tapenade / olives, oil
Remove crisps when done
Pause if the eggs aren't done....
Peel, quarter eggs
Turn the potatoes, onions
Finish salad, serve
Done?
Start to cook chops
Remove potatoes/onions if done
Turn chops
Remove chops, add butter
Serve everything