Hungarian Pork Chops
Quinoa with Shallots and Herbs
Roasted Acorn Squash
Cooking time: 60 minutes for menu        Cooking schedule: see below for instructions
       I use sweet paprika for these, but you could use smoked paprika, hot or a combination.  If you get thick chops, add another 10 minutes or so simmering time to get them tender.  Or let them simmer an hour or longer if you have the time... The flavor only improves and the pork will fall apart - both good things.
Hungarian Pork Chops
Total time: 40 minutes
   Quickly browned, then simmered in white wine and stock, flavored with bay and paprika, these pork chops are fork tender and full of flavor.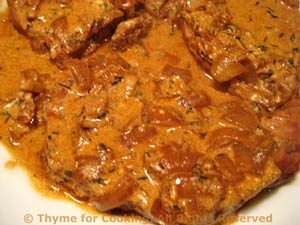 Ingredients:
 Instructions:
Roughly chop onion and mince garlic. 
Heat 2 tsp oil in nonstick skillet over medium heat. 
Add pork chops and brown well on both sides, about 8 minutes, total. 
Remove and set aside. 
Add remaining oil and paprika and sauté 1 minute. 
Add onions and garlic and sauté until tender, about 5 minutes. 
Add remaining ingredients, except yogurt, to skillet and heat to boiling. 
Return chops to pan, reduce heat, cover and simmer 20 minutes. 
Uncover, increase heat and reduce pan juices to about 1/3 cup. 
Turn heat off. 
Remove chops and put on a small platter. 
Remove bay leaf. 
Stir yogurt into pan juices and pour over chops.  Serve.
Quinoa with Shallots and Herbs 
Total time: 25 minutes
    This near-perfect food of the Incas has slowly been gaining recognition in the culinary world. It cooks quickly and has a nutty flavor that goes with everything. It is normally ready to cook, but if not it will need to be rinsed first.  If you can't find it substitute Basmati or Jasmine Rice.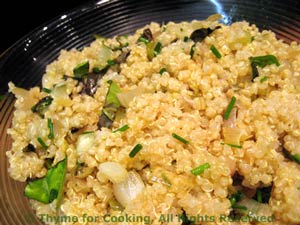 Ingredients:
1/2 cup (3.5oz, 100gr) quinoa
1 cup (8oz, 240ml) chicken stock
2 shallots
1 tsp dried basil 
1 tsp dried oregano
1 tsp lemon juice
1 tbs olive oil
 Instructions:
Combine quinoa, herbs and stock in small saucepan. 
Cover and bring to a boil.  Reduce heat and simmer until done, about 15 minutes.
Finely chop shallots. 
In small skillet heat 1 tbs olive oil.  Add shallots and sauté until tender, about 5 minutes. 
Add lemon and stir into quinoa. 
Spoon into a serving dish and serve.
Note: When using dried herbs add to quinoa with the stock, before cooking.
Baked Acorn Squash
Total time: 50 minutes
    The simplest possible way to prepare acorn squash: bake, add butter and serve.  You could cook it in the microwave, flesh side down, for 10 minutes, rather than roasting.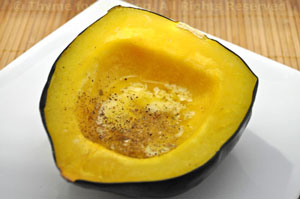 Ingredients:
1 acorn squash
2 tbs butter
 Instructions:
Cut squash in half - a cleaver works well. 
Remove seeds with a spoon. 
Place cut-side down in a baking dish, bake for 40 minutes at 400F. 
Remove from oven. Put 1 tbs butter into the hollow of each squash. 
Return to oven and bake another 2 - 3 minutes.  Remove and serve.
Cooking schedule: 60 minutes
Assemble all food, utensils and serving dishes
Utensils: measuring cups, spoons, knives,
small saucepan with lid, large skillet with lid, baking
dish, foil or plate and micro
Turn oven on, 400F (200C)
Cut squash in half, clean
Put squash in baking dish, cover with foil, bake
Heat oil in large skillet
Add chops, brown
Chop onion
Mince garlic
Turn chops
Chop shallots, set aside
Remove chops

Add remaining oil, paprika, sauté
Add onion, garlic, sauté
Add herbs, stock, wine, bring to boil
Return chops, cover, simmer
     Pause while stuff cooks
Start to cook quinoa
If cooking squash in micro - do now
    Pause while stuff cooks
Sauté shallot
Remove squash, add butter, return
Uncover chops, increase heat
Finish quinoa
Remove chops
Add yogurt to sauce, pour over chops
Serve all