Crab Louis on Avocado Slices
Filet Mignon with Caramelized Onions
Grilled Spicy Parmesan Potatoes
White Balsamic Glazed Carrots
Cooking time: 40 minutes for menu      Cooking schedule: see below for instructions
     This is reminiscent of a 'Steak-House' dinner with the crab and steak.  I chose tenderloin, but get any cut you like and as nice as budget allows.    If you can get fresh crab for the starter it would be wonderful, but I used it from a tin.
Crab Louis on Avocado Slices
Total time: 20 minutes  
    Okay, so it's not really Crab Louis: there's no lettuce or hard-boiled egg.  But it is a lovely salad.  Try to get crab meat that's in lumps rather than shredded - if you can find it and it's reasonable.  The better the crab, the nicer the salad.   Fresh, of course would be better, but it's not readily available here. (You could use tuna or salmon)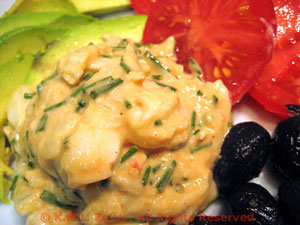 Ingredients:
6oz (180gr) crab meat, canned or fresh
4 tbs mayonnaise
2 tbs ketchup
2 tsp tarragon white wine vinegar
1 tsp Worcestershire sauce
1/4 tsp chili powder
2 tbs freshly snipped chives
1 tomato
1/2 avocado
 Instructions:
Drain the crab meat well and put into a bowl. 
Snip the chives and add 1 tbs to the crab.  
In another bowl mix the other 1 tbs chives, mayo, ketchup, vinegar, Worcestershire and chili powder. 
Add about half to crab and very gently mix - just barely.  Add a bit more if you want to, but it should be just lightly dressed. 
Remove the pit from the avocado and slice half. 
Fan the slices out on each of two plates. 
Slice the tomato and cut the slices in half. 
Arrange on the other side of the plates. 
Divide the crab and spoon into the center. 

Serve, with remaining dressing on the side.

 

A few olives if you have them...
Filet Mignon with Caramelized Onions
Total time: 35 minutes
     With a lovely piece of flavorful, tender filet mignon this is truly marvelous main course. But the savory-sweet onions will make even a lesser cut shine.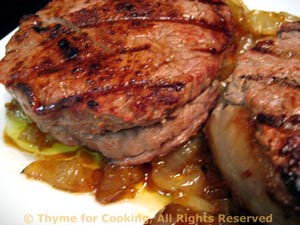 Ingredients:
2 filet mignon steaks (tournedos), 6oz (180gr) each 

or other cut of choice

1 large or 2 medium sweet onions
2 tsp butter
2 tsp olive oil
1 tbs brown sugar
2 tsp Dijon-style mustard
1 tsp Worcestershire Sauce
 Instructions:
Mix Worcestershire sauce, oil and brush on steaks.  Set aside. 
Cut onion in half then into 1/4 inch (.65cm) think slices. 
Heat butter, oil in medium nonstick skillet over medium heat. 
Add onions and sauté until browned, stirring frequently, about 25 minutes.  You may have to turn the heat down to low after about 15 minutes. 
When onions are nicely browned add sugar, mustard, Worcestershire, and stir until well blended and sugar is melted.  Set aside and keep warm.  
Cook steaks on barbecue grill until done to your liking.... about 3 minutes per side for medium rare.  It depends on thickness of cut, heat of grill, etc.  Check out this site for the 'thumb test'.
Divide caramelized onions and place on 2 plates.  Put steak on top and serve. 
Note:   Could be done under the broiler (grill) or quickly pan fried over high heat for about the same time.
Roast Spicy Parmesan Potatoes
Total time: 30 minutes 
     Simple, grilled or roasted potatoes are perfect with equally simple, grilled meats.  These have a light kick and are finished with a sprinkle of Parmesan cheese.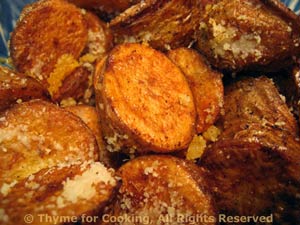 Ingredients:
2 medium potatoes or 4 small 
1 tsp chili powder
1/2 tsp cumin
1/2 tsp dry mustard
1/4 tsp garlic powder
1 tbs Worcestershire sauce
1 tbs olive oil
2 tbs Parmesan cheese
 Instructions:
White Balsamic Glazed Carrots
Total time: 30 minutes 
  A bit of sugar emphasizes the natural sweetness of the carrots.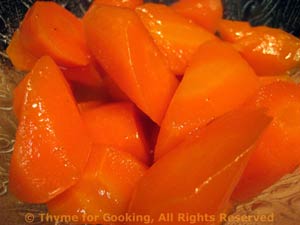 Ingredients:
2 - 3 medium carrots
1/4 cup chicken stock
2 tsp butter
2 tsp sugar
2 tsp white Balsamic vinegar
 Instructions:
Peel carrots and roll cut - that is cut the end off of the carrot at an angle, roll carrot 1/4 turn and cut next piece about 3/4 inch away at an angle, roll 1/4 and cut next piece, etc.  This gives you interesting looking pieces with lots of surface. 
Put carrots in small skillet, add stock and cook, covered, 15 - 20 minutes or until vegetables are done. 
Remove cover, turn heat to medium-high and cook off all but 1 tbs of liquid. 
Add butter, vinegar and sugar, stirring to dissolve sugar. 
Sauté until thick and glazed, stirring often, about 5 minutes. Serve.
Cooking Schedule: 40 minutes for menu
Assemble all food, utensils and serving dishes
Utensils: measuring cups, spoons, knives,
scissors, large bowl, 2 medium bowls, small skillet,
lid, medium skillet, grill pan for potatoes, Barbecue
grill, tools
Turn on/light barbecue grill, if using (or oven, 400F)
Slice onion, sauté
Slice potatoes
Mix spices, oil, etc. for potatoes
Add potatoes, toss to coat, cook
Peel, cut carrots
Snip chives
Drain crab meat, add chives
Mind the onions

Grate Parmesan
Make dressing for crab, add half to crab, stir gently
Start to cook carrots
Mind the potatoes
Turn onions to low
Slice tomato, avocado, arrange on plates
Add crab salad, serve, more dressing on the side
Done?
Start to cook steaks
Finish carrots
Remove potatoes, finish
Turn steaks
Finish onions, arrange on plates
Serve carrots, potatoes
Remove steaks, Serve