Grilled, Marinated Pork Chops
Leftover German Potato Salad
Leftover Creamy Coleslaw (Cabbage Salad)
Cooking time: 30 minutes for menu        Cooking schedule: see below for instructions
      What is the difference between coleslaw and cabbage salad?  I have no idea... I know that it keeps well and makes great leftovers.  Combined with the leftover potato salad, it's an easy dinner for this night!
Grilled, Marinated Pork Chops 
Total time: 25 minutes
    The marinade adds a zesty flavor to the pork and helps keep them tender as they cook.  Remember, slightly pink is okay, too done dries them out, and makes them rather tough.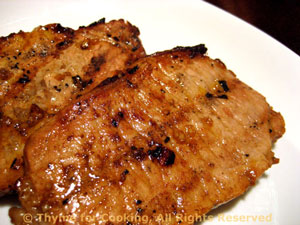 Ingredients:
2 - 4 pork chops, 12oz total (360gr)
Marinade:
2 tbs red wine vinegar
1 tbs Worcestershire sauce
1 tbs soy sauce
1 tsp paprika
1 tsp cumin
1/2 tsp garlic powder
1/4 tsp dry mustard
1 tbs olive oil
 Instructions:
Hot German Potato Salad
Total time: 5 minutes
 Ingredients:
 Instructions:
Reheat in micro for a few minutes... Or not
Serve.
Cabbage Salad
Total time: 1 minute
 Ingredients:
 Instructions:
Remove from fridge and serve
Cooking schedule: 30 minutes
Assemble all food, utensils and serving dishes
Utensils: measuring cups, spoons, knives,
small bowl, whisk, marinating dish, barbecue grill
Light/turn on barbecue grill
Make marinade for pork, spoon over chops
Get salads from the fridge

   Pause whilst pork marinates
Start to cook chops
Reheat potato salad if so inclined
Turn the chops
Give the salads a stir
Remove chops
Serve