Pasta with Sausage, Sage and Beans
Cooking time:  25 minutes for menu      Cooking schedule: see below for "menu"  instructions
      This has been a reliable, midweek dinner at our house for years.  It's fast, warming, a bit spicy... perfect for winter evenings... And quick!  
Pasta with Sausage, Sage and Beans
Total time: 25 minutes 
     An easy skillet dinner, with lots of flavor from the sage and sausage. Sautéing the chili powder releases more flavor. If you like it hot, use hot Italian sausages, add some hot peppers or Tabasco.   It's a very flexible dish....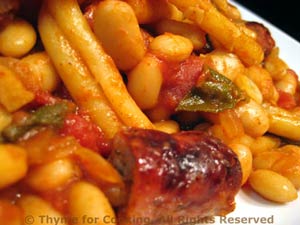 Ingredients:
 Instructions:
Cook pasta according to package instructions.
Slice sausages into 1" (2.5cm) lengths.
Chop onion and pepper.
Mince garlic.
Roughly chop tomatoes - reserving all juice.
Heat oil in large nonstick skillet over medium-high heat.  Add chili powder and sauté 1 minute.
Add onion, pepper and sauté 5 minutes.
Add sausage, garlic, sage and sauté until sausage is browned, 5 - 7 minutes.
Add tomatoes, their juices, and the cannellini, turn heat to low and simmer 10 minutes.
When pasta is done, drain and add to skillet, stir to combine and serve.
Cooking schedule: 30 minutes
Assemble all food, utensils and serving dishes
Utensils: measuring cups, spoons, knives,
pasta pot and colander, large skillet with lid
Put water for pasta on high heat
Chop onion, pepper
Mince garlic
Slice sausages
Open, drain, rinse beans
Open tomatoes

Heat oil in skillet
Sauté chili powder
Add onion, pepper, sauté
Add garlic, sausage, sage, sauté
Start to cook pasta
Chop tomatoes, reserving all juices
Add tomatoes, juices, beans to skillet
Cover, reduce heat and simmer
When pasta is done, drain, add to skillet
Stir well, heat through and serve