Mustard Fried Chicken Breasts
Oven Fries
Rutabagas with Bacon and Onion
Cooking time:  35 minutes for menu           Cooking schedule: see below for "menu" instructions
     Not quite chicken fingers and fries - but close. Cut the breasts in half the long way if you like.
Mustard Fried Chicken Breasts
Total time: 30 minutes
   I don't remember where the original recipe came from but I've been making these for years.  The crust is light, yet crisp and the chicken tender; the mustard adding just a hint of flavor.  I use the Parmesan in a can for this rather than freshly grated - it's drier and works better for the coating..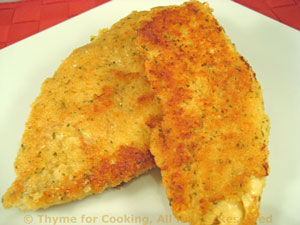 Ingredients:
2 chicken breasts, boneless, skinless
1 egg
2 tbs Dijon-style mustard
1/4 cup dry bread crumbs
1 tsp thyme
1/2 tsp garlic powder
1/4 cup Parmesan cheese
2 tbs olive oil
 Instructions:
In a bowl flat enough that you can lay the chicken breast flat (or a small pie plate, or whatever works) lightly beat the egg with a fork.
Add the mustard and beat until well combined.
In another, similar bowl combine the bread crumbs, Parmesan, thyme and garlic powder.
Heat 1 tbs oil in nonstick skillet (large enough to hold both chicken breasts) over medium heat.
With tongs or fingers dip both sides of chicken breast in egg mixture then in crumb mixture.
Place in pan and sauté  8 - 10 minutes.
Add remaining 1 tbs oil to skillet and turn breasts.
Sauté on other side for another 6 - 8 minutes, or until done.  They should be nicely browned.  Remove and serve.
Oven Fries
Total time: 35 minutes 
   Cut in wedges and baked in the oven, these are quick, easy, and much lower in fat than traditional Fries.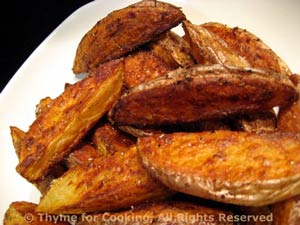 Ingredients:
2 medium potatoes
1 1/2 tbs olive oil
1 tsp paprika
1 tsp rosemary
 Instructions:
Slice potatoes the long way - a large potato into 8 wedges and small ones into 6.
Put remaining ingredients into a large bowl and mix well.  Add potatoes and toss, coating thoroughly.
Arrange potatoes on baking sheet with rim (I use my trusty, round pizza pan).  Bake at 400F for 30 minutes.
You can turn once if you like to fuss but I usually don't bother.
When done remove from pan and sprinkle lightly with salt and pepper if you choose (again, I don't) and serve.  These will stay hot for awhile so a 5 or 10 minute delay is okay.
Rutabagas with Bacon and Onion
       Time: 
10 minutes
leftover rutabagas  
Gently reheat and serve.
Cooking schedule: 35 minutes
Assemble all food, utensils and serving dishes
Utensils: measuring cups, spoons, knives,
medium skillet, saucepan with lid or micro dish,
baking sheet, medium bowl, 2 flattish bowls
Turn oven on, 400F (200C)
Slice potatoes
Toss potatoes with oil, etc., lay on sheet, bake
Whisk egg in bowl, add mustard, whisk

Mix crumbs, Parmesan, thyme, garlic in other bowl
Heat oil in skillet
Dip breasts - eggs, crumbs, sauté
Reheat rutabagas
    Pause whilst stuff cooks
Turn chicken
    Pause whilst stuff cooks
Done?  Remove potatoes
Serve all, enjoy!