Menu Plan for the week of June 28, 2013: Saturday's Recipes
Caesar Salad
Grilled Chicken Satay with Warm Peanut Sauce
Sesame Brown Rice
Crisp Green Beans
Cooking time: 45 minutes for menu Cooking schedule: see below for instructions
Tonight we have grilled gingery chicken breasts with a peanut sauce you can make as hot as you like, served with an Asian-inspired brown rice and a crisp Chinese Bean Salad. This is perfect to expand for a summer party. Save any leftover bread to have with salads - in fridge or freezer.
Classic Caesar Salad
Total time: 15 minutes plus 5 minutes earlier
This is the hub's specialty.... From the Joy of Cooking. He has left out the raw egg on occasion, and it worked fine without it. Anchovies are classic - but it's still good without them, as well. If you use the raw egg, it's easiest to use your hands to mix the salad.
Ingredients:
2 cloves garlic
1/4 cup good olive oil
3/4 cup bread cubes, preferably cut from a bakery loaf or 'French' bread
3/4 tsp salt
1/2 tsp dry mustard
lots of black pepper
3 anchovy fillets, mashed or the equivalent in anchovy paste
1/2 tsp Worcestershire sauce
1 1/2 tbs red wine vinegar
juice from 1/2 lemon
1 egg, raw

optional

2 tbs Parmesan, freshly grated
1 large, fresh head of Romaine lettuce

none other will do
Instructions:
Earlier in the day or the night before:

Peel garlic, cut each clove in half and put it, along with 1/4 cup olive oil, into a small glass dish or glass measuring cup. Cover with cling film and set aside to steep.
When ready to use, remove and discard garlic. Or use it for something else.

The croutons:

Heat 2 tbs of the garlic oil in a nonstick skillet. Add the bread cubes and sauté until golden.
Remove and drain on paper towels.

The lettuce:

Wash and spin-dry the Romaine. Tear it into large bite-size pieces.

The salad:

Mash the anchovies in the bottom of a large salad bowl.
Add the salt, pepper, mustard, Worcestershire, vinegar, remaining garlic oil and mix lightly with a fork.
Squeeze the lemon half over, sprinkle with Parmesan and mix lightly again.
Add the Romaine and toss well with tongs or salad forks.
Add the croutons, toss a bit more.

At this point, if you are using the egg:

Crack the egg into a small bowl and break the yolk. Add it to the salad and toss well to mix, hands work best but a tongs will do. Serve immediately.
Grilled Chicken Satay with Peanut Sauce
Total time: 35 minutes
Fresh ginger adds a bit of heat and a lot of flavor to this chicken. You can substitute 1/2 tsp ground ginger if you don't have fresh; and add more if you like the heat. For a hotter dish you could add crushed red pepper, Asian chili sauce or even Tabasco to the marinade and/or the peanut sauce.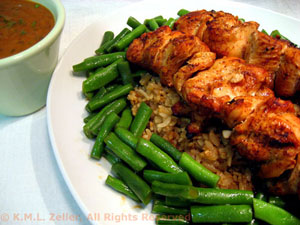 Ingredients:
2 chicken breasts, boneless, skinless
2 tbs lemon juice
2 tbs soy sauce
1 tbs brown sugar
2 cloves garlic
1 tbs fresh ginger, peeled and minced

about 3 slices the size of an American quarter or 1 euro coin

1 tsp chili powder
2 - 4 skewers
Warm Peanut Sauce:
1/3 cup peanut butter
2 tbs snipped fresh chives
1 tbs snipped fresh parsley
1 tsp chili powder
1 tsp sesame oil
1 tbs olive oil
2 tsp soy sauce
2 tsp lemon juice
1 tsp brown sugar
1/3 cup (3oz, 90ml) chicken stock
Instructions:
Soak skewers in warm water while preparing chicken and making marinade.
Cut chicken breast into long strips, 3 or 4 from each breast.
Thread the meat the long way onto the skewers, (sort of pleating it).
Mix the rest of the ingredients in a small bowl.
Place chicken skewers into a baking dish and pour marinade over.
Allow to marinade for 20 - 40 minutes.
When ready, remove from marinade and grill over direct heat for 8 - 10 minutes. Can also be done under the broiler (grill) for same amount of time.
Or, you could skip the skewers and stir-fry them in 1 tbs olive oil and 1 tsp sesame oil.
Serve with

Peanut Sauce

on the side.
Warm Peanut Sauce:
Heat oils in small saucepan.
Add chives and chili powder and sauté briefly.
Add remaining ingredients and bring to a boil, stirring well to combine.
Remove from heat and cover to keep warm.
Sesame Brown Rice
Total time: 20 minutes or whatever your package says
I use 'Uncle Ben's' which is all I can get and it is quick cooking. It looks like brown Basmati and cooks in 15 minutes.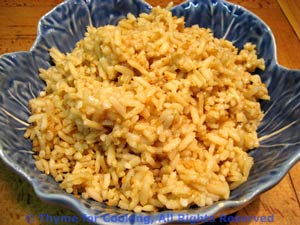 Ingredients:
1/2 cup (3.3oz, 95gr) quick-cooking brown rice

substitute Basmati

1 cup (8oz, 240ml) chicken stock

or whatever your rice calls for

1/2 tsp sesame or walnut oil
2 tsp soy sauce
2 tsp toasted sesame seeds
Instructions:
Cook rice according to package instructions stirring in the sesame oil, soy sauce and seeds when rice is almost done.
Fluff and serve.
Note: You can toast regular sesame seeds in a small, dry, skillet over medium heat for 5 - 7 minutes, until light brown.
Crisp Green Beans with Soy Sauce
Total time: 15 minutes
I originally found this recipe using asparagus in a Chinese cook book but it works well for green beans, too, and is perfect this time of year.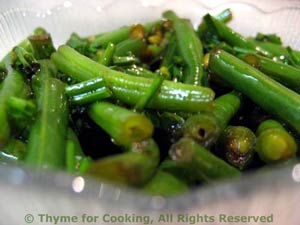 Ingredients:
6oz (180gr) green beans
1 tsp olive oil
1 tsp sesame or walnut oil
2 tsp soy sauce
1 tbs fresh chives, snipped
Instructions:
Top and tail beans. Cut in 1 1/2" (3.25cm) lengths.
Bring a medium saucepan half full of water to a boil over high heat.
Add beans and blanch for 4 minutes, until crisp-tender.
Drain beans and immediately submerge in an equal amount of very cold water.
Drain again, spread out on paper towels and pat dry.
Put into a serving bowl.
In small bowl whisk together the oils and soy sauce.
Pour over beans, sprinkle with chives and stir to combine.
Serve.
Cooking Schedule: 45 minutes for menu
Assemble all food, utensils and serving dishes
Utensils: measuring cups, spoons, knives,
scissors, small bowl, (used 2X) 2 small saucepans,
lids, medium saucepan, medium bowl, small skillet,
dish for marinating, skewers, barbecue grill and grill
pan, small glass bowl or cup, salad bowl
Earlier in the day:
Peel garlic, cut in half
Add garlic to oil, cover, set aside
Dinner:
Soak skewers in warm water
Toast sesame seeds if needed
Make marinade for chicken
Slice chicken, thread onto skewers
Pour marinade over chicken, turning to coat
Put water on high heat for beans
Top and tail beans, cut
Fill medium bowl with very cold water for beans
Blanch beans
Whisk oils, soy sauce for beans
Snip all herbs
Drain beans, plunge into cold water, drain again
Spread beans on paper towels to dry

Grate Parmesan
Prepare lettuce
Turn on/light barbecue grill
Add beans, chives to dressing, stir
Sauté chili powder, chives for peanut sauce
Add remaining ingredients for sauce, heat to boiling
Sauté croutons
Cover peanut sauce, remove from heat
Mix anchovies, mustard, et all in salad bowl
Mind the croutons, remove, drain
Add lemon, Parmesan to bowl, mix
Add Romaine to bowl, mix
Add croutons to salad, mix
Add egg, if using, mix very well
Start to cook rice
Serve salad, relax....
Done?
Start to cook chicken
Check rice, if close stir in soy, sesame oil and seeds
Turn chicken
Fluff rice, put onto platter
Arrange beans around rice
Remove chicken, lay on rice
Serve all, Peanut Sauce on the side