Menu Plan for the week of June 28, 2013: Friday's Recipes
White Bean and Celery Salad
Grilled Scallops with Fresh Tomato Salsa
Couscous with Browned Red Onions
Cooking time: 35 minutes for menu Cooking schedule: see below for instructions
With all the vegetables in the starter, we didn't bother doing another one for this meal - keeping it simple for summer!
White Bean and Celery Salad
Total time: 15 minutes
Lightly sautéed carrots and onions add color to this easy salad of cannellini and celery. Lots of fresh herbs and a lemony vinaigrette finish it. For a light lunch, add some good, canned tuna and crusty baguette.
Ingredients:
1 3/4 cups (15oz, 450gr) white beans (cannellini)
1/2 cup sliced celery, 1 - 2 ribs
1 carrot
1/2 onion
1 clove garlic
2 tsp olive oil
1 tbs freshly snipped chives
2 tbs freshly snipped basil
lettuce leaves
Vinaigrette:
1 tbs tarragon white wine vinegar
1 1/2 tbs lemon juice

fresh if possible

2 tsp Dijon-style mustard
3 tbs salad olive oil
Instructions:
Chop onion and carrot; mince garlic.
Heat oil in medium skillet. Add carrots, onions, garlic and sauté just until tender, 5 - 8 minutes.
Remove and put into a bowl.
Drain, rinse beans and add to bowl.
Slice celery and add to bowl.
Snip basil and chives; add to beans.
Add vinaigrette and toss gently.
Arrange 3 - 4 nice lettuce leaves on salad plates, put bean salad on top and serve.
Vinaigrette
Squeeze 1/2 lemon if using.
Put vinegar, lemon juice and mustard in a small bowl. Whisk well.
Add oil very slowly, whisking constantly. It should incorporate as you add it. If it does not, stop adding oil for a few moments and just whisk. Continue until all oil is added.
Grilled Scallops with Fresh Tomato Salsa
Total time: 15 minutes
Scallops only take a few minutes to cook They should just go from translucent to opaque. If you cook them longer they can get tough. We do ours on the barbecue grill but a hot skillet would work just as easily. Be careful not to crowd and have the pan or grill hot. They can give off a bit of liquid and you want them to brown, not steam. These are flavored with chili powder and garlic and finished with a spicy Tomato Chili Salsa.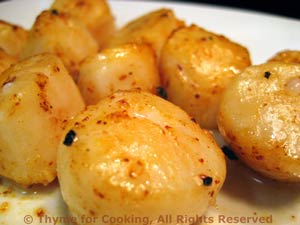 Ingredients:
12oz (360gr) sea scallops (large scallops)
1 tsp chili powder
1 tsp garlic powder
1 tbs olive oil
2 - 3 skewers

optional

Tomato Salsa:
2 garden fresh tomatoes
1/2 green bell pepper
1/2 red onion
1 tsp chili powder
1/2 tsp dry mustard
1 tsp soy sauce
1 tsp Balsamic vinegar
1 tbs fresh oregano, snipped

substitute 1 1/2 tsp dried

1 tbs fresh parsley, snipped

substitute 1 1/2 tsp dried

4oz (125gr) green chiles, drained.

(use something hotter if you like... I don't do 'hot')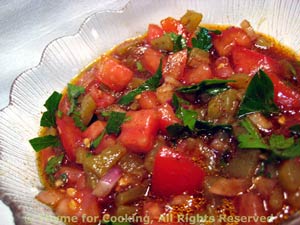 Instructions:
You either need to use skewers or a grill mat or pan; something to keep the scallops from falling through the grate. If using wooden skewers soak in water for a few minutes.
Pour olive oil onto a large plate. Dip both sides of scallops into oil.
Thread onto skewers if using.
Sprinkle both sides with garlic and chili.
Grill over direct heat 3 - 5 minutes per side, until they are opaque.
Remove and serve.
Tomato Salsa:
Roughly chop tomatoes, chop onion and pepper.
Drain and chop chiles.
Snip herbs.
In medium bowl whisk together dry mustard, vinegar and soy sauce.
Add chili powder and whisk.

Add all remaining ingredients and stir well to combine. Serve.

Add hot sauce if you like...
Notes: Scallops could also be quickly sautéed in a nonstick skillet over medium high heat for about the same amount of time.
Any leftover salsa can be eaten with chips, crackers, whatever.... I just like to have some around!
Couscous with Browned Red Onions
Total time: 25 minutes
A slightly sweet red or Spanish onion is fried until well browned, making it sweeter and a nice balance to the slightly salty olives.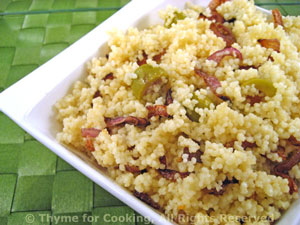 Ingredients:
1/2 cup (3oz, 90gr) couscous
3/4 cup (6oz, 180ml) chicken broth
1 red onion
1/3 cup green olives
1 tbs white Balsamic vinegar
2 tsp olive oil
1 tsp butter
Instructions:
Thickly slice red onion.
Heat a medium skillet over medium heat.
Add butter and oil. When butter is melted add onions, laying them as flat as possible.
Let sauté, undisturbed, for 5 minutes or until starting to brown and soften.
Stir, reduce heat and continue to sauté until well browned, another 15 - 20 minutes.
Cut olives in half or thirds.
Heat chicken broth to a boil.
Put couscous in a medium bowl.
When broth is boiling pour over couscous, cover and let stand for 10 minutes... Do

not

stir it.
Uncover, add onions, olives and vinegar, fluff gently with a fork to combine and serve.
Cooking Schedule: 35 minutes for menu
Assemble all ingredients and utensils
Utensils: measuring cups, spoons, knives,
scissors, small bowl, whisk, (both used 2X) 2 medium
bowls, 1 lid, small skillet, medium skillet, small
saucepan, plate, barbecue grill, baskets and/or mat or large skillet
Slice 1 red onion
Heat medium skillet, add butter, oil, onion, sauté
Chop 1 red onion, divide
Chop carrot
Mince garlic
Sauté carrot, onion, garlic for salad
Reduce heat under onion for couscous, stir
Open, drain, rinse beans, put in bowl
Slice celery, add to beans
Make vinaigrette for salad, add to beans
Add carrot, onion, garlic to beans, stir well
Snip all herbs, add chives, basil to beans, stir, set aside
Chop green pepper, tomatoes, put in bowl

Add raw chopped onion, herbs to tomatoes
Drain, chop chilis, add to tomatoes
Whisk mustard, vinegar, soy sauce, chili powder
Add to tomatoes, stir, set aside
Mind the onions
Slice olives
Heat stock
Put oil on plate, oil scallops
Sprinkle scallops with chili and garlic, set aside
Prepare lettuce leaves, arrange on plates
Spoon Bean Salad on to lettuce leaves
Put couscous in bowl, pour stock over, cover, set aside
Turn onions off but leave in skillet on heat
Serve salad, relax, enjoy
Done?
Cook scallops
Add onions, olives, vinegar to couscous, fluff
Turn scallops
Remove scallops
Serve, Salsa on the side