Menu Plan for the week of June 21, 2013: Saturday's Recipes
Chilled Courgette (Zucchini) Soup
Grilled Lamb Chops with Dijon-Basil Butter
Grilled Pepper Pasta Salad
Cooking time: 35 minutes for menu Cooking schedule: see below for instructions
Make the soup earlier in the day to chill properly - if not possible, serve warm. Do the peppers before the chops. Easy summer dinner chock-a-block with flavor.
Zucchini (Courgette) Soup
Total time: 30 minutes
This is a simple recipe, but delicious. You could chop some olives to sprinkle on top, snip fresh chives or even a dab of pesto on top of the yogurt! Don't peel the zucchini, it's healthier and gives the soup a nice color!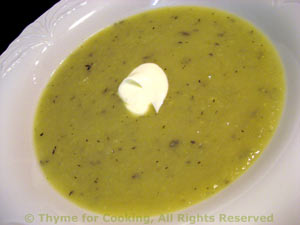 Ingredients:
2 cups chopped zucchini

1 about 8" (20cm) long

1 medium onion
1 1/2 cups (12oz, 360ml) chicken stock
1 tbs butter
1 tsp fresh thyme
2 tbs (1oz, 30gr) Greek or plain yogurt for garnish
Instructions:
Chop onion and zucchini.
In medium saucepan sauté onion in butter until transparent.
Add zucchini and just enough chicken stock to cover.
Bring to a boil, reduce heat, cover and simmer for about 15 minutes.
Purée solids, adding enough of the stock to get the consistency for the soup that you like - we like it thick.
Snip thyme leaves and stir into soup.
Serve, either hot or cold, with a dollop of yogurt in the center.
Lamb Chops with Dijon-Basil Butter
Total time: 20 minutes
A bit of mustard-basil butter finishes off the lamb, melting over the top as you serve.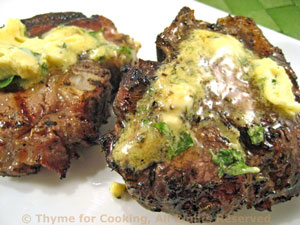 Ingredients:
4 - 6 center-cut lamb chops - depending on size
1 tbs olive oil
1/2 tsp garlic powder
1 tbs chopped/snipped fresh basil
1 clove garlic
1 tsp Dijon-style mustard
2 tbs soft butter
Instructions:
Sprinkle chops with garlic powder, drizzle with oil and allow to sit until ready to cook.
Cook on barbecue grill over medium-high - high heat for 2 - 5 minutes per side.
Or in a non-stick skillet or grill pan for the same amount of time. Timing, as always, depends on thickness and desired degree of doneness

(I don't know if that is a word - but you get the idea)

. We do ours on a hot grill 2 minutes a side for medium rare.
When you think they might be close take one off, cut into center and peak. You can always put them back on to cook more - you cannot undo...
When done to your liking remove from heat, divide basil butter to top each chop and serve.
Dijon-Basil Butter:
Mince garlic and basil together.
Put into a small bowl, add mustard and butter and mix well. Can be made ahead, shaped into a log, chilled and sliced before putting on chops.
Grilled Pepper Pasta Salad
Total time: 25 minutes
Grilling peppers and onions adds a layer of sweetness not found with simple frying. If you don't do them on the grill, roast them on a baking sheet in a 400F (200C) oven for 30 minutes, stirring once. They should be just slightly crispy around the edges in spots when done.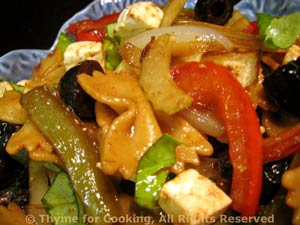 Ingredients:
1 cup (3.3oz, 95gr) bite-size pasta - penne, fusilli, etc.
1 bell pepper, green or any color
1 large onion
1 tbs olive oil
1 tbs Balsamic vinegar
1/2 cup (3oz, 90gr) black, dry-cured, Greek olives
2 ribs celery (about 1/2 cup)
2 tbs fresh snipped basil
2oz (60gr) feta cheese (about 1/3 cup)
Vinaigrette
3 tbs salad olive oil
1 tbs Balsamic vinegar
2 tsp Dijon-style mustard
Instructions:
Cook pasta according to package directions.
When pasta is done drain well, rinse briefly with cold water, drain well again, and put into a large bowl.
Slice peppers and onions thickly.
Put olive oil and Balsamic vinegar in a large bowl, add peppers, onions, and toss well to coat.
Put into 'grill pan' (a metal or foil pan dedicated to use on the grill) or onto a mesh grill pan (the idea is not to have the stuff fall through the grate into the fire....)
Cook over medium heat on barbecue grill for 10 - 15 minutes, until they have a nice color.
Snip large basil leaves, leave small ones whole.
Cut olives in half.
Slice celery at an angle.
Cube or crumble feta.
Vinaigrette
Put mustard into a small bowl, add vinegar and whisk,
Slowly drizzle in olive oil, whisking constantly until thick.
To finish
Add peppers, onions, celery, basil, olives, feta and vinaigrette to pasta. Toss gently to combine.
Cooking Schedule: 35 minutes for menu
Assemble all food, utensils and serving dishes
Utensils: measuring cups, spoons, knives,
medium saucepan, lid, blender, small bowl (used 2 X),
whisk, dish for marinating, pot and colander for pasta,
grill pan for peppers/onions or baking sheet,
barbecue grill and tools, large salad bowl
Earlier in the day if possible (not necessary)
Chop onion for soup, sauté
Cut zucchini for soup
Add zucchini, some stock to onion, cover, simmer
15 minutes later:
Purée soup, adding stock as needed
Snip thyme, stir into soup, chill
Dinner time:
Put water on high heat for pasta
Turn on/light barbecue grill (or oven- 400F, 200C)
Mince garlic, basil
Make Dijon-Basil Butter, chill

Mix marinade, brush on chops
Slice peppers, onions
Mix oil, vinegar, add peppers, onions, mix
Put peppers and onions in pan, start to grill/roast
Start to cook pasta
Get soup from fridge, add cold stock if needed
Snip basil, slice celery, cut olives
Mind the peppers, onions, remove when done
Make vinaigrette
Ladle soup into bowls, add yogurt
Drain pasta, rinse, drain again
Put pasta and all salad ingredients into a large bowl
Add vinaigrette, toss well
Serve soup
Done?
Start to cook chops
Turn chops
Remove chops
Serve