Menu Plan for the week of June 14, 2013: Saturday's Recipes
Avocado Stuffed with Tomatoes
Stuffed, Smoked Pork Tenderloin
Patatas Bravas
Baked Zucchini (Courgette) Sticks
Cooking time: 45 minutes for menu Cooking schedule: see below for instructions
The potatoes use the rest of the Pimiento Sauce from Friday. Everything finishes cooking while you enjoy the avocado. Do the potatoes in the oven with the zucchini or on the grill with the pork.
Avocado Stuffed with Tomatoes
Total time: 20 minutes
Avocado halves, filled with a warm tomato, pepper and onion salad make a lovely first course.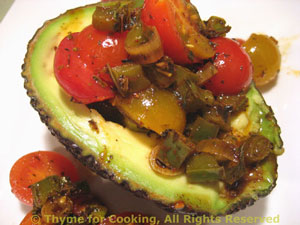 Ingredients:
1/2 cup (3oz, 90gr) cherry tomatoes
1/4 green or red bell pepper
1/2 onion
1/2 tsp chili powder
2 tsp olive oil
1 tbs fresh oregano or marjoram
1 tbs sherry wine vinegar
2 tsp good olive oil
1 avocado
Instructions:
Chop onion and pepper.
Sauté onion, pepper, chili powder in oil for 5 minutes, until just starting to get tender.
Remove skillet from heat.
Cut cherry tomatoes in half.
Snip herbs.
Add tomatoes, herbs, good oil and vinegar to skillet.
Stir gently then let rest 5 minutes.
Remove pit from avocado.
Spoon half of the tomato salad into each avocado half and serve.
Smoked, Stuffed Pork Tenderloin
Total time: 40 minutes
The pork is lightly smoked, using a regular grill (either charcoal or gas) rather than a proper smoker. The pink color is a result of the smoking.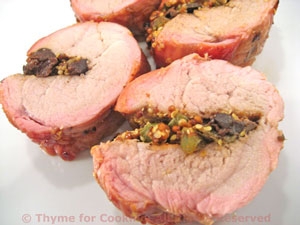 Ingredients:
14oz (420gr) pork tenderloin 1 tbs chopped capers
1 tbs chopped dry-cured Greek olives
1 tbs whole grain mustard
1/2 tsp paprika
Basting Sauce:
2 tbs molasses
1 tbs soy
1 tbs Balsamic vinegar
wood chips we used apple See Barbecue Grills for more info
Weber-type kettle barbecue with charcoal or Gas Grill
Instructions:
Put wood chips in water to soak.

Charcoal grill:

Put some charcoal in the barbecue, off to one side and light it.

Gas grill:

Only light one side of the grill. Wrap the soaked wood chips loosely in foil. Poke a few holes in the foil and place on the grill. Cook pork over indirect heat with the grill cover closed and vented or propped open an inch or so.

The pork:

Carefully slice the pork tenderloin in half the long way, almost all the way through. Leave about 1/3" (1cm).
Open it flat, like a book.
Spread the mustard on 1 side.
Sprinkle the paprika, olives and capers on the mustard.
Close the pork and tie securely with kitchen string.
Mix the basting sauce
Smoke for 30 minutes.
Baste once when you put it on the grill, once when you open the grill after 15 minutes to add wood chips and once when you take it off.
Remove pork and let rest 5 minutes.
Remove string, slice and serve.
Note: You could also roast in the oven for 25 minutes, 400F (200C).
Faux

Patatas Bravas

Total time: 35 minutes
These are not as hot as the 'real' ones in Spain. If you would like more heat add red pepper flakes or a few drops of bottled hot sauce. The translation is 'Fierce Potatoes' (not 'brave'). The Pimiento Sauce is enough for 2 dishes.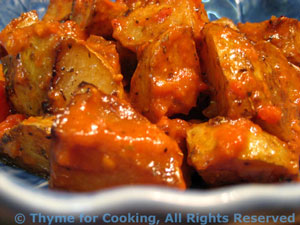 Ingredients:
2 medium potatoes
1 tbs olive oil
2 tsp Herbes de Provence
1 tbs sherry vinegar
1 tsp paprika

smoky if you have it

Pimiento Sauce:
leftover sauce
1 tsp paprika
Instructions:
Cut potatoes into large pieces.
Whisk together the oil, herbs and vinegar.
Add potatoes and toss to coat.
Cook in grill pan on barbecue grill about 25 minutes or until done and starting to brown and get a bit crispy.

Or

you can roast them in the oven: Arrange potatoes on baking sheet with rim (I use my trusty, round pizza pan) Bake at 400F for 30 minutes.
Gently warm 1/3 - 1/2 cup

Pimiento Sauce

.
When potatoes are done, put into a bowl and pour warmed Pimiento Sauce over - just enough to very lightly coat.
Sprinkle with paprika and serve.
Baked Zucchini (Courgette) Sticks
Total time: 40 minutes
These are quickly prepared; bake, unattended and end with a nice crunch. Easy peasy! And one can't have too many zucchini recipes in summer!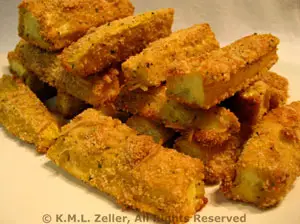 Ingredients:
1 medium zucchini, (courgette) green or yellow,

about 8 inches (20cm)

1 tsp Dijon-style mustard
1 egg
2 tbs dry bread crumbs
2 tbs grated Parmesan cheese
Instructions:
Wash zucchini and slice off stem and blossom ends.
Cut it in half or thirds the short way. You want pieces 2 - 3" long (5 - 8cm).
Cut each section into sticks about 5/8" (1cm) square. They won't all be perfect, coming from a round vegetable, but close is good.
In a flattish bowl whisk the mustard and the egg together.
In another flattish bowl or plate mix the crumbs and cheese together.
Roll the zucchini sticks in the egg, then the crumbs.
Place on a nonstick baking sheet.
Bake at 400F (200C) for 35 minutes, until coating starts to brown.
Remove and serve.
Cooking Schedule: 45 minutes for menu
Assemble all food, utensils and serving dishes
Utensils: measuring cups, spoons, knives,
scissors, 2 flattish bowls, medium bowl, 1 or 2 baking
sheets, and/or grill pan, medium skillet, small
saucepan, barbecue grill, kitchen string
Soak wood chips
Turn on / light barbecue grill
Turn oven on, 400F (200C)
Chop capers, olives
Slice pork
Spread mustard, paprika, capers, olives on pork
Tie pork
Cut zucchini
Mix mustard, egg
Mix crumbs, cheese
Roll zucchini sticks, put on baking sheet, set aside
Cut potatoes
Mix oil, vinegar, herbs, potatoes
Put potatoes on baking sheet or grill pan (depending)

Make basting sauce
Put wood chips in foil if needed
Start to cook pork, basting once
Cook potatoes, bake zucchini
Heat Pimiento sauce, adding hot stuff if desired
Chop onion, pepper
Sauté onion, pepper, chili powder
Cut tomatoes
Snip herbs
Remove skillet from heat
Add tomatoes, vinegar, oil, herbs, to skillet, stir
Cut avocado, remove pit
Stuff avocado
Baste pork, mind potatoes
Serve Stuffed Avocado, relax, enjoy....
Remove pork when done, let rest
Remove potatoes, add Pimiento Sauce, finish
Remove zucchini sticks
Slice pork
Serve all