Menu Plan for the week of June 14, 2013: Friday's Recipes
Zucchini (Courgette) Timbales, Pimiento Sauce
Grilled Salmon with Tarragon Mayonnaise
Grilled Polenta
Green Beans with Leeks
Cooking time: 40 minutes for menu Cooking schedule: see below for instructions
If you can, make the polenta earlier in the day or the night before. It only takes a few minutes. Half of the Pimiento Sauce is for the Patatas Bravas on Saturday. For this dinner, everything is cooked, then the main course kept warm in the oven while you eat the first course.
Zucchini (Courgette) Timbales with Pimiento Sauce
Total time: 40 minutes
This makes a lovely presentation for a first course and is simple to make. The sauce is made from purchased whole pimientos. You can substitute sliced pimentos or 'roasted red peppers', which, I think, are the same thing; just a marketing difference! I use a metal bread pan to bake them in with very hot tap water to start.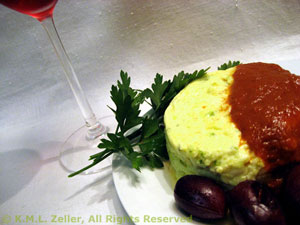 Ingredients:
1 1/3 cup shredded zucchini, 1 smallish one 6 - 7" (16cm)

no need to peel

1 egg
2 tsp Dijon-style mustard
1/2 cup (2oz, 60gr) shredded cheese
1 tbs snipped fresh chives

substitute 1 tsp dried

1 tsp snipped fresh thyme

substitute 1/2 tsp dried

Pimiento Sauce:
4oz (120gr) pimiento (pimento) or roasted red peppers
1 tsp garlic powder
1 tsp dried oregano
1/2 tsp chili powder
2 tsp Balsamic vinegar
1 cup (8oz, 240ml) tomato sauce
Instructions:
Prepare timbale dishes (ramekins or small custard baking dishes): Butter the bottom, then line with buttered parchment (wax) paper.
Make two additional circles of buttered paper for the tops.
Shred zucchini using medium holes on the trusty box grater.
Whisk together egg and mustard.
Add zucchini, herbs, cheese and mix well.
Spoon into timbale dishes.
Cover top with remaining circles of buttered parchment paper.
Set into a pan of very hot water that comes half way up the sides of the dishes.
Put into a pre-heated 400F (200C) oven and bake 25 - 30 minutes, until set.
Remove top paper and slide a knife around the sides to loosen. Invert on to the serving plate and remove bottom paper.
Pimiento Sauce:
Drain pimientos.
Put all of the ingredients into a blender and purée until smooth.
Refrigerate half of the sauce for another use.
Pour the other half into a small saucepan and heat to a simmer. Keep warm until needed.
Spoon some Pimiento Sauce on top and around the timbales and serve.
Grilled Salmon with Tarragon Mayonnaise
Total time: 20 minutes
Tarragon and chives are the first herbs to come up in the spring. They make a light mayonnaise perfect with grilled fish.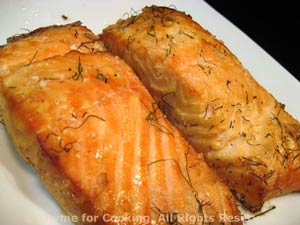 Ingredients:
2 salmon fillets, 6oz each (180gr each),

or steaks, if your prefer

1 tbs olive oil
1/2 tsp dried dill weed
Tarragon Mayonnaise:
1 tbs snipped fresh tarragon
1 tbs snipped fresh chives
1 tbs lemon juice
1 clove minced garlic or 1/2 tsp garlic powder
1/2 cup prepared mayonnaise
Instructions:
Brush salmon with the oil and sprinkle with dill weed.
Cook on barbecue grill 5 - 7 minutes per side, depending on thickness.

OR

put on baking sheet and roast in 400 F oven for 15 - 20 minutes, depending on thickness. Steaks will take a few minutes longer than fillets. Salmon should flake easily with fork when done but it's okay to have it still a bit pink in the center.

Tarragon Mayonnaise

Mix tarragon, chives, lemon, garlic and mayo.
When salmon is done, remove to plates and serve, tarragon mayonnaise on the side.
Grilled Polenta
Total time: 40 minutes (including cooling time)
I use quick-cooking, because that's what I can get, and it takes me about 10 minutes plus cooling time and grilling time. If you can't make it earlier in the day, don't cover it. Just allow to cool at room temperature (it will only take abut 20 minutes). Setting the pan in a bit of cold water helps. It just needs to be cool enough to hold its shape well.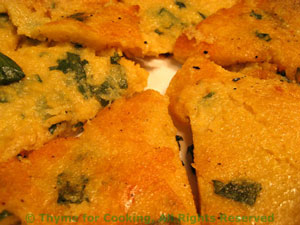 Ingredients:
1 cup (8oz, 240ml) chicken stock
1/4 cup (1.5oz, 45gr) polenta, quick-cooking
2 tsp olive oil
1/4 cup Parmesan
1 tbs fresh snipped chives
1 tbs fresh snipped parsley
1 more tbs olive oil
Instructions:
Snip herbs.
Bring stock and oil to boil in a small saucepan.
Add polenta, whisking constantly - or it will have little volcanic eruptions spewing polenta all over your stove.
Turn heat down and cook about 5 minutes (or whatever your package tells you), stirring constantly. You may have to switch to a wooden spoon.
When done, stir in cheese and herbs and remove from heat.
Pour into a small pie plate lined with plastic wrap (cling film, saran wrap...) or something that will give you a flat round of polenta 3/4 - 1 inch (2cm) thick.
Cover with plastic wrap and let cool. Can be made hours or even a day ahead.

To finish:

cut polenta into 6 pie-shape pieces, brush both sides with oil and cook on barbecue using mesh grill pan for about 10 minutes or until brown on both sides - or fry in 1 tbs oil in non-stick skillet until golden on both sides - the purpose in both cases is to add flavor, color and heat - it is already cooked. Serve.
Note: Polenta can vary between brands and types.
When making polenta for cooling and cooking again, either frying or on the grill, it's important to get it very stiff. It should be hard to stir, and hold its shape when you are done cooking it - before chilling it. If it isn't stiff enough, sprinkle another 1 - 2 tsp per 1/4 cup on the polenta and stir in, vigorously. When cool it should be very firm. In this recipe the cheese also helps to thicken it as it cools.
Sautéed Green Beans with Leeks
Total time: 20 minutes
I used flat Italian or Romano beans but any green bean will work. Adding a bit of oil to the butter prevents it from browning or burning.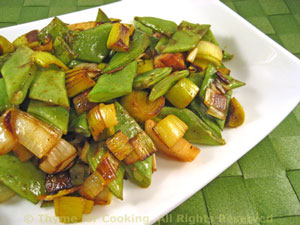 Ingredients:
5oz (150gr) green beans
1 small - medium leek
1/4 tsp paprika
2 tsp butter
2 tsp olive oil
sea salt
Instructions:
Top and tail bean, cut into 1 1/2" (4cm) lengths.
Trim leek. Cut in half the long way and rinse well.
Slice 1/2" (1cm) thick.
Heat butter, oil and paprika in a medium skillet.
Add beans, leeks and sauté over medium heat until leeks are lightly browned, 8 - 10 minutes.
Sprinkle with salt and serve.
Cooking Schedule: 40 minutes for menu
Assemble all ingredients and utensils
Utensils: measuring cups, spoons, knives,
scissors, small bowl, medium bowl, whisk, 2 ramekins,
baking pan, parchment paper, grater, blender, small
saucepan, (used 2 X) lid, pan or plate for cooling
polenta, medium skillet, barbecue grill, baskets
and/or mat, oven-proof platter
Turn oven on, 400F (200C)
Heat stock for polenta
Snip all herbs
Grate Parmesan
Butter and line ramekins
Make polenta, set aside to cool
Shred zucchini
Whisk egg, mustard
Add rest of ingredients for timbales
Spoon timbales into ramekins
Put ramekins into pan, add hot water, bake
Make Tarragon Mayo, set aside
Turn on / light barbecue grill


Trim, cut green beans
Trim, slice leeks
Brush salmon with oil, sprinkle dill
Put Pimiento sauce in blender, purée
Divide sauce, refrigerate half, heat half
Get polenta ready to grill
Start to cook beans and leeks
Put salmon, polenta on grill
When timbales are done, remove from oven
Turn oven off - leave door ajar for a minute to cool
Turn salmon, polenta
Stir beans, leeks
Remove Timbales from ramekins
Spoon pimiento sauce on timbales
Remove polenta, salmon, put on platter
Add beans, leeks to platter
Put platter in still warm (not hot) oven
Serve timbales
Done?
Remove platter from oven and serve
Don't forget the Tarragon Mayo