Menu Plan for the week of June 28, 2013: Thursday's Recipes
Grilled, Marinated Chicken Breasts
Warm Green Bean and Brown Rice Salad
Cooking time: 30 minutes for menu Cooking schedule: see below for instructions
An easy meal to end the week.
Marinated, Grilled Chicken Breasts, II
Total time: 30 minutes
I have a number of different marinades for chicken. I decided it was easier to number them than come up with unique names. They only need to marinate as long as it takes to get the grill ready... but longer is fine! We prefer slicing chicken, rather than serving the whole breast - nicer presentation.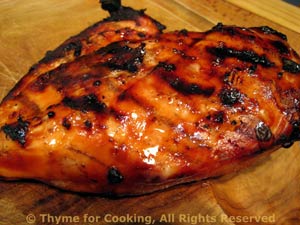 Ingredients:
2 chicken breasts, boneless, skinless
2 tsp soy sauce
2 tbs red wine vinegar
3 tbs ketchup
2 tbs olive oil
1/4 tsp garlic powder
1/2 tsp oregano
Instructions:
In a small bowl whisk together soy sauce, ketchup, vinegar, oil, garlic and oregano.
Put chicken breasts in a glass baking dish and pour marinade over.
Let marinate for 15 - 20 minutes or up to 2 hours.
Cook on barbecue grill for 8 - 12 minutes per side or until done (test - take a peak), basting once with any leftover marinade.

OR

sauté in nonstick skillet for 8 - 10 minutes a side until nicely browned and done, basting with marinade.
Remove chicken, slice at an angle in 1/4" (.6cm) slices and serve.
Warm Green Bean and Brown Rice Salad
Total time: 30 minutes
I use 'Uncle Ben's' which is all I can get and it's quick cooking. It looks like brown Basmati and cooks in 15 minutes. You can use regular Basmati if you prefer. This salad is good warm or cold, so timing is not an issue.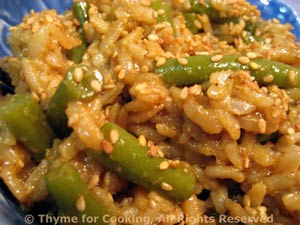 Ingredients:
1/2 cup (3.3oz, 95gr) quick-cooking brown rice
1 cup (8oz, 240ml) chicken stock

or whatever your rice calls for

6oz (180gr) green beans
1/3 (3oz, 90ml) cup more chicken stock
1 tbs toasted sesame seeds
Vinaigrette:
1 tbs Dijon-style mustard
1 1/2 tbs Balsamic vinegar
1 tsp soy sauce
2 tsp sesame or walnut oil
2 tbs salad olive oil
Instructions:
Cook rice according to package directions.
Top and tail beans... cut off the ends. Cut into 1 1/2 inch lengths (4cm).
Put beans into small skillet, add stock, cover and simmer over medium heat until done, 10 - 12 minutes.
Vinaigrette:
Put all ingredients but olive oil in a small bowl and whisk well.
Slowly add olive oil, whisking constantly.
To Finish:
When rice is done put into a medium bowl.
When beans are done, drain and add to rice.
Add the half of the vinaigrette and stir gently.
Taste, add the rest of the vinaigrette as needed,

(I use all but about 2 tsp).

Sprinkle with sesame seeds. Serve.
Note: Toast sesame seeds in a dry, nonstick skillet, over medium-high heat, 3 - 6 minutes. Start flipping them or shaking the skillet after 1 - 2 minutes and remove as soon as light brown.
Cooking schedule: 30 minutes
Assemble all food, utensils and serving dishes
Utensils: measuring cups, spoons, knives,
scissors, small bowl (used 2 X), whisk, small saucepan
with lid, small skillet with lid, barbecue grill, dish for marinating
Light/turn on barbecue grill
Make marinade, spoon on chicken
Cook rice
Top and tail beans, cut
Toast sesame seeds if needed

Cook beans
Start to cook chicken
Make vinaigrette
Turn the chicken
Drain beans
Put rice in bowl, fluff
Combine beans and rice
Add some vinaigrette, stir gently
Taste, adjust vinaigrette
Sprinkle with sesame seeds
Remove chicken, slice if you like, Serve