Menu Plan for the week of June 28, 2013: Wednesday's Recipes
Pork Tenderloin with Mustard Seeds
Balsamic Potato Salad
Grilled Zucchini (Courgette)
Cooking time: 35 minutes for menu Cooking schedule: see below for instructions
I get a small pork tenderloin but it's usually around 14oz. Any leftovers go into sandwiches the next day. Grilling vegetables is quick, easy and delicious.
Grilled Pork Tenderloin with Mustard Seeds
Total time: 35 minutes
This is fun to cook on the barbecue grill: all the mustard seeds pop as they get hot. The rub makes the tenderloin rather black, but not too spicy. The sauce helps keep it moist. Remember, slightly pink is perfect!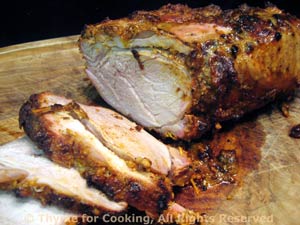 Ingredients:
14oz 420gr) pork tenderloin
1 tbs paprika
1 tbs mustard seed
1 tbs garlic powder
1 tbs olive oil
Basting Sauce:
3 tbs Dijon mustard
2 tbs red wine vinegar
1 tbs olive oil
Instructions:
Mix paprika, mustard seeds and garlic powder.
Rub olive oil all over pork then add dry rub and press into pork.
Cook on barbecue grill

or in 400F oven

for 25 - 30 minutes. Turn occasionally to brown on all sides.
Mix mustard, vinegar, oil, and use to baste pork after 15 minutes.
Baste 2 - 3 times.
When you think pork is done,

(it should feel fairly firm but not totally stiff when you pick it up)

slice into the middle to check. It will be moist when not overcooked. When done to your taste, slice and serve.
Balsamic Potato Salad
Total time: 20 minutes
This is a simple potato salad. dress with a Balsamic Vinaigrette and sprinkled with herbs.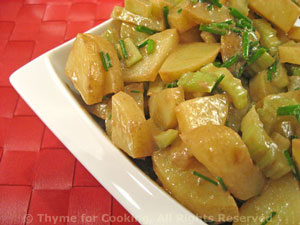 Ingredients:
2 medium potatoes
1/2 cup celery, 1 - 2 ribs
2 tbs fresh chives
Balsamic Vinaigrette:
1 tbs Balsamic vinegar
2 tsp Dijon-style mustard
2 tbs good olive oil
Instructions:
Slice the potatoes for salad.
Heat a medium saucepan half full of water over medium high heat.
When water is boiling, add potatoes, partially cover and cook just until tender when pierced with a sharp knife, 10 - 12 minutes.
Remove from heat and drain.
Roughly chop celery. Snip chives.
Make vinaigrette:
Whisk vinegar and mustard together in a bowl large enough for the salad.
Slowly drizzle in olive oil, whisking constantly until well combined.

To finish:

Add potatoes to vinaigrette and stir gently.
Add celery, chives, stir.
Serve warm or cool.
Grilled Zucchini (Courgette)
Total time: 20 minutes
Did I mention that the hubs does all of the outdoor cooking? He is convinced that he can cook anything on the grill. When he saw the pile of zucchini becoming a mountain last summer he tried this.... and it was good.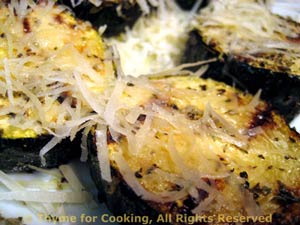 Ingredients:
1 medium courgette (zucchini) 7 - 8 inches (20 cm)
2 tbs olive oil
salt - flavored, if you use it
pepper
2 - 3 tbs Parmesan cheese
Instructions:
Put olive oil on a plate.
Slice courgette into 1/2 inch thick rounds.
Dip both sides in olive oil and put directly onto grill of barbecue.
Grill until soft and browned - about 15 minutes, turning once.
Remove and immediately sprinkle with salt, pepper and Parmesan. Serve.
Note: You can fry them in a nonstick skillet over medium high heat for 8 minutes a side, until they develop light brown spots. Use 1 tbs butter and 1 tbs olive oil. They will absorb and then release the oil. You can drain them briefly on paper towels before adding salt, pepper and Parmesan.
Cooking schedule: 35 minutes
Assemble all food, utensils and serving dishes
Utensils: measuring cups, spoons, knives,
whisk, small bowl, medium bowl, medium saucepan,
lid, plate, barbecue grill or roasting pan and skillet
Light/turn on barbecue grill if using (or oven)
Mix paprika, mustard seeds, garlic, rub on pork
Heat water for potatoes
Start to cook pork
Slice potatoes, add to water, cook, partially covered
Mix mustard, oil, vinegar for pork
Baste pork, turn
Make vinaigrette for potatoes
Slice zucchini, dip in oil

Grate Parmesan
Chop celery
Snip chives
Drain potatoes, add to vinaigrette
Add celery, chives to potatoes, stir
Baste pork, turn
Cook zucchini
Watch the barbecue
Turn the zucchini
Baste the pork
When zucchini are done, remove, sprinkle Parmesan
Remove pork
Slice pork
Serve