Menu Plan for the week of August 2, 2013: Saturday's Recipes
Vichyssoise
Lamb Kebabs
Summer Couscous
Cooking time: 35 minutes plus 25 earlier Cooking schedule: see below for instructions
Since the Vichyssoise is best made ahead, do some of the prep work ahead, as well, and marinate the lamb. That makes dinner a breeze.
Vichyssoise
(Cold Potato and Leek Soup)
Total time: 25 minutes plus cooling and 5 minutes to finish
Another classic French dish. The addition of cream or milk to finish gives it a rich texture. If you can stand the calories the cream really makes for a luscious soup.... I always use heavy cream if serving to guests.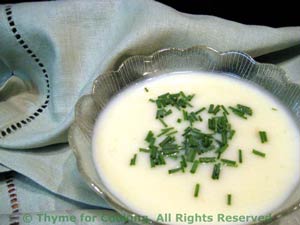 Ingredients:
2 medium leeks, (4oz, 120gr)

about 1 cup roughly chopped

1 medium potato, (6oz, 180gr)

about 1 cup roughly chopped

1 tbs butter
1 1/2 cups (12oz, 360ml) chicken stock
1/4 - 1/2 cup milk or cream
2 tbs snipped fresh chives
Instructions:
Clean leeks - Slice off the top leaving about an inch of pale green, then slice off the stem end. Slice the leek in half the long way. Discard the outer layer (more if it is damaged). Rinse the leek halves under running water, fanning the layers, to get out any remaining sand. If there is a hard core in the center, pull it out and throw it away.
Slice leeks thinly (the short way). You want to slice about 3 inches (7.5cm) of each leek.
Sauté leeks in butter in medium saucepan, until they are soft.
Peel and chop potatoes.
Add to leeks along with chicken stock. You should have enough stock to just cover the potatoes. If necessary add more stock or water, but do not use more than needed.
Reduce heat, cover and simmer until potatoes are done, about 15 minutes.
Remove from heat, and refrigerate until thoroughly chilled - or longer...

To Serve:

Purée soup in blender.
Add 1/4 to 1/2 cup of milk or cream, stirring, until you have desired consistency.
Serve, garnishing each bowl with freshly snipped chives.
Note: You can set the hot soup pan in cold water (assuming it's a metal pan) to help cool the soup faster.
Lamb and Vegetable Kebabs with Yogurt Dipping Sauce
Total time: 45 minutes
It does look nice to have the meat and vegetable on the same skewers - and you can do that if you partially pre-cook the vegetables. I prefer to do it all on the grill, and, as the different foods have different cooking times, arranging them on the skewers accordingly. Serve on a bed of Summer Couscous, Minted Sauce on the side.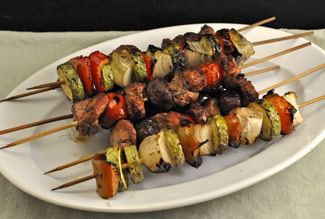 Ingredients:
lamb shoulder, 14oz (420gr) (or pork or beef), cut into 1 1/2" (3.75cm) pieces
1 red bell pepper
1 red onion
1 medium zucchini (courgette)
8 - 12 mushrooms, large enough to be skewered
8 large cherry tomatoes
6 - 8 skewers
Marinade:
3 tbs olive oil
2 tbs red wine vinegar
1 tbs Worcestershire sauce
1 tbs sherry
1 1/2 tsp dried rosemary
1 1/2 tsp dried basil
1/2 tsp garlic powder
Instructions:
Soak wooden skewers.
In large, deep bowl whisk together all ingredients for marinade.
Cut meat and add to the marinade; let marinate for 20 - 30 minutes or up to 4 hours.
Clean pepper and cut into 1 1/2 " (3.75cm) squares.
Peel and cut onion into 8 wedges.
Cut zucchini into thick slices, about an 3/4 inch (2cm).
Clean mushrooms.
Add all vegetables to bowl with meat/marinade and stir to coat.
Cooking:
Thread meat, mushrooms and tomatoes on 2 - 3 skewers, alternating.
Thread peppers, onions and zucchini on 2 - 3 skewers, alternating.
Cook vegetable skewers on barbecue grill over direct heat for 10 - 15 minutes, turning once.
When vegetables start to brown move to indirect heat and cook for another 5 - 10 minutes.
When you move the vegetable skewers, start to cook meat skewers over direct heat.
Cook until meat is done to your liking. We cooked ours for about 8 minutes, turning once.
Remove and serve on a bed of Summer Couscous.
Could also be cooked under the broiler (grill) for 12 - 15 minutes, or until done
Yogurt Dipping Sauce
Time: 5 minutes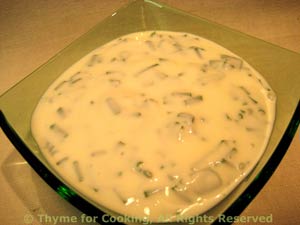 Ingredients:
1/3 cup (3oz (90gr) Greek or plain yogurt
1 tbs olive oil
1 tsp lemon juice
2 tsp snipped fresh mint leaves (spearmint)

if you don't have any, you could use 1 tsp dried mint or leave it out

2 tsp fresh snipped chives
1 tsp fresh snipped tarragon
Instructions:
Combine all ingredients in a small bowl. Mix well and refrigerate until ready to use. Serve with kebabs.
Summer Couscous
Total time: 15 minutes
Couscous is not a grain but a tiny semolina 'pasta'. What is normally available is a pre-cooked product to which we just add boiling water or stock... making it very quick, perfect for summer, or anytime!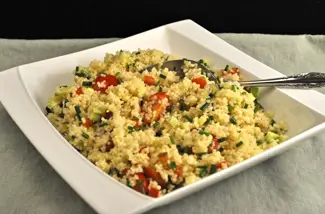 Ingredients:
1/2 cup (3oz, 90gr) couscous
3/4 cup (6oz, 180ml) chicken broth
1/4 cup chopped red pepper
1/4 cup chopped zucchini (courgette)
2 tbs snipped chives
5 - 6 cherry tomatoes, halved
2 tsp salad olive oil
Instructions:
Heat chicken broth to a boil.
Chop pepper and courgette, snip chives and halve tomatoes.
Put couscous, pepper and courgette in a medium bowl.
When broth is boiling pour over couscous, cover and let stand for 10 minutes... Do not stir it.
Uncover, add chives, tomatoes and oil to couscous, fluff gently with a fork to combine and serve.
Cooking Schedule: 35 minutes plus 25 earlier
Assemble all food, utensils and serving dishes
Utensils: measuring cups, spoons, knives,
scissors, whisk, small saucepan (used 2 X) lid,
blender, deep bowl, medium bowl, small bowl,
skewers, barbecue grill
Earlier in day:
Trim, wash leeks
Slice leeks, sauté
Peel potatoes, chop
Add potatoes, chicken stock to leeks, cover, simmer
Make marinade in large bowl
Cut meat, add to marinade, refrigerate
Snip herbs for yogurt sauce
Make yogurt sauce, refrigerate
Soak skewers if wood
Refrigerate soup
Dinner time:
Trim mushrooms, add to marinade
Cut zucchini, add to marinade, reserve 1/4 cup
Cut pepper, add to marinade, reserve 1/4 cup

Cut onion, add to marinade
Snip chives for couscous, Vichyssoise
Light/turn on barbecue grill
Purée soup
Add milk or cream to soup
Chop pepper, courgette for couscous, put in bowl
Add couscous to pepper, zucchini
Heat stock for couscous
Cut cherry tomatoes for couscous
Make vegetable skewers
Make meat skewers
Pour stock over couscous, peppers, zucchini, cover
Start to cook vegetable skewers
Ladle Vichyssoise into bowls, top with chives
Serve soup
Interrupt your soup to check veg skewers
Done?
Move veg off direct heat
Start to cook meat skewers
Finish couscous, arrange on platter
Remove skewers and serve... yogurt sauce on side