Menu Plan for the week of August 23, 2013: Wednesday's Recipes
Grilled Pork Chops / Ginger Barbecue Sauce
Green Bean and Potato Packets
Cooking time: 30 minutes for menu Cooking schedule: see below for instructions
This should finish off the Ginger Barbecue Sauce. If there isn't enough, supplement it with bottled or make another small batch. If you have mushrooms left, slice them and add to the vegetable packets.
Grilled Pork Chops with Ginger Barbecue Sauce
Total time: 30 minutes
At first glance it seems like a lot of ginger in this recipe - both on the chops and in the sauce. But it works well, adding an underlying flavor that is not too 'ginger-y' or particularly hot; just a tiny kick.... When you are marinating meat it helps to poke it with a fork, to let the marinade penetrate.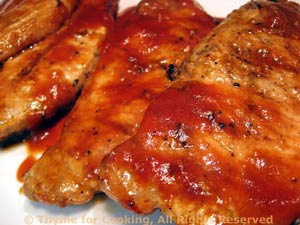 Ingredients:
2 - 4 pork chops - depending on size, 12oz of boneless (350gr)
Marinade:
1 tbs red wine vinegar
1 tbs soy sauce
1 tbs ketchup
1 tsp ground ginger
1/2 tsp garlic powder
3 tbs olive oil
Ginger Barbecue Sauce:
Instructions:
Mix all ingredients for marinade and pour over chops. Let marinate for 15 - 20 minutes.
Cook on barbecue for 5 - 8 minutes a side or until done basting each side with barbecue sauce. Should be slightly pink in the center or near bone when done - take a peak (techniques).
Or fry in nonstick skillet over medium-high heat the same amount of time. Serve, with Ginger Barbecue Sauce on the side.
Note: Remove 2 - 3 tbs barbecue sauce to use for basting rather than dipping the basting brush or spoon into that entire sauce.
Potato and Green Bean Packets
Total time: 30 minutes
Vegetable packets are great for using up leftover bits in the fridge: carrots, celery, mushrooms, tomatoes... They are cooking when you hear them sizzle, and are done when you can't hear them any longer. They stay very hot in the packets, and can even be taken off early and left to finish off heat.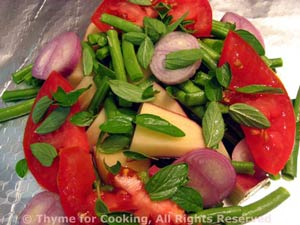 Ingredients:
2 medium potatoes

5oz (150gr) green beans
2 shallots or 1 small onion
1 tomato or 4 cherry tomatoes
2 tbs chicken stock or water
1 tbs basil
Instructions:
Tear off 2 pieces of heavy duty aluminum foil about 15 inches long and put each on a plate.
Top and tail beans and cut into 1 1/2" (4cm) lengths.
Cut the potatoes into bite-size chunks.
Cut cherry tomatoes in half.
Thickly slice shallots or onion.
Divide all vegetables evenly between the 2 plates keeping in center of foil.

Kind of pat the foil down so it takes the shape of the plate - otherwise the chicken stock or water runs everywhere.

Divide chicken stock between the 2 plates.
Snip basil and sprinkle on vegetables.
Bring long ends of foil to middle and fold down. Fold in ends so you have 2 nice packets with the veg and broth.
Put on barbecue - indirect heat (not over the coals), cover grill and cook for 20 - 25 minutes. You can open them and stick a knife in the potatoes to check if they are done... If not close back up and put back

Or

put in 400F oven for 40 minutes. Check to make certain everything is done.
Remove vegetables from packets and serve.
Cooking schedule: 30 minutes
Assemble all food, utensils and serving dishes
Utensils: measuring cups, spoons, knives,
small bowl, dish for marinating, foil, 2 plates,
barbecue grill
Turn on/light barbecue grill
Mix marinade. spoon over chops
Tear foil and lay on plates
Trim, cut beans, lay on foil
Cut potatoes, add to beans
Slice tomatoes, add to packets

Slice shallots, add to packets
Snip basil, add to packets
Slice any other veg (mushrooms), add to packets
Add stock/ water to packets
Fold packets, put on grill, cook
Take a break while the veg cooks
Cook chops
Check potatoes
Baste chops, turn, baste
Open and serve vegetables
Remove chops, serve, BBQ sauce on the side