Menu Plan for the week of August 23, 2013: Saturday's Recipes
Mushrooms, Stuffed with Bacon and Tomato
Grilled Ginger Rosemary Pork Loin
Barbecue Oven Crisps
Tomato Zucchini (Courgette) Gratin
Cooking time: 60 minutes for menu Cooking schedule: see below for instructions
We're making enough Ginger Barbecue sauce to use twice more this week. We'll use 8oz (240gr) of the pork in the Quiche on Sunday. If you have more leftover use if for sandwiches. The Tomato Zucchini Gratin is for 2 meals.
Mushrooms Stuffed with Bacon and Tomato
Total time: 20 minutes
I love stuffing vegetables. This is a less-caloric version of a recipe I made years ago, stuffing the mushrooms with lots of bacon and cream cheese - full fat of course. That was good; this is better... And so much less guilt! The Vinaigrette is much thicker and more intense than I would use for a lettuce salad, but works well with the mushrooms and sliced tomato.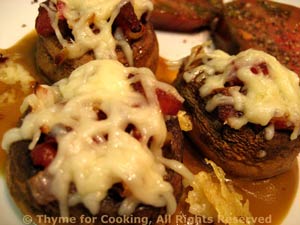 Ingredients:
6 large button or cremini mushrooms, 1 1/2 - 2" (3.75 - 5cm) in diameter
1 tbs olive oil
1 tbs soy sauce
2 shallots

or a small onion

2 slices bacon
2 ripe tomatoes
1/4 cup (1oz, 30gr) shredded cheese
Balsamic Vinaigrette:
1 tbs Dijon-style mustard
2 tbs Balsamic vinegar
2 tbs good olive oil
Instructions:
Clean mushrooms, removing stems.
Finely chop the shallots.
Chop bacon.
Cut 3 thick slices out of each tomato. Set aside 4 slices and chop the other 2 slices.
Heat oil and soy sauce in nonstick skillet over medium-high heat.
Add mushroom caps and sauté until light brown, 3 minutes, turning once.
Remove and place on a baking sheet - with a lip so they don't slide off.
Add shallots and bacon and sauté until the shallots are tender and the bacon crisp.
Remove shallots, bacon with a fork or slotted spoon and put in a small bowl.
Add the chopped tomato and stir to combine.
Spoon mixture into the mushroom caps, dividing evenly.
Sprinkle, carefully, with cheese.
Bake in 400F (200C) oven for 10 - 12 minutes, until they are light brown.
Balsamic Vinaigrette:
Combine mustard and vinegar in a small bowl. Slowly add oil, whisking constantly, until thick.
To Serve:
Place two tomato slices on the side of each plate.
Spoon half of the vinaigrette on to the other side and place 3 mushroom caps on top.
Barbecued Ginger-Rosemary Roast Pork
Total time: 60 minutes
I like using fresh ginger for this. You can usually buy just a small piece, but, if not, use 1/2 tsp powdered ginger.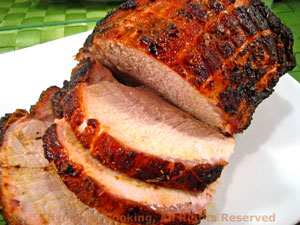 Ingredients:
1 small, boneless pork loin roast, around 1 1/2 lbs (720gr)

more if you want sandwiches

1 tbs paprika
1 tsp garlic powder
2 tsp dried rosemary
Basting Sauce:
1 tbs fresh ginger, peeled, minced

about 3 slices the size of an American quarter or 1 euro coin

3 tbs Dijon Mustard
2 tbs Balsamic vinegar
1 tbs Worcestershire
Instructions:
Mix paprika, garlic and rosemary. Rub on pork.
Start to cook on barbecue grill, over indirect heat with the cover closed.
Mix remaining ingredients.
Baste pork with sauce every 10 minutes, starting 30 minutes after you begin cooking.
Pork is done when it reaches an internal temperature of 145F (62C). Use an instant read or a remote meat thermometer for best results. If you don't have either, take the roast off and slice into it after 40 - 50 minutes (depending on weight and shape) to test. It should be pale pink in the center.
When done, cover with foil and let rest for at least 5 minutes.
Slice and serve with

Ginger Barbecue Sauce

.

Note:

Could also be roasted in a 400F (200C) oven for about the same amount of time
Ginger Barbecue Sauce
Similar to our regular barbecue sauce but a bit spicier with the ginger and mustard. This will keep a week in the fridge.... But it never lasts that long. Adding the full 4 tsp of mustard and ginger will make it a bit spicy/hot
.
Ingredients:
1 cup (8oz, 240ml) tomato sauce
2 tbs molasses
2 tbs cider vinegar

or other vinegar

1 - 2 tsp dry mustard

try 2 tsp, taste after heating, add more if you like

1 - 2 tsp ground ginger

try 2 tsp, taste after heating, add more if you like

1 tbs soy sauce
Instructions:
Heat all ingredients in a small saucepan, whisking to combine.
Bring to a simmer just long enough to combine all ingredients. Taste and adjust.
Barbecued Potato Crisps
Total time: 50 minutes
Some people eat ketchup on French Fries (chips). I prefer Aioli mayonnaise on mine.... But why not barbecue sauce on crisps?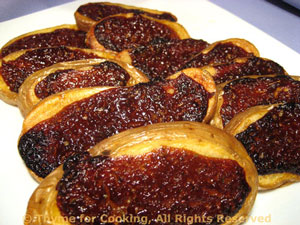 Ingredients:
2 medium potatoes 6oz each (180gr each)
2 tbs olive oil
1/4 tsp salt
1 - 2 tbs Ginger Barbecue Sauce
Instructions:
Slice potatoes the long way into 3/16 inch (.5cm) thick slices. You should get 5 - 6 slices from each potato - discard 'ends'.
Mix olive oil and salt together in a wide bowl. Add potato slices and stir/turn to coat.
Lay on a nonstick baking sheet (if you have one - just makes it easier) with a lip.
Put in a 400F (200C) oven and bake for 30 minutes.
After 30 minutes, remove pan, turn potato slices, spread a bit of Barbecue Sauce thinly over the tops and return to oven for 10 more minutes.
When done, remove from pan and serve.
Zucchini (Courgette) and Tomato Gratin
Total time: 55 minutes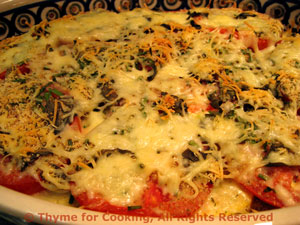 Thin slices let the flavors meld together easily. The breadcrumbs between the layers soak up all the goodness from the tomatoes and the zucchini.... All topped with a golden, cheesy crust. This will be enough for 2 meals.
Ingredients:
1 medium - large zucchini, 9" long (22cm)
2 garden fresh tomatoes
2 tbs fresh chives, snipped
2 tbs fresh basil, snipped
1/4 cup bread crumbs
1/2 cup (2oz, 60gr) shredded cheese
2 tbs olive oil
Instructions: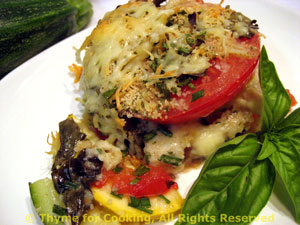 Thinly slice zucchini, about 1/8th inch (.65cm).
Slice tomatoes as thinly as you can, but at least as thin as zucchini.
Snip herbs.
Put 1 tbs olive oil in 8 or 9 inch (20 - 25cm) square glass baking dish and swirl around to coat bottom.
Layer half of the zucchini, then half of the tomatoes, half of the herbs, half of the crumbs and half of the cheese.
Repeat layers once.
Drizzle remaining 1 tbs oil over top.
Cover with foil and bake in 400F (200C) oven for 30 minutes.
Remove foil and continue to bake for another 15 minutes.
Serve from baking dish.
Cooking Schedule: 60 minutes
Assemble all food, utensils and serving dishes
Utensils: measuring cups, spoons, knives,
3 small bowls, whisk, medium bowl, 2 baking sheets,
baking dish, small saucepan, medium skillet,
barbecue grill
Light/turn on barbecue grill
Turn oven on 400F (200), arrange 2 shelves
Make rub for pork, rub on
Start to cook pork
Mix oil, salt for potatoes
Cut potatoes, add to salt/oil, coat
Arrange potatoes on baking sheet, bake
Slice zucchini, tomatoes for gratin
Snip all herbs
Assemble tomato zucchini gratin, bake
Make Ginger Barbecue Sauce, set aside
Make basting sauce for pork, baste
Slice tomatoes for Mushrooms, reserve 4, chop 2
Trim mushrooms, sauté

Chop shallots, bacon
Remove mushrooms
Sauté bacon, shallots
Baste pork
Shred cheese if needed
Make vinaigrette
Remove bacon, shallots
Add chopped tomato to bacon, shallots, stir
Stuff mushrooms, sprinkle with cheese
Remove potatoes
Bake mushrooms
Turn potatoes, brush with Barbecue sauce
Arrange sliced tomatoes, Vinaigrette on plates
When mushrooms are done, remove
Return potatoes to oven
Uncover Gratin
Add mushrooms to plates, serve
Done? Remove pork, let rest
Remove tomato-zucchini gratin, potatoes
Slice pork, serve